Published on September 23rd, 2013 in: Current Faves, DVD, DVD/Blu-Ray Reviews, Movie Reviews, Movies, Reviews |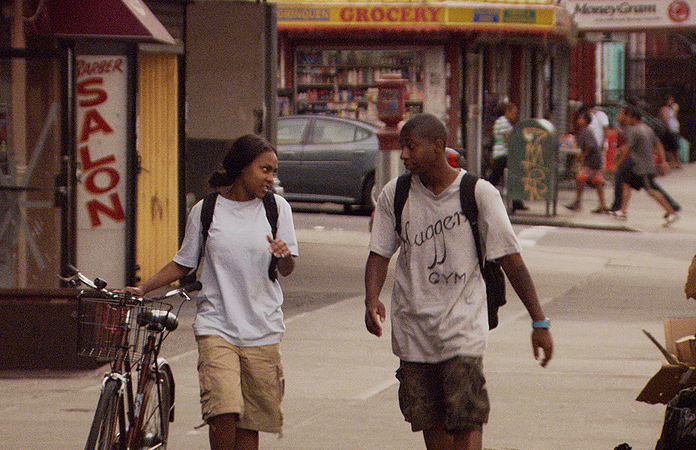 "If you say in the first chapter that there is a rifle hanging on the wall, in the second or third chapter it absolutely must go off. If it's not going to be fired, it shouldn't be hanging there."
—Anton Chekhov, 1904
Chekhov would probably find Gimme The Loot a frustrating venture. If he stuck it out through the final reel, unfazed by the colorful vernacular of working-class Brooklyn youths and their attempts at petty crime, he would probably gnash his teeth at writer/director Adam Leon's failure at resolving many of the enticing leads promised in the film's opening scenes. At a closer glance, however, the set-ups Leon has created for his protagonists serve as excuses to tail some teenagers through the New York boroughs and take a closer look at graffiti culture.
Over the opening credits, public access TV hosts discuss the bombing of the apple that descends from the rafters of Shea Stadium whenever the Mets hit a home run. The film smash-cuts to Malcolm (Ty Hickson) and Sofia (Tatyana Washington), two toys whose latest rooftop throw-up was bombed overnight. Vowing their revenge, the pair hatches an elaborate plan to tag the Shea Stadium apple to show the kings they're not easily intimidated.
To put this plot into action, they need $500 to bribe the security guard at Shea Stadium. While Sofia's attempts at pawning a purloined phone fail spectacularly, Malcolm's lackadaisical work as a drug courier lead him to a poetic rich girl (Zoe Lescase) whose stash of jewelry could bring in the money they need.
A late-in-the-film heist doesn't quite work out as planned, but the pleasures of Gimme The Loot don't necessarily lie in the protagonists' success or failure. Leon is a master of the long take, and he has a great eye for the aspects of city living that don't appear in most movies. The film's authenticity and the realness of the characters flourishes in throwaway scenes, like the long take of Malcolm and Sofia discussing their progress as they walk through Central Park.
Leon loses some footing in the scenes that unfold in a more upper-class setting. Though Malcolm's flirtation with prep-school princess Ginnie crackles with tension and melancholy, a later scene at her clandestine house party features some on-the-nose dialogue that calls too much attention to its relevance. ("Take off your shoes. They don't want to track the street in here.") However, a rooftop scene towards the end of the film illustrates the contrasts between Ginnie's sheltered upbringing and Malcolm and Sofia's freedom in an elegant and poignant manner.
Leon's shot compositions—which reminded me of Adrian Tomine's New Yorker covers—and his use of jazz and early rock and roll give the film a timeless appeal. (A pivotal scene in which Ginnie dons Dolphin shorts and jogs to electroclash music could have been the opening scene for an early '80s sitcom.) His work with first-time actors also gives the film a spontaneous feel. Hickson and Washington are well-matched—Hickson's percussive line-readings and long, lackadaisical strides contrasting with Washington's machine-gun delivery, squeaky outer-boroughs accent, and nervous, energetic physicality. As the mysterious rich girl, the rabbit-faced Lescase undercuts her character's dialogue with vulnerable up-speaking and sighed facial expressions.
The lack of resolution made the film's close seem abrupt and frustrating. After everything the characters go through, I wanted to see them succeed at something. In spite of this, Adam Leon and his cast did a wonderful job of encapsulating some underseen aspects of New York City.
Gimme The Loot was released on September 17 through IFC Films.