Published on July 2nd, 2013 in: Current Faves, Music, Music Reviews, New Music Tuesday, Reviews |
By Julie Finley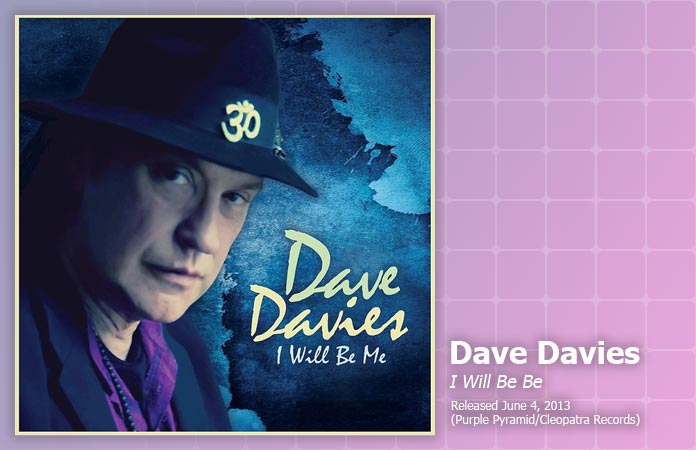 As a "lifer" in regards to being a Kinks fan, I felt that I should definitely review my childhood idol's newest release, that idol being Dave Davies. I won't give a history lesson on The Kinks (as there are enough online sources out there that could clue you in), but I do need to note that Dave's relationship to his brother Ray has been well-documented as being unrestrained, to say the least. It is no mystery that Ray prefers that Dave live in his shadow, and that the competitive dysfunction between the two of them is one of the things that has led to both having a prolific output of work throughout both of their lives (even outside of The Kinks).
Quite honestly, though, Dave's career is still often overlooked despite the fact he has been even more fruitful in his endeavors regarding the creation of new material. Ray hasn't had that much solo material since The Kinks stopped recording in the mid-'90s, but the solo work he has put out is mostly rehashing his old catalogue with a few albums of brand new content. Dave has actually put out more original material than Ray since the '90s! Yes, some of that has been re-releasing long-lost music that was never released as The Kinks, but the bulk of his output has been original material.
What is even more interesting is that Dave has managed to do this independently, plus he had a massive stroke within the past ten years, causing him to have to relearn how he played guitar, on top of just doing the basic things that we all take for granted! He didn't do I Will Be Me for the money because it's pretty clear he is spending more money in his creations than he is getting back. This is no "cash cow" like the two last releases that Ray released. Don't get me wrong: I love Ray Davies, but his last two releases of re-worked Kinks material, were bullshit (especially See My Friends, which was utterly appalling!). With that said, I can say without hesitation that Dave has upstaged his brother on his latest release, I Will Be Me.
With that bold statement, I will also be very honest in this review and tell you that I didn't love every song on this album. The one that sticks out as being a real dud is "When I First Saw You," but it isn't the musical composition itself or the melody. It isn't the lyrics; it isn't Dave's voice (which has truly changed since his stroke, but is still undeniably him—I'm just glad he survived it). No, the thing I don't care for in that song is the voice of his collaborator (a girl by the name of "Geri X"). I have no idea who she is, but her voice sucks and it detracts from the song itself. I wasn't all that fond of "Midnight in L.A." as I found it too repetitive; the song called "The Actress" was also a bit too corny for my taste.
However, the rest of I Will Be Me is excellent! Three cruddy songs out of 12 don't ruin an album. The song "Little Green Amp" is a collaboration with the band Anti-Flag, and it rocks! It is probably one of Dave's most autobiographical in the sense that he talks about how his music career started. Lyrically, it is funny, but mostly sad because he talks candidly about the memory of his teenage romance, which ended up in a teenage pregnancy (and yes, this happened before The Kinks were a band) and how the parental figures kept him and his girl apart.
He talks about this in more detail in his autobiography Kink, including what the hell really happened, and how it is a subject that filled him full of anger and regret. "Little Green Amp" touches on his anger and feelings of helplessness when these unfortunate events took place in his life, and how he took that anger out on his Elpico amp, by slicing up the speaker cone with a razor blade (inadvertently creating distortion guitar!). His guitar sound wasn't expressing his anger enough; it needed to be as loud as his soul. This songs also plays a backwards riff of "You Really Got Me" as its melody. Needless to say, I dig it.
I also quite like "The Healing Boy," which is odd since I usually don't care about songs about children. Lyrically, it's about the birth of Dave's first grandson and how it affected him emotionally (as well as spiritually). I ended up liking it more for its musical sound and vocals than story because I really like the use of a sitar and violin in it, and Dave is doing that rich self-harmonization with his voice, which is what I've always loved about the sound of it.
The other songs that I feel are standouts are: "In the Mainframe" (with The Bloody Hollies backing); the psychedelic "Energy Fields" (with backing by Dead Meadow); the hilarious and sexy "Erotic Neurotic" (with backing by Aussie band called The Art); and the beautiful "Cote Du Rhone (I Will Be Me)" (with guest awesome guitarist, Chris Spedding).
Dave Davies is very open about his spirituality and sensitivity, as well as his sexuality, which is why I Will Be Me is the perfect title for this album, because Dave is who he is, and doesn't really give a shit if you approve or not (but of course, if it is well-liked, I'm sure that would make him smile!).
I Will Be Me was released through Purple Pyramid/Cleopatra Records on June 4 and is available via the label's website or Amazon.