Published on June 24th, 2013 in: Current Faves, Music, Music Reviews, Reviews |
By Julie Finley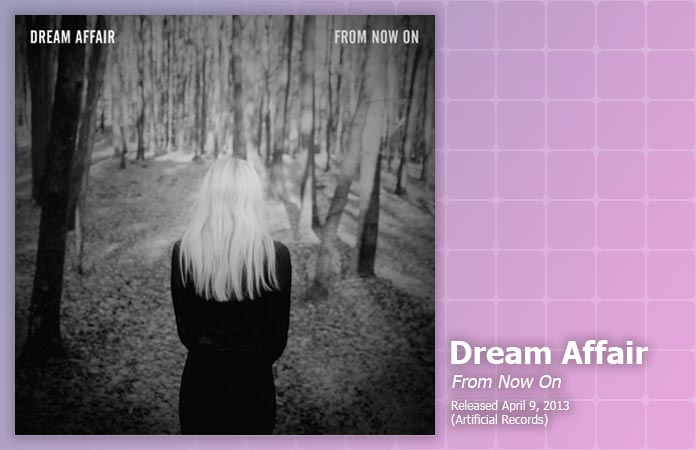 Dream Affair are a trio of musicians from various locales that started out in Philly, but are currently based out of Brooklyn. They have undergone a few line-up changes since their inception, but the primary figure has been Hayden Payne (vocals, guitar, and various electronics). The other members are Abby Echiverri (synths, violin, and vocals), as well as Bryan Spotlore (bass). I am not sure if they classify themselves in a genre per se, but their music tends to be filed under "post-punk," "new wave," "cold wave," "Goth rock," etc.
From the sound of their latest release, From Now On, those various genre labels wouldn't be too far off the mark. The problem with those specific genre labels is that any band falling under that umbrella is inevitably going to be compared to Joy Division or The Sisters of Mercy. Yes, there are many newer bands that clearly take their cues from their forefathers, but this is what I find different about Dream Affair.
Most of the other bands out there that are miming the late Ian Curtis, are just singing with a dour delivery—but everything else is of high production value. Dream Affair, on the other hand, actually sound like they could've existed in that golden age! The vocal mix has that detached essence that was so heavily used back in the early '80s, but it isn't as miserable as Ian Curtis, nor does it have that doubled reverb of Andrew Eldritch. The guitar work has just the right amount of delay; the bass has almost a cloudy minimalist effect over it. The drum machine is right on cue with older analog machines; the synths are mixed more sparsely, but actually have a bit of melody in there. In other words, Dream Affair definitely nailed the production quality (or maybe it is a lack of quality) that bands of that era had.
With that said, I don't think they sound like Joy Division or The Sisters of Mercy, but more in the vein of lesser known bands like Red Lorry Yellow Lorry, Danse Society, or Play Dead (and due to the occasional use of female vocals, I would lean more towards early Clan of Xymox). They don't have some stupid obsession with vampires or tinges of renaissance-faire crap, nor do they look particularly outlandish (which is a plus). Nor do they come off as posturing hipster bullshit, either.
From Now On is rather short in content and was released on Artificial Records (out of Canada). Five out of the six songs contain vocals (the last track "Jasper" is an instrumental). My favorite song was "The Porter" because it showcased both vocalists playing off of each other. The other track I favored was "All I Want."
Dream Affair are currently scheduled to play in Ottawa at Club Saw, on June 22, and in Montreal on August 2 at Casa. They are slated for a European tour later on the year. For more info, check out the band's website. You can order From Now On, which was released on April 9, at the Artificial Records shop.