Published on June 11th, 2013 in: Music, Music Reviews, New Music Tuesday, Reviews |
By Emily Carney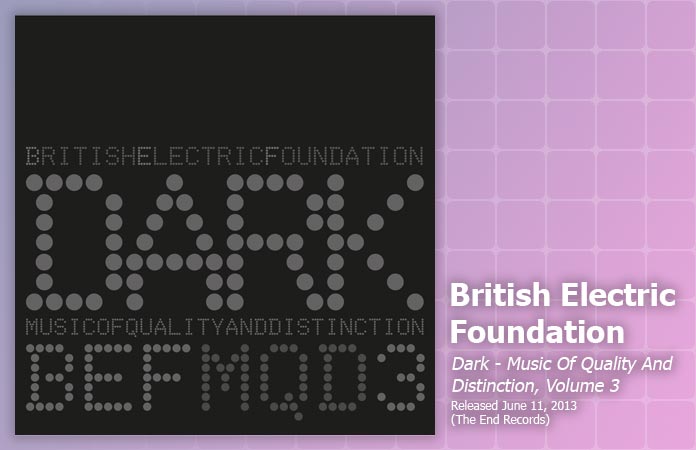 BEF's first volumes were released in the halcyon days of white-boy soul, respectively in 1980 (Music for Stowaways, 1982—Volume 1) and 1991 (Volume 2). BEF's excursions into the world of pop-music covers encompassed Tina Turner (who did a version of "Ball of Confusion" in 1982 which pretty much still blows everything out of the water) and Heaven 17's Glenn Gregory covering Glen Campbell's country chestnut "Wichita Lineman." Oh yeah, this "collective" is also basically Heaven 17, now sans Human League founder and legendary disappear-er Ian Craig Marsh.
Now it's 2013, and BEF is back with a set of new covers. Dark pretty much mines old material with the same players, including Kim Wilde (who covers "Every Time I See You I Go Wild"), Andy Bell from Erasure (who covers Kate Bush's "Breathing"), and Boy George (who does The Stooges' "I Wanna Be Your Dog"), among others. There are a few newer artists on the disc, including Shingai Shoniwa of the Noisettes (whose version of "God Only Knows" is a godsend), but I wish the disc included more new artists and perhaps newer songs.
Dark is essential for BEF and Heaven 17 completists, but those interested in being introduced to this family of music should check out 1981's Penthouse and Pavement and 1982's Music of Quality and Distinction Volume 1 which remain amazingly undated. While some of the versions of songs on Dark are standouts (Kim Wilde's song contains all the electronics snaps and beeps we expect from BEF), don't expect an epiphany here.
Dark, the British Electric Foundation's third volume, is out today through The End Records. For ordering information, visit the BEF website.