Published on May 23rd, 2013 in: Current Faves, Music, Music Reviews, Reviews |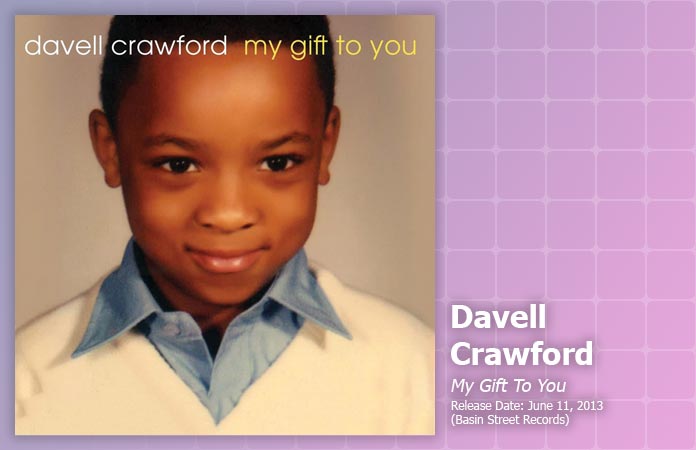 I don't know that I've ever been brought to tears by a piano piece. Davell Crawford has changed that. On his intensely personal album My Gift To You, the "Piano Prince of New Orleans" lives up to his nickname, and his performance of "Southern Nights/Many Rivers To Cross," the marriage of an Allen Toussaint song to a Jimmy Cliff song, is transcendent. I cried. It felt like a gift to hear it.
Davell Crawford hadn't released an album in 13 years. It must have been time well spent, because My Gift To You is simply extraordinary. He changes effortlessly between styles; jazz, funk, Louisiana low country music, and does it all so well. He surrounds himself with a who's who of contemporary New Orleans musicians. The liner notes alone are worth the price of the record—they are witty and interesting, and give even more insight into the clever Mr. Crawford.
I will admit this: When I first listened to My Gift To You, I didn't know what to make of it. I didn't read the liner notes, and I just didn't get it. However, it rewards attentive listening.
"River/White Socks & Drawers" is a full on groove. It has a variety of textures, with sax by Donald Harrison, Jr., and Crawford's silky smooth vocal. When they're joined by the always-welcome Dr. John, the grittiness ratchets up. By the time Big Freedia shows up, adding bounce and joy, it becomes amazing. It's a portrait of New Orleans that is indelible.
Davell Crawford has such an expressive voice, and when he is partnered with Trina Dyson on "Junco Partner Cudd'n Joe," they mix effortlessly on this slinky, low-down story song. This has magnificent guitar work from Walter "Wolfman" Washington.
His version of Billy Joel's "The River Of Dreams," again with Donald Harrison, Jr., is a beautiful, inventive, delicate take. Elegant and worldly with Ladysmith Black Mambazo-esque backing vocals, it is transporting. Another cover, "Fire and Rain," is heartbreaking and raw. I may never hear the original the same way again.
"Don't Ever Be Blue" is a fascinating departure. His voice is powerful and husky on this country-like song, ably backed by Steve Riley on fiddle. He brings the funk back on "Southern Woman (Ain't Nothin' Like A)," then changes gears again on the evocative and open "Stranger In My Own Home." Written after Hurricane Katrina, this cinematic song has an orchestra and majestic trumpet by Nicholas Payton.
You have to admire an artist secure enough in his own vision to let someone else take the lead vocals on a song as anthemic as "Going Back To Louisiana," a fun love song to Davell Crawford's home. Dr. John supplies the lead vocal on this part-spiritual, part-country, part-jazz, all-delightful number. Crawford plays piano, and to say that he's a fine piano player is a grave understatement. He's genius.
"Can't Find My Way Home" is an extraordinary, hushed take on the Steve Winwood song. It is thoughtfully paired with "Ode To Louisiana," a heartfelt paean to his home and those displaced by Hurricane Katrina. It's a hard album to hear without a lump in one's throat, especially this song. What a voice he has.
Davell Crawford's My Gift To You is an exceptional record. It is so open, honest, and genuine it feels like it is a gift. I feel lucky to have heard it and that Mr. Crawford chose to share it. It is heartbreaking, brilliant, and moving, as well as wildly entertaining. Let's hope he follows this up soon, because 13 years is too long to hear from him again.
My Gift To You will be available on June 11 from Basin Street Records.