Published on April 10th, 2013 in: Current Faves, Feminism, Music, Music Reviews, Retrovirus, Reviews |
By Hanna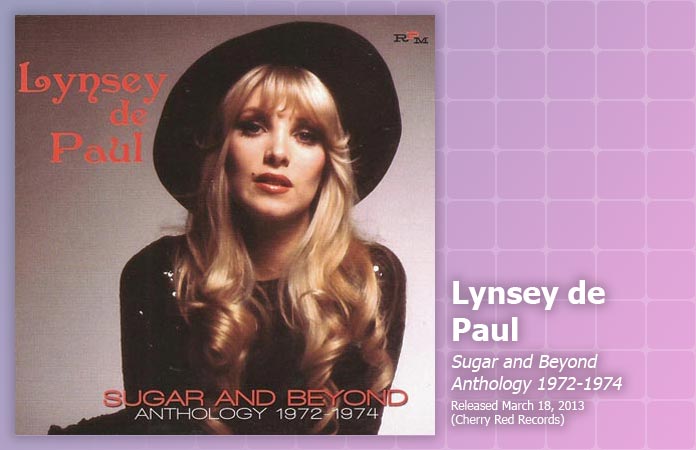 The entire '70s catalogue of pioneering female singer/songwriter Lynsey de Paul has finally been collected in two new anthologies: Sugar and Beyond 1972 – 1974 and Into My Music 1975 – 1979. Using exclusive material and information from Lynsey de Paul herself, this is a unique collection, signifying a new chance to discover her work and to grant it the recognition it deserves.
There are four CDs combined in the two anthologies, providing a definitive overview of all de Paul's music released in the '70s. The tracks are made up of singles, unreleased material, and the four albums released in that decade: Surprise, Taste Me . . . Don't Waste Me, Love Bomb, and Tigers and Fireflies. As far as I could tell, these albums are included in their entirety. The Eurovision hit single "Rock Bottom" is also included.
While the compilation of albums and singles makes these anthologies instantly important, the addition of unreleased material makes them a must. I already owned the early '70s albums as well as a couple of singles, and so not a lot was new to me, but even when you're familiar with the material, the combination of albums, singles, and unreleased material allows you to get a better feel for de Paul's musical progression.
The sound quality is good, clear, and on a par with a good quality vinyl. The packaging is thorough, providing background information for each track as well as the album producing process, and includes a lot of information from Lynsey herself. Sadly it does not include song lyrics, but these can be found in other places for most of the songs.
The first anthology (Sugar and Beyond 1972-1974) runs from the first single, "Sugar Me," through the Surprise and Taste Me. . . Don't Waste Me albums and the "No Honestly" single. It profiles her start as a performer in addition to her career as a songwriter, and the position she swiftly gained as a prominent glamrock musician. The most obvious example here is the classic glamrock single "Getting A Drag," but "Sugar Me" has its characteristic Slade-like violin sound, and playful songs like "Rockerdile" and "Let's Boogie" are in a similar style. "Just Visiting" even provides an addition to the canon of space-related glamrock mythos songs with a story about primitive humans liberated by a spaceman visiting earth.
The second disc includes her cover version of colleague and collaborator Barry Blue's "Dancing On A Saturday Night," and the fantastic "Central Park Arrest," later covered by the Thunderthighs, backing singers for artists like Mott the Hoople and Lou Reed. It also features her greatest critical triumphs, "Won't Somebody Dance With Me" and "No Honestly," which both won Ivor Novello Awards, making her the first female artist to do so.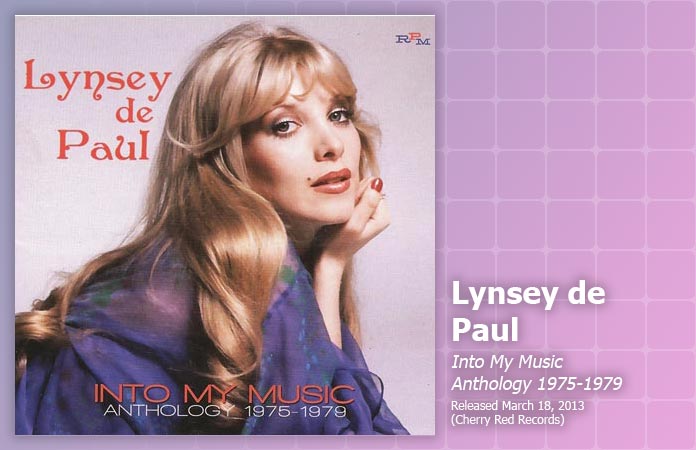 The second anthology (Into My Music, 1975-1979) is less coherent than the first, and the liner notes show why. At the time, Lynsey was involved in a number of music-related legal struggles, and the development shows in the music. The second disc feels rather disjointed, which is natural considering the amount of unreleased material, but there is also an air of (slightly) increasing cynicism. Still, this suits the general style of her music and there are interesting songs such as "Into My Music," a plea to be left alone with one's music, and "If I Don't Get You, The Next One Will" included on the first disc of Into My Music.
The second disc of the second anthology prominently features the unreleased album Take Your Time, which in my opinion is one of the best she's done, and it's a pity it wasn't released until now. The combination of slightly sardonic observation and innuendo pairs extremely well with the even smoother and sweeter style of these songs. "You Either Got It Or You Ain't" and "Do Unto Others" are examples of this, suggestive and knowing like clever 1920s music hall songs. "Martian Man," the story of a woman who loves a stranded Martian, is a tribute to close friend Roy Wood. "Rock Bottom" is emblematic of her style in this period, both oddly nihilistic in its vision of love as well as funny and playful. That more forceful side rather fades with the last featured album, Tigers and Fireflies, in my opinion the weakest on the compilation, but still interesting.
These anthologies really succeed in providing an overview of Lynsey de Paul's work and her development as an artist, giving us something beyond the mere reproduction of the songs. It gave me a new appreciation of her work. The true elements of her style—musical and lyrical sophistication in the form of wordplay, sly comments, and wistful observations—become more obvious, as well as her development from a light, surrealist style to something more worldly in the later work.
Glamrock is often presented as a genre focusing on feminine style, liberating men from masculinity, with punk providing the opposite of that by liberating women from femininity. While glamrock is typically described as performed by men, punk is seen more as a women's genre, with more women writing and performing their own music. Philip Auslander has argued in Performing Glam Rock that this element of punk music was a result of the de-masculinization of music by glamrock, paving the way for women to enter.
This is also the general tone of the liner notes for these anthologies, especially Into My Music, casting Lynsey de Paul as the trailblazer for Kate Bush to be the first woman to have a Number One in Britain with a song she wrote herself. However, Lynsey de Paul is obviously also a pioneer in her own right, as a critical success and a woman performing her own songs for the first time. Furthermore, the tone of her music is unique and provides a feminine tone of detachment, sexual agency, wit, and sharp observation, which are things not often seen in mainstream modern cultural ideas of femininity.
These two anthologies show what a skilled and effective musician Lynsey de Paul is, and how much she deserves a higher position in the modern critical landscape of the early '70s. Her mixture of technically complex and characteristically sweet and light music, and sly, sometimes knowing, sometimes zingy lyrics is unique and emblematic of the best of glamrock style. While obviously recognized at the time both by fellow musicians and critics, history is never kind to female artists in male-dominated fields. She is one of the best musicians of her genre and of mainstream British music in general, and should be commonly known by anyone who has any interest in it. These anthologies provide a great place to start.
Sugar and Beyond and Into My Music were released via Cherry Red Records on March 18 and are available to order from the label's website.