Published on April 2nd, 2013 in: Current Faves, Music, Music Reviews, New Music Tuesday, Retrovirus, Reviews |
By Cait Brennan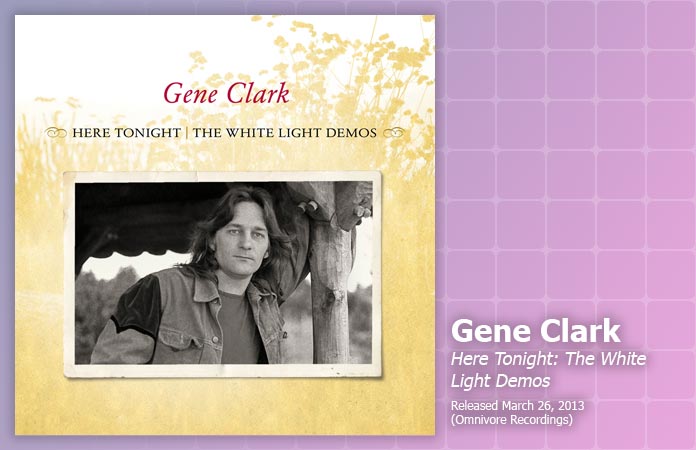 The experience of being alive is joyous and unbearable. This crude matter we're made of fights us every step of the way, but something deeper, something more, some beauty and energy blasting through from a source we can't know animates us, fills us, drives us onward, and the friction, the vibration of energy that moves us, is what we call music. Where does it go, do you suppose, when we're gone? Nobody knows, but you've gotta hope that when the radio breaks, still the signal shines on.
If rock and roll means anything worth caring about, it's the need to express something real and beautiful and transcendent from the human soul. But that need can lead to soul-destroying results. There's a fake thing called fame today, but it's nothing like the sun that blistered down on the rock and roll bands of the 1960s. Know-nothing hambones like Mike Love get out in front and let their egos feast on the callow roar and toxic adulation of the crowd while sucking the lifeblood out of the delicate creative genius that brought them to the party, like a fat tick on a sick dog. The songwriter gets in the way? Kick 'em out of the band and keep the carnival on the road. Don't mess with the formula, right?
Which brings us to the Byrds' creative genius, Gene Clark. A down-to-earth, folk-influenced kid from the Midwest, he co-founded the band, and (excepting a few covers written by some stray named Robert Zimmerman) was the songwriting powerhouse behind the Byrds' golden age. Just a few of the highlights he wrote or co-wrote: "I'll Feel A Whole Lot Better," "She Don't Care About Time," "I'm Feelin' Higher," "If You're Gone," "Here Without You," "The World Turns All Around Her," "Set You Free This Time," oh, and a little number called "Eight Miles High."
Clark soon buckled under the demands of fame and cutthroat band politics, and worse, developed crippling panic attacks that made air travel impossible ("The Byrd that wouldn't fly!" cried some hi-larious wag who couldn't write a ringtone). Intentionally frozen out by the rest of the band (I'm lookin' at you, David Crosby), Clark left the group in 1966. The Byrds went on without him, but the soul of the band was gone. Meanwhile, Clark launched a solo career that was about 30 years ahead of its time, with gems like Gene Clark with The Gosdin Brothers, The Fantastic Expedition of Dillard & Clark, and Through the Morning, Through the Night released to near-universal indifference. Disheartened, Clark fled up the California coast looking for the peace and creative renewal that no amount of showbiz acclaim could ever provide.
He was still under contract, though, and A&M Records' brilliant co-founder Jerry Moss enticed Clark back to L.A. to record the songs that would become White Light, with Jesse Ed Davis producing. The bare, beautiful demos on Here Tonight were recorded prior to that album, with just Clark and his harmonica, on intimate and introspective songs that reflect Clark's struggles with fame and the pressures of the music world, and his deeper search for spiritual meaning.
It's called The White Light Demos, but only six of these gems actually ended up on the studio version of that album (those being "White Light," "For A Spanish Guitar," "Where My Love Lies Asleep," "The Virgin," "Because Of You," and "With Tomorrow"). Studio versions of "Opening Day" and "Winter In" appeared on the 2002 A&M/Universal reissue of White Light, and a different version of "Here Tonight" turned up on the Flying Burrito Brothers collection Close Up The Honky Tonks. As a result, it's not just an "alternate" White Light but a rare look at the creative process and an entirely "new" Gene Clark album that captures him at his best.
The set opens with the spiritually charged "White Light," rendered here in a beautiful, intimate version that sets the tone for the rest of the disc: no band, no heavy production, just Clark and his guitar. His voice here is as good as you'll ever hear it, soulful and vulnerable as he sings of "the strength of those who see beyond their sight." "Oh, the smithies anvil rings, and the symphony it sings, no voice nor poet's pen can put to tune," he sings, "and electric lines of force ring around the humble lives of the souls that hear the master saying 'soon' . . ."
The beautiful lyrics of "Here Tonight" could not offer more of a straightforward, heartfelt explanation for Clark's reluctance to travel (and especially air travel, of which Clark was understandably terrified). "The rains came down and I should have made an early plane," Clark sings. "Where I'd rather be, if it can't be seen then I can't explain . . . It's not a matter of my faith or of my pride. It just seems so insane to strike out in the rain, when it's so easy to remain right here tonight."
The previously unheard "For No One" is a treasure, a forlorn ballad of a deeply lonely woman lost in the past, delivered with great compassion and tenderness. "She sits and leans against the window, from within her room she sees the day . . . she takes the daylight hours to wonder, she takes the night to fly away," Clark sings, "No one to speak, no one to steal her, no one to feel her, no one to stay . . . no one to sing the blues around her as she lives lightly in yesterday, for no one."
"For A Spanish Guitar" finds Clark processing the universe in all its wonderful, terrible glory through the strings of his Spanish guitar, seeking a world beyond: "just to laugh through the columns of trees, to soar like a seagull in breeze, to stand in the rain if you please, or to never be found."
Some classic impressionistic Clark lyrics are on tap in "Please Mr. Freud," about a dream "so complicated," with "a preacher in a black robe" who refuses to preach, a loud rock show where the "floor was so crowded, they were choking," and special appearances from Karl Marx and Spiro Agnew. Freud's rarely any help in these matters, but perhaps Carl Jung was out of the office.
"Jimmy Christ" is a brief and perhaps not finished song about (and perhaps in the voice of) the titular character gone Hollywood. "Nobody knows the pain I feel, from an old rugged cross or on a movie reel," Clark sings. "He's been produced and he's been spliced, he's been crucified, do you think he should be denied?"
Clark is in dreams once again on "Where My Love Lies Asleep," a much more serene and peaceful place than before. "Where my love lies asleep, there's no past nor tomorrow—only treasures to keep, there's no fears there to borrow." This is the kind of peace Clark traveled to Mendocino to find, and thankfully, it sounds as though he found a measure of it.
The city's a painful place in "The Virgin," a song of innocence and experience whose protagonist bears the freezing wind, the winter rain, and "the maladies of meaning." She toughs it out, though, sustained by poetry, philosophy, her teachers, and "the sad song she learned to sing."
Music is a refuge again in "Opening Day," where "some danced and some sang songs and some live for today," while on "Winter In" the summer fades to grey, and a stranger warns of "danger in those who watch out for their greed."
The poignant love song "Because Of You" is especially strong here, with Clark finding peace and fulfillment in a love that keeps the storm clouds at bay. "The dark clouds break away and a rainbow comes on through," he sings. "The sun I see only shines for me because of you."
An early version of what might be Clark's greatest song, "With Tomorrow," closes the set, tender, and heartbreaking but not yet what it would become under the loving care of White Light producer Jesse Ed Davis.
The lazy tendency is to compare Clark to Bob Dylan, and he obviously admired Dylan, whose influence in the '60s (and on the Byrds) was legion. But there's a depth to Gene Clark that, quite frankly, Dylan could only dream of reaching. Bob may have had a way with words, but he spent much of his career straining for the kind of spiritual transcendence, stillness, and creative authenticity that comes so easy to Gene Clark here.
We're very blessed to have this recording, which preserves these songs and this moment in Clark's life in all its grace. Omnivore is quickly becoming almost the Smithsonian of record labels, finding, preserving, and championing some of the greatest (and most endangered) music of the past 50 years. It's a little like what Rhino was back when that mighty label was a stand-alone outfit, only Omnivore's releases all show a devotional care and curatorial, near-obsessive attention to detail that even Rhino at its peak couldn't quite match. The Gene Clark album is the latest and greatest in a remarkable series of archival releases. Every serious music fan (and music student) should delve deep into the Omnivore catalog post haste. This is what music is all about.
Here Tonight: The White Light Demos was produced by Omnivore co-founder Cheryl Pawelski, with a warm, intimate, gorgeous tone that sounds like it was recorded yesterday, not 40-plus years ago. The liner notes are by author and Clark expert John Einarson (Mr. Tambourine Man: The Life and Legacy of Gene Clark), providing a compassionate and nuanced look at Clark's life and times and bringing context to the work for those who might be encountering Gene Clark for the first time. Clark left us a long time ago, emotionally and physically wrecked at just 46 years old after years of misfortune and self-medication. But his legacy, both with the Byrds and solo, is undeniable. On Here Tonight: The White Light Demos, the signal, ever strong, shines on.
Here Tonight: The White Light Demos was released by Omnivore Recordings on March 26 and is available to order from the label's website.