Published on March 19th, 2013 in: Current Faves, Music, Music Reviews, New Music Tuesday, Reviews |
By Emily Carney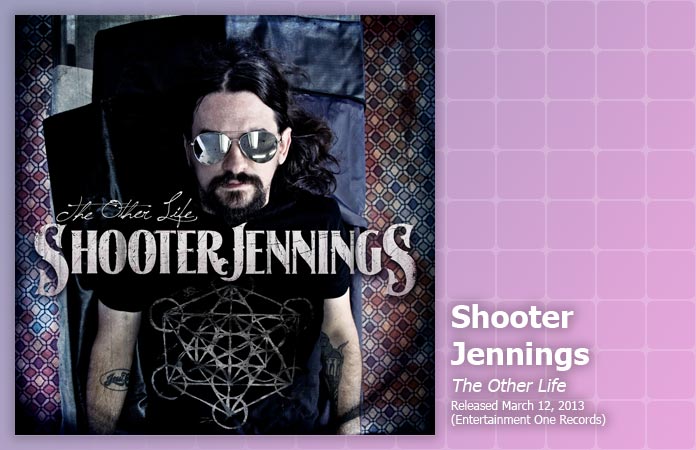 As I sit in my apartment on a quiet Sunday morning, the Tampa Bay area is still reeling from the effects of a Kenny Chesney concert. It even merited an article in our local paper, the Tampa Bay Times. While I'm glad these fans raised a bit of G-rated hell and enjoyed some country music, some of us enjoy the grittier sounds of the son of one of the canon's finest, Shooter Jennings. On his new release The Other Life, Waylon's son proves himself to be worthy of his dad's crown.
Some of the best cuts on The Other Life have a Southern-rock sounds reminiscent of .38 Special and good ol' Skynyrd, including "Mama, It's Just My Medicine" and "The Low Road." There is a song for, um, people going through difficult times, called "The White Trash Song" (Jennings's title, not mine). Some of the tracks have a space-y theme, which is all right with me (hey, I woke up wearing a Millennium Falcon T-shirt, for no reason). "Flying Saucer Song" and "15 Million Light-Years Away," featuring Jim Dandy of Black Oak Arkansas (awesome) explore the otherworldly specter of space-country-rock (which I didn't know existed!).
Quieter tracks, such as "The Outsider" and "Wild and Lonesome," with Patty Griffin, will appeal to fans of old-school country who listened to George Jones and Johnny Cash on transistor radios. The album strays from the glitzy, effects-glazed contemporary country and hearkens back to the golden age of 1970s country-rock.
In summation, if you like country with some bite and frequently grab your old country records, such as Kenny Rogers's (!) "Ruby, Don't Take Your Love to Town," this is recommended listening.
The Other Life was released on March 12 through Entertainment One Music and is available through iTunes. For more information, visit Shooter Jennings's website.
Tour Dates:
Apr 11: Texas Music Theater; San Marcos, TX
Apr 12: Strange Brew; Shreveport, LA
Apr 13: Nutty Jerry's; Winnie, TX
Apr 16: Ziggy's; Winston-Salem, NC
Apr 17: The Handlebar; Greenville, SC
Apr 18: 40 Watt; Athens, GA
Apr 19: Masquerade; Atlanta, GA
Apr 20: The Windjammer; Isle Of Palms, SC
Apr 23: Grand Ole Opry; Nashville, TN
Apr 24: Track 29; Chattanooga, TN
Apr 25: Marathon Music Works; Nashville, TN
Apr 26: 8 Seconds Saloon; Indianapolis, IN
Apr 27: Reggies Rock Club; Chicago, IL
Apr 28: Rollie's; Sauk Rapids, MN
May 18: Doughboyz; Ashville, OH
May 22: The National; Richmond, VA
May 24: Gus Bar; Jacksonville, NC
May 25: The Shed @ Smoky Mountain Harley-Davidson; Maryville, TN
May 26: Atomic Cowboy; St. Louis, MO
Jun 01: Goose on the Lake; Allegre, KY
Jun 06: Thunder on the Mountain; Ozark, AR
Jun 07: Brazos Nights: TEXAS MUSIC SHOWCASE; Waco, TX
Jul 13: Renfro Valley Old Barn Shows; Renfro Valley, KY
Aug 03: Gorge Amphitheatre; George, WA