Published on March 7th, 2013 in: Current Faves, Music, Music Reviews, Reviews |
By Emily Carney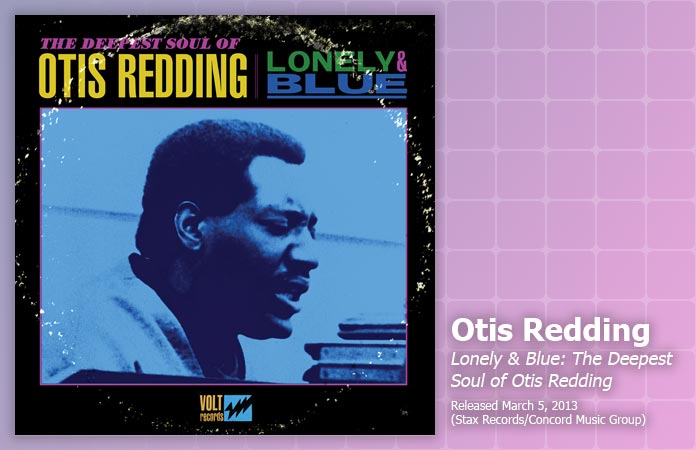 Sadly, Otis Redding's music seems to have limped off into the sunset, despite having a posthumous number one hit with "Sitting on the Dock of the Bay" in 1967. Redding's one hit was relegated to "classic rock" stations and was associated with MOR entertainment; his name was tainted with the voices of countless awful disc jockeys. However, a new disc should change his image: Lonely & Blue: The Deepest Soul of Otis Redding showcases his absolutely heart-wrenching soul songs.
The disc opens with "I Love You More Than Words Can Say," which should, by rights, be the only love song ever written—it pretty much says it all and Redding's voice is heartbreaking. It can be argued that great singers are actors; they tend to "act out" the songs they perform. Otis pours his heart out into every note—and no note is performed wrong.
"Gone Again" and the eerie "I've Got Dreams to Remember"—which references an airplane flying across the sky, his particular manner of death—are highlights of this disc, although each cut is an emotional tour de force. This is not easy listening if you're feeling sad, beaten-down, and lonely, hence the name of Lonely & Blue. One becomes sad recalling that soon, Redding wouldn't have dreams to remember.
". . . You are the one that loved me," Redding sings in another choice tune, "Everybody Makes a Mistake." Redding deserves to have his due, even at the late date of 2013; he deserves to be loved. His pleading, emotional voice almost echoes a more contemporary star of R&B, the equally doomed Amy Winehouse. This is essential listening for those obsessed with soul, R&B, and music in general.
Lonely & Blue: The Deepest Soul of Otis Redding was released March 5 on Stax Records through Concord Music Group. It is available to order from the Concord Music website.