Published on February 27th, 2013 in: Music, New Single, New Video, Video |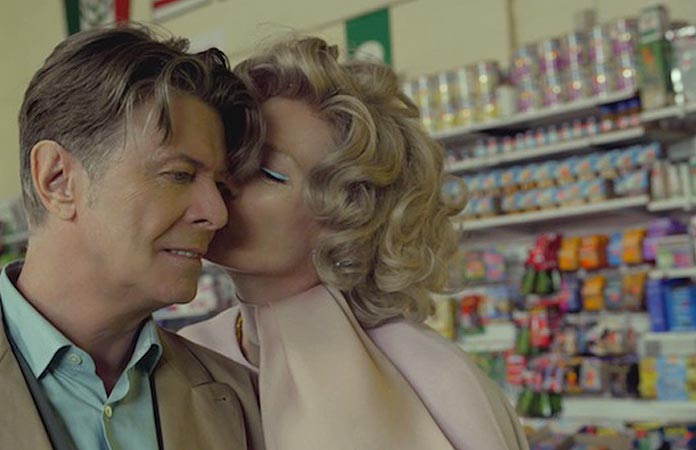 As if working on a new album for two years in secret wasn't enough of a coup, now David Bowie has a new video for the song "The Stars (Are Out Tonight)" featuring Tilda Swinton and models Andrej Pejic and Saskia de Brauw.
For fans of both Bowie and Swinton, this is fairly amazing, as their remarkably similar, androgynous looks have been the subject of endless Internet memes as well as the Tumblr blog Tilda Stardust, which seeks to prove that the two are the same person.
For those who follow fashion, the appearance of both Pejic and de Brauw is nearly as fascinating as the two are perhaps the biggest Bowie androgynes after Swinton herself.
Although Bowie has been declining various public appearances over the years (The Victoria & Albert Museum retrospective, the London Olympics Closing Ceremony), he's clearly not been ignoring pop culture in his "increasingly reclusive" life. Not only does he include Swinton, Pejic, and de Brauw in the video, it's directed by Floria Sigismondi, who is responsible for the decidedly Bowie- and Velvet Goldmine-influenced film The Runaways. (It's all so meta!)
Intriguingly, Swinton doesn't play Bowie in the video (that would be too easy), but Bowie's wife. As they go grocery shopping together, she praises their "nice life" after he remarks that the people on the cover of a tabloid are "more exciting than anything we've got around here." (For more self-referential material, check out the photo in the upper right corner of the fake tabloid.) The song's commentary on celebrity, stars, and transformation is made manifest visually through some brilliant editing and costumes.
One can even imagine Bowie laughing at that Daily Mail article from last fall and that this video is his response. Clearly he's pulled off the biggest transformation of his career and bested us all, yet again.
The Next Day comes out on March 12.