Published on February 19th, 2013 in: Current Faves, Feminism, Music, New Music Tuesday, Reviews |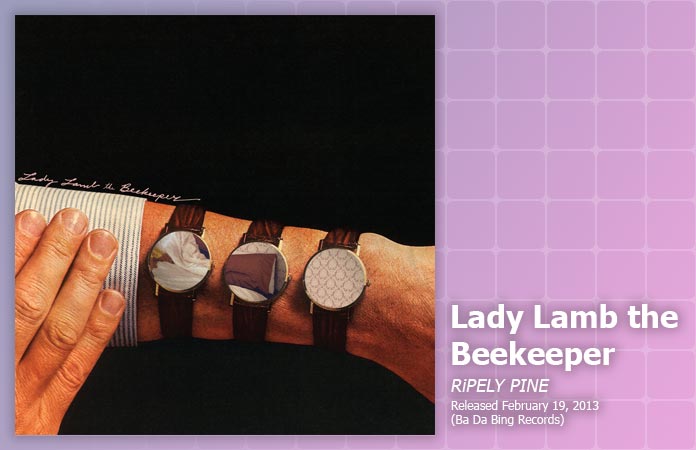 Over the past few years, singer/songwriter Aly Spaltro has beguiled New England audiences with her project Lady Lamb the Beekeeper. Her fractious, off-kilter songwriting is well-matched by a voice that seems to explode out of her. After releasing a series of demos, Lady Lamb the Beekeeper is poised to take over the indie world with her first studio album, RiPELY PINE.
While the sparely produced, independent Lady Lamb releases foregrounded Spaltro's considerable talents, RiPELY PINE finds her experimenting with a more commercial sound. The clean production, with its new-found focus on the slow-burn dynamics of Spaltro's songwriting, comes off like the aural equivalent of a leather-bound book with gilt-edged pages and four-color illustrations. Her minimal guitar riffs bristle with closely held emotion, as though she were denying herself a catharsis. The driving percussion and echoing violin that drive "Bird Balloons" emphasize the song's theme of anger borne from love. The waltz-time instrumental break in "Mezzanine" pits a staccato prog-rock guitar solo against a mellifluous clarinet chart that, combined with the lyrics about ghosts and haunted houses, could break your heart. Spaltro's dense arrangements and frequent use of odd time signatures, combined with Nadim Issa's straightforward and pleasingly mid-range production, suggests the influence of Throwing Muses. Like Lady Lamb, songwriters Kristin Hersh and Tanya Donnelly negotiated a mid-point between their knotted, intuitive personal mythologies and the rewards of finding a wider audience, and as with Spaltro's work, their albums had an appealing tension between these poles.
At times, Aly Spaltro sings like a Broadway diva crossed with a gale-force wind. Her sincerity and vocal control keeps this raw approach from becoming too campy. The incisive lyrical imagery leans into the grotesque in a way that recalls Grimm's Fairy Tales. Against the rolling banjo riff of "Regarding Ascending the Stairs", she intones "You handle me like an infant skull/and I cradle you like a newborn nightmare." On other songs, she draws on vocal tics that would sound irritating coming from other vocalists. The vocal fry she employs at the end of each verse on the lolloping ballad "Florence Berlin" emphasizes the vulnerability brimming forth in her lyrics.
While a few of the songs that appear on this album have previously appeared on some of Lady Lamb's demos, RiPELY PINE doesn't suffer from the lack of cohesion that bedevils many indie artists when they record their first studio album. Listening to these in comparison with the earlier versions of these songs, Spaltro sounds as though she's contemplated how these songs fit together with one another, and how the meanings have shifted and changed as she's grown and lived with them. Though this album works as a whole, the fact that it could also be a kind of greatest hits album is exciting.
RiPELY PINE is a satisfying album that heralds the presence of a new talent. I can't wait to see what's next for Lady Lamb the Beekeeper.
RiPELY PINE is out today from Ba Da Bing Records, and can be ordered from the label's website. Visit Lady Lamb the Beekeeper's website to stream music from the album.
Tour Dates:
Fri. Feb. 22: Cambridge, MA @ T.T. the Bear's w/ Xenia Rubinos, Cuddle Magic
Sat. Feb. 23: Brooklyn, NY @ Knitting Factory w/ Xenia Rubinos, Cuddle Magic
Sat. March 2: Portland, ME @ Space w/ Xenia Rubinos, Cuddle Magic