Published on January 16th, 2013 in: Best Of Lists, Movies, Music |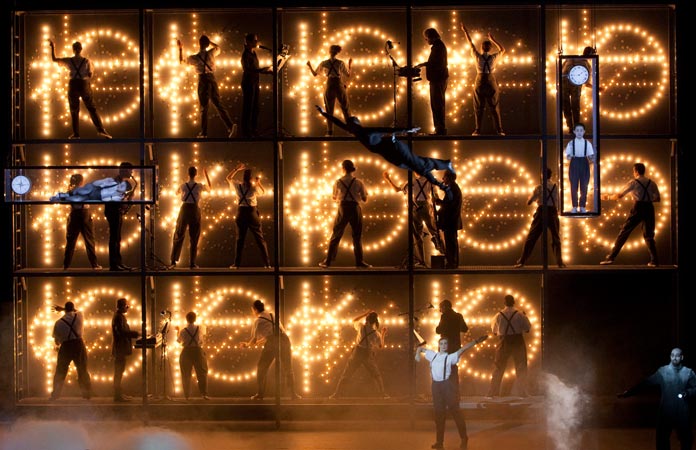 Einstein On The Beach, Photo © Lesley Spinks
Music
Here is some popular music I have been absorbing this year. Some on this list came out this year and some didn't.
Swans, The Seer
Anthony Pateras, Collected Works 2002-2012
Scott Walker, Bish Bosch
Francisco López, Nowhere: Short Pieces from 1983-2003 (ten-CD box set)
Motorpsycho and Ståle Storløkken, The Death Defying Unicorn
Jason Kao Hwang, Symphony of Souls
Dominique Leone, Dominique Leone and Abstract Expression albums and Summer EP
Normal Love, Survival Tricks
Loka, Passing Place
Yamantaka // Sonic Titan, YT//ST
Anna Von Hausswolff, Ceremony
Dan Deacon, America
Jóhann Johannssón, The Miners' Hymns
Chemical Brothers, Hanna OST
David Bedford, Star Clusters
Carlo Savina, Malenka OST
Various Artists, Touch. 30 years and counting
With honorable mentions to Anna Calvi, Forma, Paavoharju, Mariel Roberts, Battles, Chelsea Wolfe, and The Can Tapes.
As I said last year on this very website, my main musical diet is C20 classical, contemporary composition, soundtracks, and the darker end of prog rock, and I spend much of my time writing new music—I completed the fifth season of The Venture Bros. as well as writing various commissions, arrangements, and installation pieces in 2012. As a listener, generally I found this to be another disappointing year for new music.
Concerts
I went to a bunch of concerts and event in 2012. Here are some of the most notable . . . (all shows in NYC)
Jan 13: David Linton at the Clocktower gallery (installation)
Jan 31: Jóhann Johannssón and Bill Morrison, Miners' Hymns at the Winter Garden
Feb 03: Michael Gordon and Bill Morrison, Decasia at The Winter Garden
Feb 25: Bjork at Roseland
Mar 23: William Basinski at The Kitchen
Mar 25: Francisco López at Issue Project Room
Apr 15: The Sinking of the Titanic, Gavin Bryars Ensemble and Philip Jeck at the Barbican, London
Apr 28: Yarn/Wire with Tristan Perich at Issue Project Room
Apr 29: Ruins Alone, Child Abuse, Behold The Arctopus at Death By Audio
May 12: Musical Box perform Lamb Lies Down On Broadway at Tribeca Performing Arts Center
Jun 13: Yamantaka // Sonic Titan at Mercury Lounge
Jun 20: Philip Glass Ensemble at Rockefeller Park
Jun 29: New York Philharmonic play Stockhausen and Boulez in 360 degrees at Park Ave Armory
Jul 07: Morton Subotnick, The Music of Richard Lainhart at Pace University
Aug 25: Darcy James Argue + Escort at World Finacial Center
Sep 11: Arnold Dreyblatt at Our Lady Of Lebanon
Sep 14: Eleh, Lary 7 at Our Lady Of Lebanon
Sep 17: Deerhoof, Buke And Gase at Music Hall Of Williamsburg
Sep 18: Gamelatron at the Clocktower gallery (installation)
Sep 23: Einstein On The Beach at BAM
Sep 25: Lesley Flanigan Salon at 16 Beaver
Oct 05: Demdike Stare at the Bunker
Oct 23: Tony Conrad at NYU Gallery
Nov 15: Lydia Lunch RetroVirus at Knitting Factory
Nov 16: Holly Herndon at 285 Kent
Dec 08: Bassoon/Sarcaustic at Jack
Dec 11: John Zorn, new works for strings at Miller Theater
Dec 15: Michael Gordon's Timber at BAM
I also keep a Tumblr blog where I talk about events that I check out, and other cultural obsessions, etc.
Film
Films I dug included:
The Snowtown Murders
Hanna
Headhunters
Holy Motors
Dark Horse
Some of my own performance highlights included Manorexia at the Roadburn Festival, plus collaborations with Zola Jesus with Mivos Quartet at The Guggenheim, Vinyl Terror & Horror at the Swedish Energies Festival, Philip Jeck with the Touch crew at Experimental Intermedia, and Marc Almond at Antony's Meltdown.
Find out more about JG Thirlwell on the Foetus.org website and his Facebook page.