Published on March 12th, 2013 in: Current Faves, Music, Music Reviews, New Music Tuesday, Reviews |
By Cait Brennan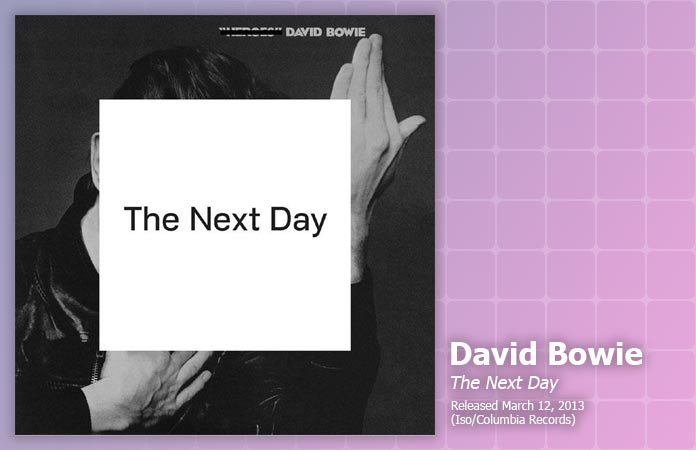 It takes a giant set of stones to deface, obliterate really, the cover to "Heroes", the 1977 album that is often regarded as David Bowie's masterpiece. You wouldn't do it for a remix record, let alone a new album that heralds your return to music after a decade as far away from the music world as you can get, on this side of the dirt at least. You wouldn't pay some guy a ton of money to just scratch out the album title and paper over the face with some words on a blank slate.
But then David Bowie has always been that blank slate. The Next Day equals "The Next Thing," the tantalizing, elusive thing Bowie has restlessly, relentlessly pursued since the day he first imagined his pilfered name in lights. New sounds, new poses, new ideas, borrowed and digested and inhabited and discarded, with the artificial cool and sublimated panic of a man trying desperately to stay one step ahead of the law, sick inside with the feeling that any second, he'll be exposed as a fraud, a con man, a cut-rate Tabarin in a rented clown suit that's four days past due and damaged beyond hope of getting back the deposit. We mustn't ever tell him that it's all in his head, that he's real and he's good and that he's saved us, the ones that he's saved.
But now, no new pose, no fashion, no fame, just a blank slate, a screen on which to project your own version of the dream. Is this the end of The Prisoner then, where Bowie rips the monkey mask off the madman he's chased, only to find his own true face underneath?
Oops, should have said "spoiler alert."
In every meaningful way, The Next Day is the album that comes after Scary Monsters in your Bowie Tech Unit. Vocally, lyrically, this is the Bowie who tore through the 1970s like a hot knife through butter. There's an urgency, an energy and intensity long missing. Blazing guitars and an outstanding vocal performance. Lyrically, Bowie swings between looming mortality, postmodern anxiety, and a righteous World's Greatest Sinner fury. It's flawed, but it's vital, the sound of a veteran artist with much more to say.
The title track blasts right out of the gate with asymmetrical, chunky guitar and That Man's voice echoing over an insistent beat, an artist "whipped through the streets and alleys" by a "gormless and baying crowd." "They can't get enough of that doomsday song," sings the man who wrote "Five Years," sounding alternately sick of being David Bowie and dying by inches without it. "Here I am, not quite dying, my body left to rot in a hollow tree—its branches throwing shadows on the gallows for me, and the next day, and the next, and another day . . ." Is life just one big hopeless inexorable march to the grave, David, or is there a downside? Time is never waiting in the wings. Perhaps that's motivation for his very welcome return, too.
"Dirty Boys" lives up to its name with a down-and-dirty stomp riff and shades of "something like Tobacco road." Those who dig the dark and debauched corners circa "Diamond Dogs" (or the gutter nihilism of 1. Outside) will probably love it; it left me a little cold. "When the die is cast and you have no choice, we will run with dirty boys." Pics or it didn't happen, David.

"The Stars (Are Out Tonight)" continues Bowie's lifelong double-edged obsession with the perils and promise of fame. "We will never be rid of these stars," a weary, anxious Bowie sings, "but I hope they live forever." The priceless video sort of echoes the great "Jazzin' For Blue Jean" conceit, with Bowie Actual as a disquieted domestic, while wryly chosen Past Selves (oft-cited Bowie lookalikes Tilda Swinton, Norwegian model Iselin Vollen Steiro, Dutch model Saskia de Brauw, and the gorgeous Andrej Pejic) hound him out of home and hearth, until the lover becomes the thing he loathes. Modern celebrity is an overripe target ("satyrs and their child wives" indeed), but Bowie vivisects it with a brutal compassion for the "sexless and unaroused," all "broke and shamed or drunk or scared, but I hope they live forever." It's Bowie in Bouville, a sweetish sickness he can never escape. Vive La Nausée.
Maybe I've reached a certain age but I think the funniest line in the entire Bowie catalogue is the opening line to "Love Is Lost": "It's the darkest hour, you're twenty two." There can be no more perfect distillation of the inescapable feeling of choking doom that hits you in your early 20s, and the track's pulsating, angular anxiety drives the point home. "Your fear is as old as the world," sings Bowie. "You know so much, it's making you cry/You refuse to talk but you think like mad/You've cut out your soul and the face of thought/Oh, what have you done?" It Gets Better, kids.
Bowie can remember standing by the wall as he walks modern Berlin hand-in-hand with the city of his memory, from the former no-man's-land of Potsdamer Platz to the Bösebrücke bridge crossing that was the first to fall in November 1989, when 20,000 East Germans ran across the bridge with fingers crossed "just in case." When MTV News reported that the wall erected down the middle of the city of Berlin had fallen, the first song they played was "Heroes." Now that it's gone, does Bowie know who we are anymore? "Where are we now, where are we now?" he sings, the ghosts enticing him towards their side, until he realizes there's still life to be lived here "as long as there's sun/as long as there's rain/as long as there's fire/as long as there's me/as long as there's you." In retrospect, Bowie's choice of "Where Are We Now" as his calling card seems brilliant, intentionally presenting the most personal, elegiac take-me-or-leave-me track, and managing the expectations game by leaving the edgier rock numbers for later discovery.
There's something of Scary Monsters in "Valentine's Day," a withering character tale wrapped in a weirdly sweet, heart-shaped "sha la la la" package. "Valentine told me how he'd feel if all the world were under his heel, or stumbling through the mall," sings Bowie. "It's in his tiny face, it's in his scrawny hands, he's got something to say." Well, whatever it is, he doesn't get around to saying it, but it's a fun track just the same.
Bowie is aggressive and effortlessly modern on "If You Can See Me," spinning in drum'n'bass spirals, perhaps subliminally summing up the Truth Of Bowie in one line: "If you can see me, I can see you"—the voracious and merciless observer at work, the world feeding his rapacious appetite for distraction. "I will take your lands and all that lays beneath, the dust of cold flowers, prison of dark ashes, I will slaughter your kind who descend from belief—I am the spirit of greed a lord of theft, I'll burn all your books and the problems they make." And yet he makes it sound so irresistible.
"I'd Rather Be High" comes from the point of view of a weary soldier in one of our many recent global military misadventures. "I'd rather be dead or out of my head than training these guns on those men in the sand," sings Bowie, someone looking for any escape from a hellish situation, while a martial beat and surprisingly sweet neo-psych harmonies swirl around him.
"Boss Of Me" is not, alas, the long-awaited Bowie cover of the theme to Malcolm In The Middle, but, rather, a pretty straightforward love song to someone who holds the keys to the kingdom. "Tell me when you're sad, I wanna make it cool again," Bowie sings over some particularly fine sax and harmonies. "Who'd have ever thought of it? Who'd have ever dreamed that a small town girl like you would be the boss of me?"
It wouldn't be a Bowie album if we didn't at least make one fleeting trip to outer space at some point. "Dancing Out In Space" punches that ticket with a "Lust For Life" backbeat rendered unto fluffy otherweirdness by some spacey guitars and synths. "Something like religion, dancing face to face, something like a drowning, dancing out in space." Okay, it might not be going on ChangesThreeBowie but it's a fun little hop just the same.
The graveyard dogs rock out on "How Does The Grass Grow," a punchy, nervy rocker trampling through consecrated ground where nobody rests in peace, alluding once again to wars and their victims. "Where do the boys lie? Mud, mud, mud/How does the grass grow? Blood, blood, blood," Bowie sings in the chorus, chanting a mocking, ghoulish riff throughout, broken up only by a brief interlude from the other side: "I gaze in defeat at the stars in the night, the light in my life burnt away."
"(You Will") Set The World On Fire" has an incredibly satisfying chorus. Just really, sing along on the first go. The story, maybe something about an up-and-coming fashion model or something, but just sing the chorus, because you must.
The joy's draining out of the world fast in the dark ballad "You Feel So Lonely You Could Die." "No one ever saw you moving through the dark, leaving slips of paper somewhere in the park, hidden from your friends, stealing all they knew," Bowie sings, with a rueful j'accusatory tone as his alleged bête noire crawls towards an ugly end. "I can read you like a book, I feel you falling . . . oh, see if I care, oh please please make it soon." The song belches out its fatal end with an ironic piece of the drum opening from "Five Years." Oh yes love, you are alone.
The album's official closer, "Heat," couldn't be more Scott Walker if Scott Walker came in and sang it himself. "I am a seer, but I am a liar," Bowie sings, "And I tell myself I don't know who I am." A final confession? Sudden, merciless self-assessment? Or just another flight of fancy from Uncle David's Story Book? Pay no attention to the man behind the blank slate.
The deluxe edition of The Next Day features three bonus tracks not available in the pre-release iTunes stream: "So She," "I'll Take You There," and "Plan." The Japanese edition goes one track farther, with "God Bless The Girl" as a final bonus track. Japanese Popshifter readers, forward it along and I'll give you my thoughts ASAP.
So here's my final confession: Bowie is the one artist who's meant the most to me in my life. His work has inspired me, infuriated me, schooled me, kept me going against impossible headwinds. I have everything the man ever did, including Tin Machine Live: Oy Vey, Baby. But I'm clear-headed enough to have acknowledged his missteps, noble failures, and occasional train wrecks. It's never been boring and it's always an adventure, and if you've stayed with him, this is the payoff: The Next Day is his strongest work since the RCA days, it's a worthy heir to Scary Monsters and you should get your hands on it as soon as you can. May he have many, many more next days.
The Next Day is available now directly from DavidBowie.com in standard and deluxe versions on iTunes.