Published on October 6th, 2016 in: Current Faves, Metal, Music, Music Reviews, Reviews |
By Tim Murr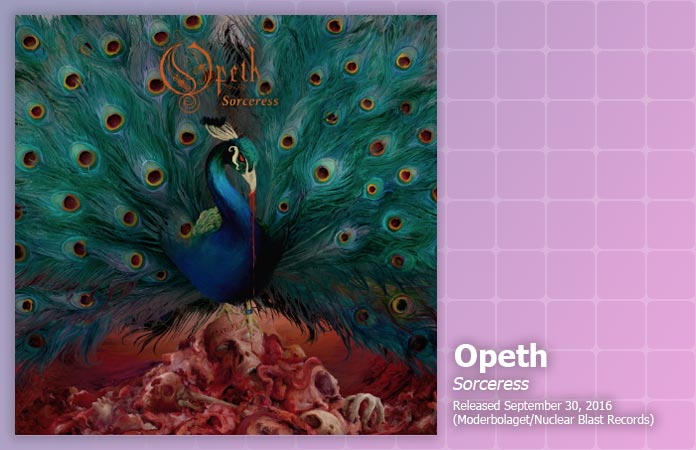 Opeth began challenging the parameters of death metal in the 1995 debut Orchid. Mixing in clean vocals, piano, and acoustic instruments, the band was destined to stand out. Frequent lineup changes occurred, leaving Mikael Åkerfeldt the only constant member. These days, the death metal connection seems tenuous at best, given the greater prog rock direction Opeth has taken. And that's fine.

Sorceress is a witchy, beautifully crafted, and dark musical journey. It opens with the strange, acoustic waltz of "Persephone" before going into the album's single and title track "Sorceress," which makes me think of King Crimson jamming with Dio. "The Seventh Sojourn" features haunting string arrangements and a Middle Eastern flavor which gives way to "Strange Brew," a track with wild peaks and valleys.
While not a concept album, and each track being deliberately written to not sound like each other, there's still a cohesion that gives Sorceress a complete and heavy feeling. It's quite an accomplishment and not the type of rock we often hear these days. And that's another thing: there are plenty of call backs to the 1970s, either sprinkled in or slathered on, but there is nothing dated about Opeth's overall sound on Sorceress. If anything, it feels like the band is blazing a trail into the future.
Tracks to check out are "Sorceress," "The Wilde Flowers," "Chrysalis," and "Strange Brew."
Sorceress was released by Moderbolaget/Nuclear Blast Records on September 30.
Opeth are currently on tour with The Sword.
Tour Dates:
Oct 7 – Detroit, MI – Fillmore
Oct 8 – Akron, OH – Good Year Theater at East End
Oct 9 – Chicago, IL – Riviera Theater
Oct 10 – Minneapolis, MN – First Ave
Oct 12 – Oklahoma City, OK – Diamond Ballroom
Oct 13 – Houston, TX – Warehouse Live
Oct 14 – Austin, TX – Emo's
Oct 15 – Dallas, TX – Gas Monkey Live
Oct 18 – Las Vegas, NV – Brooklyn Bowl
Oct 19 – Tempe, AZ – Marquee Theater
Oct 20 – Los Angeles, CA – The Belasco
Oct 21 – Sacramento, CA – Ace of Spades
Oct 22 – San Francisco, CA – Warfield
Oct 24 – Portland, OR – Roseland Theater
Oct 25 – Seattle, WA – Moore Theater
Oct 26 – Vancouver, BC – Orpheum