Published on September 23rd, 2016 in: Americana, Music, Music Reviews, Reviews |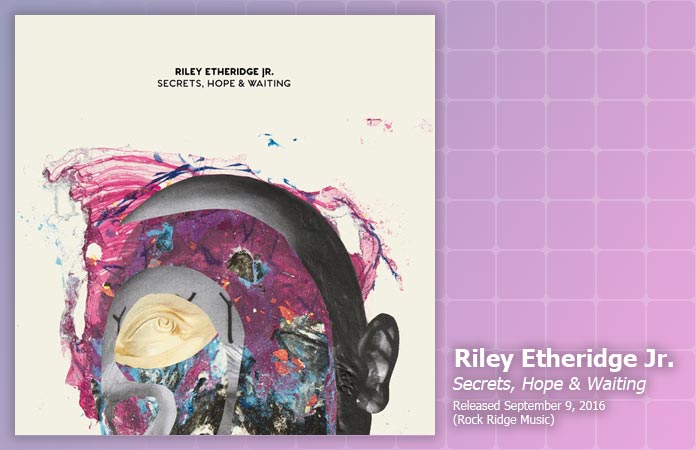 There's always a trickiness to concept albums. Do the songs work on their own merits, or do they need the framework of the concept to bolster them? Is the concept explicit, or do you need to read copious press materials or liner notes to ferret out a theme? Will I need to take psychedelics to understand this album?

The answers to those questions regarding Riley Etheridge Jr.'s Secrets, Hope & Waiting is yes, no, sort of, not exactly, and where are you even going to find psychedelics at this hour anyway? Secrets, Hope & Waiting "is the story of an aging southern beauty queen as she struggles to find resolve in the face of loss and disappointment. The eight songs represent the varied perspectives of our heroine and other characters who shaped her journey over three decades."
There's a quiet dignity to each of the songs of Secrets, Hope & Waiting, and Riley Etheridge Jr. is in no hurry to show his hand on the tracks. There's a palpable sadness and somberness to the album, as you might expect. The whole thing is a rather downbeat affair, with elegiac songs that unspool gradually, and all at roughly the same tempo and modulation. It's a very intimate record; it was recorded, mixed, and mastered at Esplanade Studios in New Orleans, with all the musicians in a room together. It's clear when you hear Secrets, Hope & Waiting how the musicians communicated and collaborated.
Riley Etheridge Jr. has a welcoming, warm voice with an appealing crackle to it, and it's quite effective on Secrets, Hope & Waiting. He yearns and mourns, and his harmonies with Melissa Tong on the album are especially lovely. Their work on "Hope And Waiting" is beautiful, and the four-part harmonies are swoon-worthy. His solo revisiting of "Save Me From Myself" is even more plaintive, taking a hushed, delicate prayer to an far more stripped down version.
The players on Secrets, Hope & Waiting are impressive. Pianist Larry Sieberth emerges as an MVP. His honky tonk-esque figures on "The Moment's Gone" are subtle and vibrant. The piano line of "Life Unrehearsed" is elegant and light, almost ethereal.
Secrets, Hope & Waiting is heartfelt and thoughtful, but does suffer from a lack of tempo change. There's a languorousness to it that can be a struggle to stay engaged with. However, the impressionistic lyrics and the quality of the musicianship make Riley Etheridge Jr.'s latest definitely worth a listen.
Secrets, Hope & Waiting was released on September 9 from Rock Ridge Music.