Published on May 29th, 2015 in: Current Faves, Feminism, Music, Music Reviews, Reviews |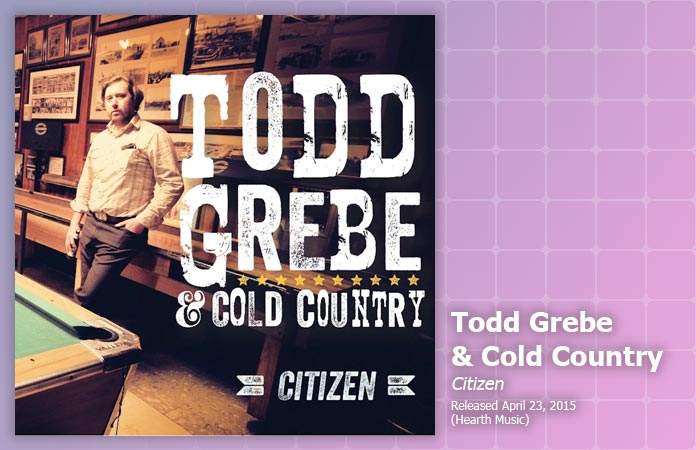 Hailing from Alaska, Todd Grebe & Cold Country make good, old-fashioned country music. Their newest, Citizen, has the feeling of a classic, with witty lyrics, outstanding music, and Grebe's unconventional voice. Produced by David Ferguson (known for working with Johnny Cash), Citizen has a crisp, brisk sound, in which every instrument sounds brilliant.
Todd Grebe writes clever lyrics, filled with wordplay as well as heart. The album kicks off with "Criminal Style," recently covered by Lindsay Lou & The Flatbellys on their fine Ionia (review). Grebe's delightful honky tonkified version is buoyed by wife Angela Oudean's transcendent fiddle playing sprinkled throughout, adding a bit of commentary and spice. Grebe's vocals have an endearing crackle, a weather worn rasp, and he delivers the lyrics with just the right laconic qualities. The lyrics to "Box Of Wine" hit a bit close to home ("All fired up / on a box of wine / yeah, my little bitty baby / she had a real big time") and are funny as hell. A propulsive ditty about his lady who gets a bit feisty with the grape, the song features another fantastic fiddle solo from Oudean and you can hear the twinkle in Grebe's vocals. It's a charmer.
The titular track, a paean to "consumerism=patriotism," is driving and wicked and Nate May turns in a nimble guitar solo. The lyric "all I need is what I want" is brutally honest and sketches out the character almost fully. On the rapid fire lyrics of the swinging "Nothing Left To Lose," Grebe sounds more than a bit like David Lowery (Camper Van Beethoven, Cracker) meets Roger Miller.
There's a touch of Don Rich-style "chicken pickin'" on "Luckiest Man Here On Earth." This is always a good thing. The production here is bright and engaging, and Grebe's lyrics are dotted with great turns of phrase. "Brown Hair" begins acoustically before settling into a train song rhythm. On this road song meets love song, Grebe sounds quite like Gordon Lightfoot. "Living A Lie" is a classic country weeper. The strummed acoustic guitar rings gorgeously (really, the production on Citizen is incredible. It's an amazing sounding album.) and the harmonies between Oudean and Grebe are splendid. The chorus of the regretful "Here's Wishing To You" is wonderful: Grebe's offhand "Oh joy" is terrific. "Let's Make Love For Christmas" is going on my Christmas playlist quick smart. It's giddy, it's agile, and there's just a hint of "Jingle Bells" tossed in for good measure.
Todd Grebe & Cold Country's Citizen is incredibly enjoyable from beginning to end. Smart lyrics, fine musicianship, Grebe's endearing vocals, and spot-on production make it a new classic. Go pick it up; it's a pure delight.
Citizen was released by Hearth Music on April 23.