Published on May 8th, 2015 in: Culture Shock, Current Faves, Documentaries, DVD, DVD/Blu-Ray Reviews, Movie Reviews, Movies, Music, Music Reviews, Retrovirus, Reviews |
By Hanna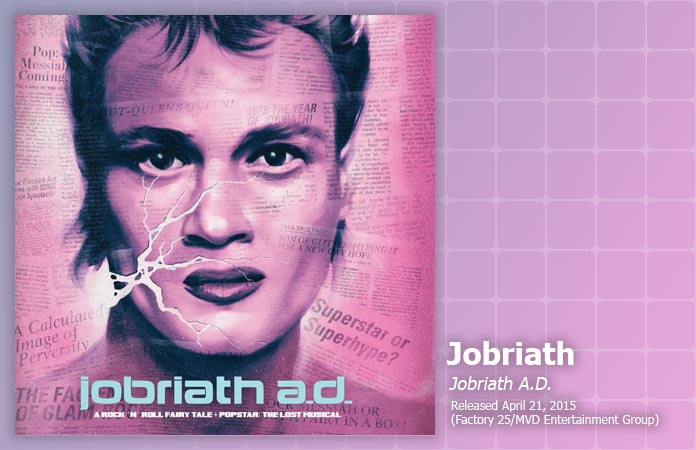 Jobriath A.D. tells the story of singer and would-be glam rock star Jobriath's career and personal life. It focuses on the period when he was professionally active between 1968 and his death in 1983. His story is told nearly entirely from interviews with people who were involved in his life and career at the time or people who were influenced professionally by his work. There is some narration (by Henry Rollins, no less) to tie parts of the interviews together, and a series of animations provide visual interest and make up for the fact that there exists very little actual footage of Jobriath.
Written, directed, and produced by Kieran Turner, Jobriath A.D. was well received during its theatrical run and garnered a lot of attention, as well as a lot of attention for Jobriath, who, over the past few decades, has been steadily moving towards a mainstream position, or as mainstream as can be attained by a junkshop glam artist.
The documentary itself provides the more or less established story of his career. Jobriath was an academically trained pianist and singer, who got his big break playing Woof in Hair. Misbehavior caused him to be fired from the show in 1970. After a few years, he teamed up with manager Jerry Brandt and signed to Elektra, where he was hyped as a glam rock star. Not just any glam rock star, mind, but the most outrageous, gayest glam rock star. However, the promotion happened without scheduling performances to back it up.
When the first album was released in 1973, it received mixed reviews and did not sell enough to fulfill the expectations of the record company. A massive show at the Paris Opera was cancelled, and replaced by a tour of the US. Jobriath started to behave more and more erratically, and though the tour was relatively well received, he was dropped by the record label. A deal with Brandt may have made it impossible for him to continue to work under the name Jobriath after this. Jobriath changed his stage name to Cole Berlin and went on to perform as a renowned bar pianist. Just as he was starting to gain success, he died of AIDS-related illnesses.
Jobriath A.D. is remarkable for also throwing light on Jobriath's personal life through interviews with former teachers, his AIDS worker, and his half brother. Though Jobriath was vocal about his homosexuality, neither of his parents seems able to accept it. They also seem to have had problems accepting his lack of success as a performer, or perhaps they disliked his choice to make a living as a performer. They are portrayed as trying to convey their love, but unable to connect to Jobriath, and unsupportive of his life choices. After his death, they rubbished most of his possessions, leaving us with few documents, demos, musical relics, or other extra sources.
On the whole, Jobriath emerges as a charming but volatile person, who had difficulty with being honest about himself and opening up to people, hiding himself behind a succession of aliases and dealing with his personal troubles on his own. Though highly talented, and, according to some interviewees, highly ambitious, he had a tendency to self-sabotage which started early in his life, and surfaced even when he was studying music.
The relationship between Jobriath and his manager and would-be Svengali, Jerry Brandt, plays a more ambiguous part in the film. Since there are few outside sources to include in that part of the narrative, in several places it's Brandt's word against that of other witnesses. The truth is difficult to find and the story is confusing. The film does take time to show the human side of the relationship, too, with Brandt declaring he loved and was even in love with Jobriath and crying at the thought of his death.
There is little talk of Jobriath's putative drug and alcohol abuse, something that is often mentioned in press about his life. Its comes up briefly during the story of his leaving Hair, but aside from that he is mainly depicted as troubled, with various people offering various explanations and perspectives. With no other sources, it's probably difficult to shed any more light on it, but some of his behavior was rather extreme and more time spent on that would have helped to place it.
Another thing missing from the film is the story of the revival of his career. A lot of musicians, many of them very interesting choices (Will Scheff from Okkervil River, Joe Elliot from Def Leppard) were interviewed about his influence on them, which was fun, but there is no discussion of when and how he was rediscovered, and how that rediscovery led to this film being made.
The attitude towards glam rock as a genre is also simplistic. This is a biography and not a sociological study, and everyone interviewed is expressing their own experiences and opinions. But after Velvet Goldmine and the powerful academic re-evaluation of glam rock over the past ten to 15 years, saying that glam rock was totally straight and heteronormative is reductive.
The highlight of Jobriath A.D. is the amount of time spent on the Paris Opera House show. It is mentioned in 1970s articles and interviews often, but so little evidence of it actually exists, that it's easy to wonder if it was just made up. But apparently it was actually being prepared, and sets were even built for it. Everything about it sounds as insane and amazing as imagined. Even better is the closing animation of the film, which consists of an animation of the Empire state building/King Kong/Marlene Dietrich/glitter penis sequence pictured by Jobriath.
It's difficult to imagine how this would have been received as a real theatrical sequence in the Paris Opera House, and worth wondering whether a giant ejaculating penis (with a gay connotation) in the Opera House would breach French obscenity laws, but it's hilarious in animated form, and fantastic to see it come to life in some way.
For this DVD release, the documentary is paired with a vinyl album containing some lost recordings. Lost Jobriath recordings are exceedingly rare, and to find some new ones is a feat. In this case, the LP contains mostly songs for a musical Jobriath was working on in 1977 named Popstar. He auditioned it to Joe Papp, whose production of The Misanthrope he had saved by writing another score for it. Two versions of Popstar are mixed together, one with narration that was used for the audition, and another with songs that have some more production to them. The story is based heavily on Jobriath's own career and concerns a big rockstar—with the hilarious name of BJ Strobe—who escapes his fame, gets falsely accused of murdering his manager, and then becomes famous again.
Some of the songs (only the ones with produced re-recordings are named) were clearly in the developmental stage but others are already delightful. There are a lot of punny lyrics, with music that's a mix of 1930s style ragtime pop and more orchestral, Broadway pieces. Though a bit more retro musically, most of these songs differ little from those on his records. "Time Sat On My Face" could go on Creatures Of The Street as it is, though as part of the musical it's even better. Imagine watching a character called BJ singing about facials.
On the whole the unproduced numbers are better, though, with no orchestra there, Jobriath sings the orchestral parts to wonderful effect. The liner notes are essential, because otherwise the story of Popstar is impossible to follow, although you don't strictly need it to understand the songs.
The insights into Jobriath's personal life and history offered by Jobriath A.D. make it definitely worth seeing. The information it offers on his final days is also great, since it shows that he was just rebuilding his fame and achieving something without self-sabotage or shame, and he seems to have been happy before the AIDS-related symptoms surfaced. The songs he wrote for Popstar are charming and their release is a delightful surprise.
It is sad that Jobriath didn't have the chance to take his rightful place in the world of music and LGBT history while he was alive, but it seems that he has more or less arrived in the mainstream with the arrival of this documentary. It's really never too late.
Jobriath A.D. was released through Factory 25 and MVD Entertainment Group on April 21.