Published on December 12th, 2014 in: Current Faves, Music, Music Reviews, Reissues, Retrovirus, Reviews |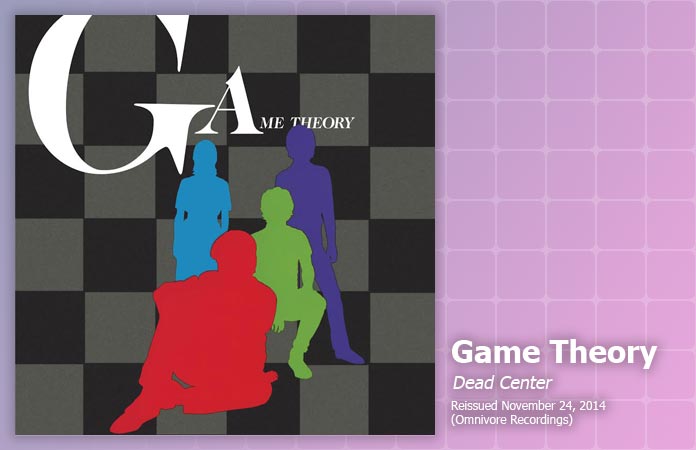 Among the first run of American New Wave bands, the story of Game Theory is among the most quietly heartbreaking. While the ambitious musical and lyrical output of creative mastermind Scott Miller was never destined for an arena-sized audience, a combination of questionable management and bad record deals kept their music from an audience larger than the most ardent true believers.
Omnivore Records' lush and expansive reissues are bringing Game Theory's shimmering, melancholy pop to the widest audience it's received to date. Dead Center, the second album they've repackaged and remastered, finds the 1983 iteration of Game Theory at an interesting point in their musical evolution. The production sounds more polished than on the home-recorded Dead Center, with a stronger low end and a greater sonic balance. Their arrangements show a greater sense of ambition, as well as the musical skill to back it up.
New wave and power pop cognoscenti have long praised Miller's songwriting skills, and Dead Center shows that this praise isn't a fluke. His gift for writing chiming, catchy, major-key melodies and pairing them with heartbreaking, poignant lyrics was still in its developmental stages, but even these early efforts net some great rewards. The jangly "Nine Lives to Rigel Five" makes its theme of unrequited love tangible through lyrics that evoke the space race and 1970s suburbia; the ABAB rhyme scheme also encompasses some nifty assonance. (Check out all the satisfying "oh" sounds in the second verse.) The jangling melody and rudimentary flying saucer sound effects give the melancholy, nostalgic lyrics a pleasing candy coating and make the whole thing more bittersweet.
Because Miller was still honing his skills, Dead Center finds him experimenting musically and lyrically with some elements he'd later abandon. The syncopated beat that opens the title track, for example, sounds as though it could have appeared on a hip-hop album of the period. (Hearing a guitar solo draped over that beat makes one wonder why this song wasn't included on a teen movie soundtrack at the time.) Miller was still developing his musical identity, and with his band flying under the critical and commercial radar, he had more freedom to experiment.
As with his other projects, Miller had the good sense to surround himself with nimble, adept musicians. His bandmates for this iteration of Game Theory had some great skill, and the instrumental opens and closes on the song showcase what a tight ensemble they were.
All this being said, listening to Dead Center over three decades after its initial release can make for a heartbreaking listen. "The Red Baron" is an indisputably great song, but hearing the throwaway lyric "tell me life is short" left a lump in my throat. (Miller died in 2012 at the age of 53.) Likewise, the urgent cover of the Box Tops' "The Letter" kicked me right in the feels, in light of both Miller and Alex Chilton's premature deaths.
As with its other reissues, Omnivore hit it out of the park with the beautiful digipak and comprehensive liner notes (including a very sweet remembrance from Michael Quercio, one of Miller's key collaborators). Fans of Game Theory who already own Alias Records' repackaging of these EPs would be wise to pick up this edition, but its completeness and the lovely music contained within would be ideal for new fans as well.
Dead Center was reissued by Omnivore Recordings on November 24.