Published on May 2nd, 2014 in: Current Faves, Documentaries, Movie Reviews, Movies, Music, Reviews |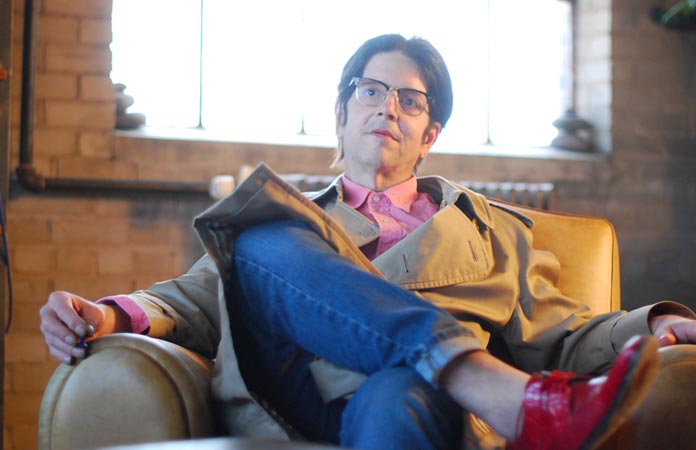 At first glance, the afterlife of Hüsker Dü illustrates the cliché "History is written by the winners." In the quarter-century since the legendary power trio disbanded, drummer and co-songwriter Grant Hart frequently gets depicted as a hapless figure whose drug problems and personal woes overshadow his considerable creative efforts. Every Everything, director Gorman Bechard's latest documentary, shines a light both on Hart's heyday and his surprisingly eclectic post-Dü career.
The thumbnail sketch of Hart's career—child drumming prodigy who co-founded a deeply influential hardcore-cum-college rock band, developed a smack habit, and engaged in an intermittent solo career—follows a similar trajectory to those of Sugar Rodriguez, Big Star, and the Detroit proto-punk band Death. Gorman Bechard could have easily made a feature that followed the templates of these bands' documentaries. Instead, the free-associative editing of the film takes its cues from one of Hart's avocations.
Not long after the opening credits roll, we see Hart cut a pair of magazine ads into strips and weave them together to create a collage. As he does this, he speaks of the record sleeves he designed for Hüsker Dü and the Replacements, of his father's background as a drafting teacher, and of his own philosophies about the role of creation in the world today. His stream-of-consciousness musings guide the viewer not only through his storied musical career, but also through his creative process, his equipment, and his family life.
Hart and Mould are as well known in recent years for their uncharitable comments in the press about one another, and Mould's recent memoir has presented some spurious anecdotes about Hart as fact. Apart from a video interview with Hart dating from not long after Hüsker Dü broke up (in which he states that there will be a band reunion "in federal court"), his statements about Mould come across as magnanimous. While he acknowledges the tension among the former band members, he also speaks well of Mould's ability to recreate the sound he heard in his head, as well as bassist Greg Norton's ability to connect with audiences at their shows.
Bechard handles the other scandalous aspect of Hart's life—his drug abuse—in a more oblique manner, so as not to sensationalize it. Though Hart touches upon how junk may have influenced his work, he also speaks of the role his drug habit played in Hüsker Dü's dissolution and the toll addiction took on his body. The glancing coverage of this may detract from the fall/redemption narrative that runs through many rockumentaries, but it also gives the film a more honest, realistic quality.
The film's visual style also bears the influence of Hart's collage art. Bechard draws upon archival footage of Hart's various bands, and animator Scott Storm made a playful interlude to depict how Hüsker Dü signed to SST. Talking-head footage finds Hart speaking in various milieus, most poignantly in a warehouse storage space that houses the remains of his childhood home (which burned down in 2012). A single-shot long take of Hart taking viewers on a "tour" of this house brackets the film, and his matter-of-fact tone in conducting this visit made the hairs on the back of my neck stand up.
Throughout Every Everything, Bechard paints a very human portrait of Grant Hart, who comes off as self-aware and clear-eyed after a series of setbacks and bad decisions. Ultimately, the film could illustrate another truism: "living well is the best revenge."
Every Everything: The Music, Life, and Times of Grant Hart premiered at the Raindance Film Festival on October 6, 2013 and is currently screening at various film festivals. For more information, visit the film's website.