Published on August 14th, 2013 in: Culture Shock, Current Faves, Music, Music Reviews, Reviews |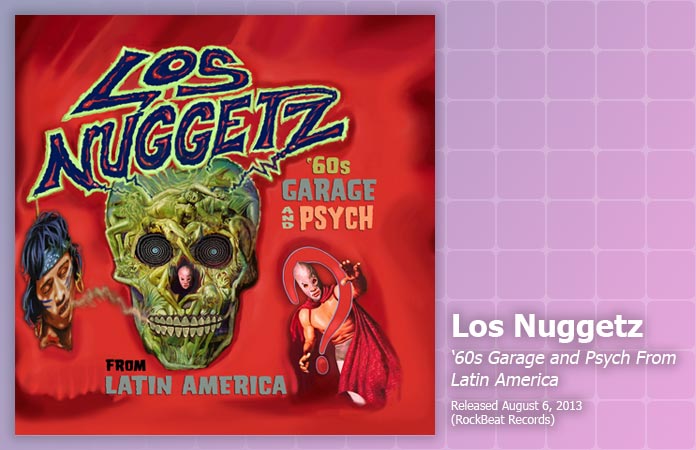 If music is the universal language, then garage rock was a generational dialect of rebellion. Bands like The Beatles and The Rolling Stones inspired an infinite number of teenagers to take to their garages and annoy their parents with three chords and ten decibels. While American and British garage bands have been exhaustively exhumed and cataloged, their peers in Spain and South America have not received the same treatment . . . until now. Los Nuggetz, a four-disc compilation, showcases almost 100 bands that put out singles during garage rock's peak period of 1964-1968.
Los Nuggetz takes its name and inspiration from the legendary Nuggets compilation Elektra released in 1972. In light of its forebears, this box set is as notable for what it isn't. Unlike its predecessor, Los Nuggetz features covers of American and British hits, many of which are translated into the performers' native tongue. The covers are at least serviceable recreations of the day's chart-toppers, as with Los Apson's recapitulation of "Satisfaction." Other covers, like the surprisingly contemplative take on "My Generation" by Lone Star, bring out aspects of the songs you might not have considered. Some of the lyric translations are unintentionally amusing, as with "Las Botas Son Para Caminar"—I wanted to reach through my earbuds and give Gloria Benevides a glass of water after listening to her cram 11 syllables into that chorus.
The slight but notable number of female-fronted bands included also differentiates Los Nuggetz from Nuggets. While South America is not a feminist utopia for musicians, some of the most innovative artists coming from Central and South America in the past few years have been female singer-songwriters, MCs, and bandleaders. The female artists on Los Nuggetz could go head-to-head with the predominantly male bands. Sonia's declamatory "Aqui En Mi Nube" would do Mick Jagger proud, and the feathery, dramatic vocals on "Sola Estoy" suggest that Lorella could have been the missing link between garage rock and the glam explosion to come.
This album came to me not long after I read Caetano Veloso's autobiography, and I had expected the music would address the political unrest that started to run through South American countries in the mid-to-late 1960s. A few Brazilian artists, like Veloso and Os Mutantes, had written veiled protests against the military government that had taken hold of the country in 1964, and because of those artists' popularity I thought other bands might see music as a Trojan horse with which to address similar discontents. The closest thing to a protest song on Los Nuggetz is "No Hay Beatles." This music experiments with the great new trend of rock and roll and has a lot of fun doing it. When taken in the context of what was happening throughout the world at the time, the compilation sounds almost poignant.
Though not sequenced in strict chronological order, Los Nuggetz traces the evolution of 1960s rock production from the murky, fuzzy mix of Los Shain's "Bule Bule" to the well-balanced and warm-sounding "Bye Bye Baby" by Los Bravos. A few of the songs may have been taken from vinyl, but hearing the needle drops and record scratches adds to its charm. Discs are sequenced like a long radio set, broken up by the occasional commercial or station ID. While this is a charming idea, the volume on the interstitial bits tends to be much louder than the songs, which can make listening on headphones painful.
Los Nuggetz comes in a bound hardback book with band bios, album covers, and tableaux of pompadoured Calaveras playing electric guitars. Some picky spelling mistakes aside (I'm pretty sure Columbia is in Manhattan), everything about this provides a great jumping-off point for those interested in listening to some underrated garage rock.
Los Nuggetz was released by RockBeat Records on August 6.