Published on July 2nd, 2013 in: Current Faves, Music, Music Reviews, New Music Tuesday, Retrovirus, Reviews |
By Cait Brennan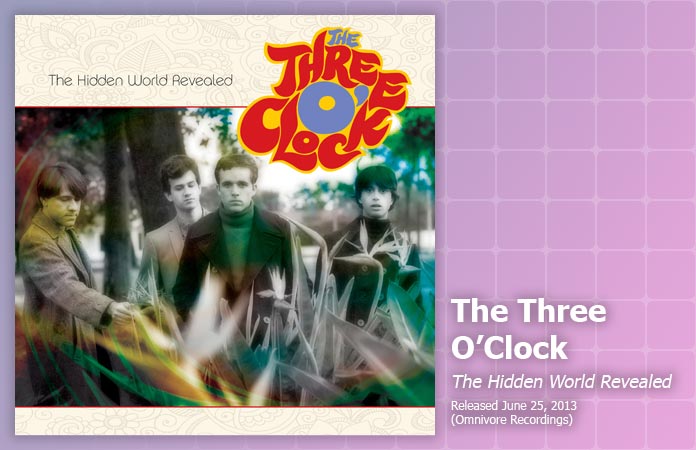 "You like pop, right?"
The grizzled, ancient record clerk—god, he had to be at least 28!—leaned over the counter.
"What, like Phil Collins?" I asked. Oh, it's 1984 in Phoenix, by the way.
"God, no, that's like—bubblegum or something," he coughed, like he ate a big black bug. "Here," he flips through the in-store play copies and pulls out a record with some weird pasty kids making kissy faces under a dilapidated pagoda. This crazy sugar-crash stomp comes storming out of the store speakers, swirling keys and guitars ringing in my head like the bells of Notre-Dame. And then the singer, with a voice like none other: "sitting complacent, are you there where I see you, with a cantaloupe girlfriend . . ." What?!
"They're the Three O'Clock, man," says he. "A little twee for my taste, but I kinda figured you'd dig it."
The clerk got my $4.98 and I got Baroque Hoedown, the first EP by the Three O'Clock. It's at least 20 years later before I even begin to suspect what a cantaloupe girlfriend might be, but I dive headlong into this "paisley underground" thing, rifling through record bins until I have all their stuff, which at that time included their album released as The Salvation Army, and their full-length LP, Sixteen Tambourines. They would go on to release great albums on IRS and Prince's Paisley Park records, but for me, their stuff on the brilliant Lisa Fancher's Frontier Records is still the greatest.
The Three O'Clock reunited for a string of well-received tour dates this year—thank you Coachella!—and now Omnivore Recordings revisits this gold mine of '80s pop with The Hidden World Revealed, an absolutely essential 20-track collection taken from the band's raucous Frontier Records era featuring ten unreleased demos, alternate takes, fan club singles, and all manner of weird and wonderful things that will make you fall in love with this band.
"All In Good Time" kicks things off, one of three songs the band recorded at the sadly departed Ethan James's Radio Tokyo studio. Member Danny Benair describes it in the liner notes as "the bridge between Baroque and Sixteen," and it's an apt description of the band in transition from the lysergic punk saturation of their EP to the more complex sounds of their LP. "With A Cantaloupe Girlfriend" is next, and if you don't like it, all I can say is if you don't get help at Charter, please get help somewhere.
"In Love In Too" is another Radio Tokyo track, originally issued as the band's first fan club single. "Stupid Einstein," from Sixteen Tambourines, fairly shimmers, with Michael Quercio's truly gorgeous voice at its best.
One of the fun things about The Hidden World Revealed are the covers, and the band's Radio Tokyo take on Syd Barrett's "Lucifer Sam" truly bridges the distance between the paisley-psych generations. The band also puts its stamp on "In My Own Time," from the Bee Gees' 1967 debut, as well as Gene Clark's Byrds hit "Feel A Whole Lot Better," an outtake from the Baroque Hoedown sessions—the liner notes claim exactly 27 copies exist on 45, made for KROQ's legendary Rodney Bingenheimer to thank him for his support of the band.
Rodney ruled the L.A. airwaves in the early '80s (and to civilized folks, he still does, even haunting the infinite loneliness of Sunday nights from midnight to 3). He was instrumental in breaking every band you ever cared about; The Three O'Clock might very well have been the perfect Rodney band, blending punk, pop, and '60s psychedelia into something new and fresh and eternally young. One of this album's treats is a previously unissued station ID for Rodney's show that somehow never made its way to Pasadena, but decades later, it's all happening, and it will freak you out.
There's so much good stuff here, like the alternate "strings" version of "On My Own" that got vetoed by producer Earle Mankey, and a sweet unreleased version of standout track "I Go Wild." There's an early demo of "Sound Surrounds," a lively tune that was intended for, but did not make, the band's IRS debut Arrive Without Traveling. "Around The World" is here, a frequent show-opener that should have made it on to Sixteen Tambourines (but, alas, got bumped in favor of the Bee Gees cover). "In Love In Too" is here in very different form (and a different name, as "Why Cream Curdles In Orange Tea").
The beautiful early demo of "The Girl With The Guitar (Says Oh Yeah)"—a collaboration between Quercio and Game Theory's Scott Miller—is a special highlight, taking on added poignancy after Miller's tragic death earlier this year. The band's Salvation Army era is represented here, too, with a home demo of "Jennifer Only" straight outta Quercio's garage, which went to Rodney, vanished, and reappeared decades later.
The Three O'Clock were L.A. darlings, but took tremendous grief in the macho-dickface '80s for daring to not sound or act like John Cafferty and the Beaver Brown band (or, if you like, Black Flag.) Even as a doe-eyed teen, I knew what that record store clerk was implying—about Quercio, the band, and about fans like me, for that matter—when he called them "twee." It was homophobic bullshit then and it's bullshit now; if you think your band can rock harder than "Cantaloupe Girlfriend" or "I Go Wild," for starters, well, good luck, buddy.
Stung by label and lineup changes (including the key departure of Louis Gutierrez), the Three O'Clock broke up in 1988, and their work was badly neglected until their recent reunion. Omnivore's The Hidden World Revealed is a vital piece of the Three O'Clock's legacy, and the beginning of a well-deserved reassessment (and—dare we hope—more reunion shows, fellas?). Meanwhile, do yourself a favor and treat yourself to these songs. I mean, you like pop, right?
The Hidden World Revealed was released by Omnivore Recordings on June 25 and is available from the label's website.