Published on February 10th, 2017 in: Americana, Current Faves, Music, Music Reviews, Reviews |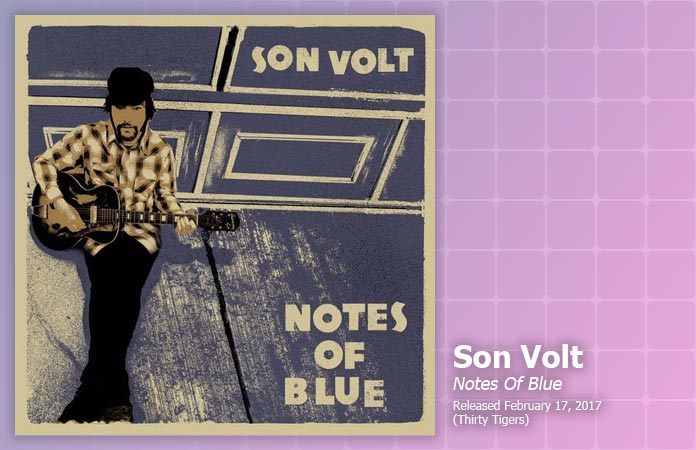 The latest Son Volt album, Notes Of Blue, may just be precisely the album that will put your anxious brain at ease. It's inspired by Nick Drake, but it's also inspired by Mississippi Fred McDowell and Skip James. While the influences of the latter are more easily evident, Son Volt's leader Jay Farrar says he was "aiming for where blues and folk and country converge." He's certainly hit his mark.

The opener, "Promise the World" is somber and fitting for the current climate. It's wildly prescient and while it's hard not to filter everything through bleakness and fear, there is hope. Pedal steel swoops through the track, and Jay Farrar is in fine voice. It's a lived-in, rusted voice. He sings, "There will be damage / There will be hell to pay / Light after darkness / That is the way." The right words at the right times. It sounds like classic Son Volt.
"Back Against The Wall," too, is hopeful through the darkness. It's quietly anthemic, a rally song with a muted guitar solo. It leaves one buoyant: "No time to be wayward / No time to be unwound / With darkness at your doorstep / Keep your feet on the ground." And: "There will be times of injustice / Times when there's more lost than found," but "What survives a long cold winter / Will be stronger / And can't be undone."
Farrar sounds uncannily like Neil Young on "Cherokee St.," a stomping, spare track with swaggering guitar that touches on both gentrification and incarceration. The moody and atmospheric "Midnight" is a slow-burning song of hell with a chain-gang rhythm tapped on a hi hat. The guitar is deliciously distorted, and Farrar's vocals, too are distorted, as if sung through a megaphone.
The guitar work on Notes Of Blue is duly impressive. The bluesy bottleneck slide guitar of "Sinking Down" buoys a chunky, gritty track that melts into a mellow bridge with a mesmerizing, heart beat-like hook. "Cairo and Southern" has a gorgeous guitar tone (played on a baritone guitar) with muted piano and a spaciousness to the song. The lyrics are like folk art, scratchy and prayerful. It's haunting. "Threads And Steel" has fine fingerpicking throughout, and while the lyrics (about a man going 'round, taking names, wearing his go-to-hell hat) are ultimately slight, it has an infectious, muscular groove.
Notes Of Blue marks a welcome return from Jay Farrar and Son Volt. Proudly wearing influences on their sleeves, and throwing those influences in an already impressive mix, Notes Of Blue is a confident, hopeful album, and Farrar sounds like he is having a fantastic time.