Published on January 20th, 2017 in: Americana, Current Faves, Music, Music Reviews, Reviews |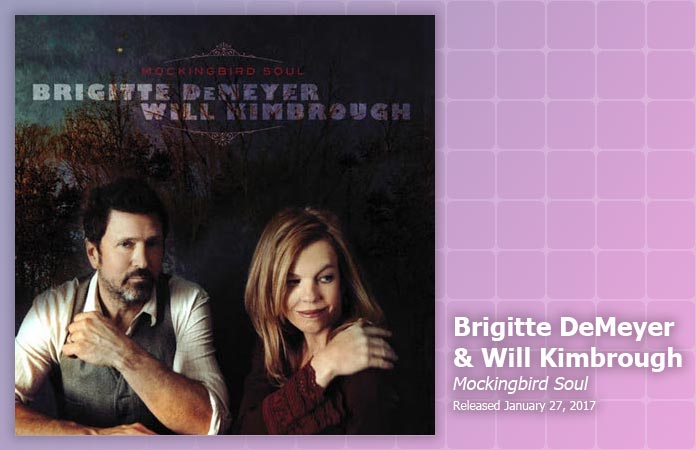 Brigitte DeMeyer and Will Kimbrough have written songs, recorded, and toured together for years, but with their album Mockingbird Soul, they are putting both their names on the collaboration. And Mockingbird Soul is a true partnership, one that is evident in their instinctive harmonies, their quietly literary lyrics, and the grace of their musicianship. It's a beauty of an album.

It's hard to winnow down what the best part of DeMeyer and Kimbrough's musical partnership is. Is it the sumptous, soulful harmonies? Is it Kimbrough's crystalline acoustic guitar? Is it the space between the notes? Mockingbird Soul is an album that breathes. DeMeyer and Kimbrough are in no hurry, and although they indulge in a variety of musical styles, each song has an earthy ease to it. There's a spaciousness to the music, and while it is spare, it is by no means austere.
The opener, "Everything" sets up a languid pace that lets DeMeyer and Kimbrough's gorgeous harmonies beam. It's a soulful, lovely love song with great heart. It's charming, like the glorious "Running Round." Delightfully rich lyrics capture youthful endeavors, and Kimbrough's old-timey, front-porch guitar is perfect, but perhaps the finest part is the percussion, which sounds like two popsicle sticks being hit together.
Mockingbird Soul  is nicely, carefully paced, like a mixtape made with great attention. A quartet of songs near the middle is damn near perfection, in both pacing and emotional content. "Rainy Day" boasts a loosely loping upright bass from Chris Wood of the Wood Brothers. It's a song of vibey rich atmosphere, snaky and swampy like rain on a tin roof. Following that, "Little Easy," a song written by Kimbrough as "a love letter to my mom in the form of a love letter to Mobile," where he's from. The warm harmonies marry the sentiment perfectly. It's enormously sweet. The next song won't hesitate to crush your heart. "I Can Hear Your Voice" is wrapped in a gentle beat and elegant guitar work. Honest lyrics about an aging parent who is fading mentally cut to the core. It is beautiful, but so painful. After that heartbreaker, the slinky charmer "Honey Bee" is refreshing. Brigitte DeMeyer's vocals are terrific and bluesy, and the guitar riff shines on this delightful throwback.
Mockingbird Soul is full of wonderful tracks. The lonesome "Broken Fences" haunts like a thunderstorm on the edge of town. It's not showy music, but it is deeply compelling. "The Juke," too, stands out, evocative and transporting with a nice, ramshackle beat. DeMeyer's voice is alluring and smoky and Kimbrough supplies some fine harmonica. Kimbrough's guitar work on their cover of the Incredible String Band's "October Song" is pure fire, dazzling and rich.
What works so well about Mockingbird Soul is the space. It's spare, giving the harmonies and sparse instruments room to breathe. The silence is as important as the notes, and the notes are impeccable. Brigitte DeMeyer and Will Kimbrough have made an impressive, warm album that feels perfectly lived in and full of life.
Mockingbird Soul will be released on January 27.
Tour Dates:
Sat., Jan. 28 BIRMINGHAM, AL Small Stages
Sun., Jan. 29 DECATUR, GA Eddie's Attic
Fri., Feb. 24 SACRAMENTO, CA Harlow's
Sat., Feb. 25 SEBASTOPOL, CA HopMonk Tavern