Published on December 2nd, 2016 in: Current Faves, Feminism, Music, Music Reviews, Reviews |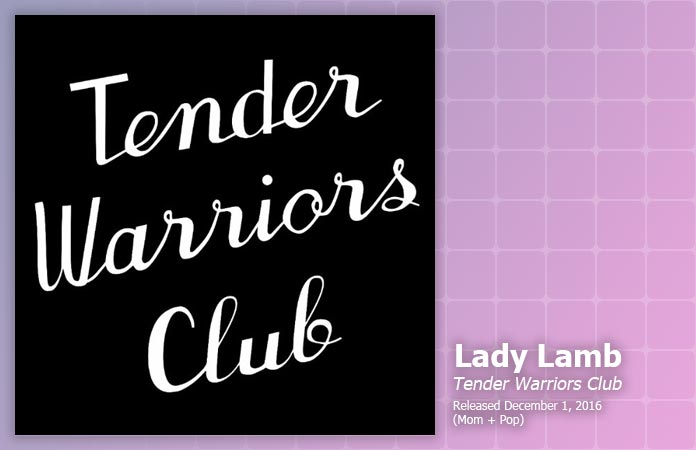 With her latest EP, Tender Warriors Club, the reliably wonderful Lady Lamb (a.k.a. Aly Spaltro), is consciously trying to keep an open heart. Her Tender Warriors Club website reads:
STRIVE TO
find the courage to be sensitive
be emotionally vulnerable
connect
create
grow
be comfortable with & embrace solitude
never compromise their integrity
explore
be true
be kind
practice self-acceptance & self-love
give an honest effort
forgive
be present
be patient
be transparent.
As far as manifestos go, that's a damn fine one. And one that is utterly prescient. And Tender Warriors Club is a welcome addition to Lady Lamb's catalogue of delicate but fierce music. She wears her emotions on the outside, and causes us to do the same. I can't count the times that I've been moved to tears by her without even realizing I'm crying. Damn.

The opener, "Heaven Bent," is a marriage of her intimate vocal that builds in intensity and fire with acoustic guitar. Her painterly words evoke emotional stories, a long-forgotten feeling that grows to a dreamlike, mantra-like layer of haunting, intense fervor. The effect is the same on "We Are Nobody Else." The music is quietly clockwork propulsive, and the words ("I will praise this life") are swirling layers of meditative, prayerful hopefulness. It's a mandala in song form. It's glorious.
Lady Lamb's clever, thoughtful lyrics are often arresting and so honest. Her soaring, raw, heart rending voice on "Salt," where she asks, "Am I already mourning you?" is goosebump provoking. It's a beautiful, pure emotion, love/loss song that hurts to listen to ("one kiss sucks the mud from my soul"). She takes intimately observed moments, capturing the tiny moments of life and making them breathe. "Tangles" soars and whispers, with visual lyrics ("The pennies falling from your hand into the snow") that are stunningly vivid.
"Have we fucked ourselves over / Making our world so close / your skin to my bone" she asks on "See You," with it's tidal guitar that ebbs and flows. It's love, but it's a kind of love that is deeper than you'll hear on the radio.
In these confusing times, Lady Lamb is the kind of artist we need. Her warm, cozy vocals on "Crater Lake" is like a soothing balm, a blanket to keep your heart warm. We could all use a bit more warmth, more love, more kindness and open-heartedness, and we could all stand to be members of Tender Warriors Club. 
Tender Warriors Club was released digitally on December 1 by Mom + Pop and will be available in physical form on January 13, 2017.
Lady Lamb Living Room Tour Dates & Venues:
(Note: shows with *** = proper club show, not part of Living Room Tour)
Thu. Jan. 12 – Charlottesville, VA
Fri. Jan. 13 – Durham, NC
Sat. Jan. 14 – Brevard, NC
Sun. Jan. 15 – Atlanta, GA
Tue. Jan. 17 – Jacksonville, FL
Wed. Jan. 18 – Gainesville, FL
Fri. Jan. 20 – Nashville, TN
Sat. Jan. 21 – Louisville, KY
Sun. Jan. 22 – Champaign, IL
Tue. Jan. 24 – Minneapolis, MN
Wed. Jan. 25 – Chicago, IL @ The Hideout ***
Thu. Jan. 26 – Milwaukee, WI
Fri. Jan. 27 – Cleveland, OH
Sat. Jan. 28 – Grosse Pointe, MI
Sun. Jan. 29 – Toronto, ON
Tue. Jan. 31 – Manchester, VT
Wed. Feb. 1 – Burlington, VT @ ArtsRiot ***
Thu. Feb. 2 – Harpswell, ME
Fri. Feb. 3 – Portland, ME @ Space Gallery ***
Sat. Feb. 4 – Portsmouth, NH @ 3S Artspace ***
Mon. Feb. 6 – Providence, RI
Tue. Feb. 7 – Northampton, MA @ Parlor Room ***
Thu. Feb. 9 – Hartford, CT @ The Space ***
Fri. Feb. 10 – Cambridge, MA @ The Sinclair ***
Sat. Feb. 11 – Brooklyn, NY @ Knitting Factory ***
Sun. Feb. 12 – Washington, DC @ DC9 ***
Mon. Feb. 13 – Philadelphia, PA
Wed. March 1 – New Orleans, LA
Thu. March 2 – Houston, TX
Fri. March 3 – Austin, TX @ Stubbs BBQ ***
Sat. March 4 – Denton, TX
Mon. March 6 – Santa Fe, NM @ Meow Wolf ***
Wed. March 8 – Phoenix, AZ
Thu. March 9 – San Diego, CA @ Soda Bar ***
Fri. March 10 – Los Angeles, CA @ Bootleg ***
Sat. March 11 – San Francisco CA @ The Chapel ***
Sun. March 12 – Petaluma, CA
Tue. March 14 – Portland, OR
Wed. March 15 – Vancouver, BC
Thu. March 16 – Seattle, WA
Sat. March 18 – Spokane, WA @ The Bartlett ***
Sun. March 19 – Missoula, MT
Tue. March 21 – Salt Lake City, UT
Thu. March 23 – Denver, CO
Sat. March 25 – Russelville, AR
Sun. March 26 – Dallas, OK