Published on November 18th, 2016 in: Current Faves, Music, Music Reviews, Reviews |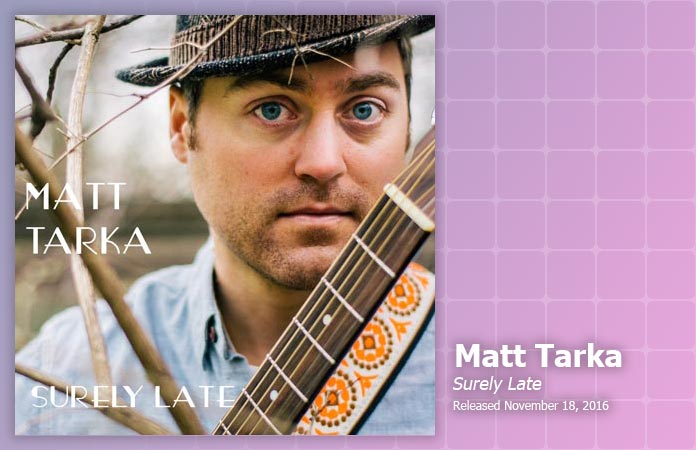 Matt Tarka is a DC-based indie pop time warp. On his EP, Surely Late, he evokes the hazy, early days of college radio (remember that? What do they even call that now?) with powerful melodies, a bit of sugary sweetness, and a delightful propulsiveness that belies the heartache that provides the lyrical matter. It's a four-song chunk of solid songwriting and catchiness, and an interesting introduction.

Surely Late was mixed by Mitch Easter, and his fingerprints feel obvious. The opener, "Now Or Never," has a jangling intensity, and a driving beat. Tarka's got a sweet, endearing voice with an appealing oddness to his inflection, and a gift for hooky melody. It's a track about a relationship on the skids or perhaps on fire with a candy-floss hit of harmony that peeps in like sunshine. The title track is another dying relationship song that is infectiously lively, with echo laden lead guitar over propulsive acoustic.
"Very Little" is power pop that reminds me of the fabulous Cait Brennan's music. There are lots of influences at play here and they've melded to make something ever so appealing. Add in a hint of country twang to the guitar, and an ache to the voice that tries to sound "OK" when the situation isn't at all OK, and it hits all the right moments. "Bring A Glass" turns the vivacity of the beat down. It's a languid closer about a relationship that's moving at two different speeds (one wants commitment and the other isn't ready yet). The lyrics are honest, and that seems to be a hallmark of Tarka's writing.
As a jumping off point, Surely Late is a charming, lively entry to Matt Tarka. While there were only four songs to the EP, I certainly could have dug hearing more, and am looking forward to hearing what he puts out next.
Surely Late was released on November 18.