Published on October 28th, 2016 in: Current Faves, Film Festivals, Horror, Movie Reviews, Movies, Reviews |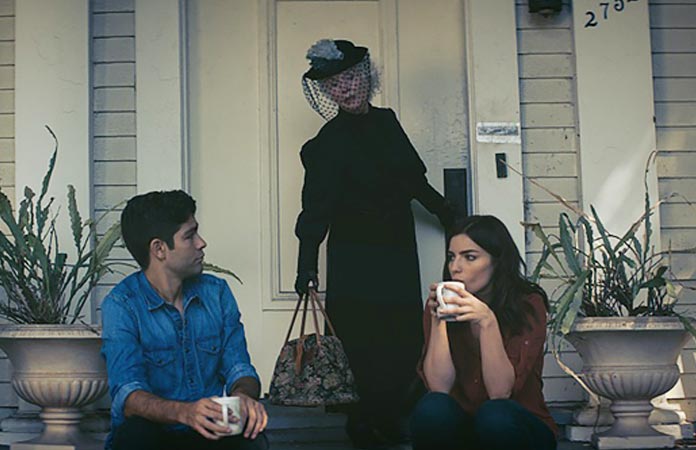 In his third feature, Trash Fire, Richard E. Bates taps into very visceral discomfort and revulsion in so many ways that it's disorienting, but uniquely, he largely does it with dialogue rather that with traditional scares or gore. At the same time, Bates mixes in an undercurrent of his particular brand of black humor to ensure that you're laughing at the most inappropriate situations.

Owen (Adrian Grenier) is annoyingly sarcastic, lazy, and smug, but loves his girlfriend Isabel (Angela Trimbur) enough to want to change, especially when she announces her pregnancy with his child. In an effort to get him to explore the reasons for his crummy attitude, Isabel convinces Owen to visit his childhood home, the site of a horrific trauma that he experienced when he was young, to visit his estranged grandmother Violet and his horribly disfigured sister Pearl. When they arrive, it becomes apparent that Violet has a sociopathic streak and Pearl has darker secrets than anyone can imagine.
Wielding discomfort like a surgical scalpel, and not the easy kind of "show you the bloody internal workings of someone's digestive system" discomfort, but something that goes far beyond that, Bates seems determined to make his audience squirm in their seats using little more than pithy dialogue. Needling his audience with gaslighting, passive-aggressive digs, and ten other flavors of awkwardness embodied in a visit to the grandmother from hell, Bates is exploring levels of horror that few manage to reach. While some films try to top their predecessors in physical revulsion, Bates probes the kind of nervous feeling you get when you're not quite sure yet if you're supposed to be afraid. The audience laughs uneasily throughout, and it's easy to do so with Bates witticisms punctuating the dread.
With Anne Lynne McCord's Pearl, Bates has created another indelible character just as he did in Excision. Though we're aware of her disfigurement, Pearl's face is skillfully obscured for a large amount of the film, and McCord's ability to completely transform herself lends a lot of depth to the character through her stilted body language and the childlike cadence of her voice. McCord is game for just about anything, it seems, and there's a connection between Bates and McCord that many directors never find with a particular actor, even longtime collaborators. Bates' success with Trash Fire (along with Excision) is proof that this connection is a rich vein for the themes and ideas that he's trying to examine, even if it means keeping his actor under layers of makeup, rendering her unrecognizable for the entire film.
The other unforgettable performance here is Violet, Leon's grandmother, played with impeccable comedic timing by Fionnula Flanagan. Over the course of Trash Fire, Violet evolves from an easily-shaken, understated prude into a gleefully hedonistic, vicious villain. She delivers Bates' witty dialogue with ease, imbuing it with small tics and under-the-breath mutterings that make you want to strangle her in nearly every scene. Once she throws off the guise of passive-aggression for regular old aggression, Flannagan hams it up in the best way, and becomes a deliciously euphoric antagonist to her unwitting grandchild and future granddaughter.
After all the characters are introduced and the pieces in place, around halfway through the film, Owen and Isabel start to become less interesting to me than Pearl and Violet. Any actor would shrink when onscreen with Finnegan and McCord's powerhouse performances here, and unfortunately Grenier and Trimbur can't quite hold their own. To their credit though, Grenier does a good job of showing the beginning of Owen's progression from manchild to responsible adult as the revelations about his childhood come to light and Isabel is maybe the best avatar for the audience here, bringing sardonic disbelief to the insane proceedings in Violet's house.
After what I'd consider a curious misstep with Suburban Gothic, Richard E. Bates is back to form with Trash Fire, showing that his first feature wasn't just a one-hit wonder. If you're a horror fan who wants to laugh and squirm your way through one of the most uncomfortable family gatherings ever, be sure to dig through this Trash.