Published on October 14th, 2016 in: Current Faves, Music, Music Reviews, Reviews |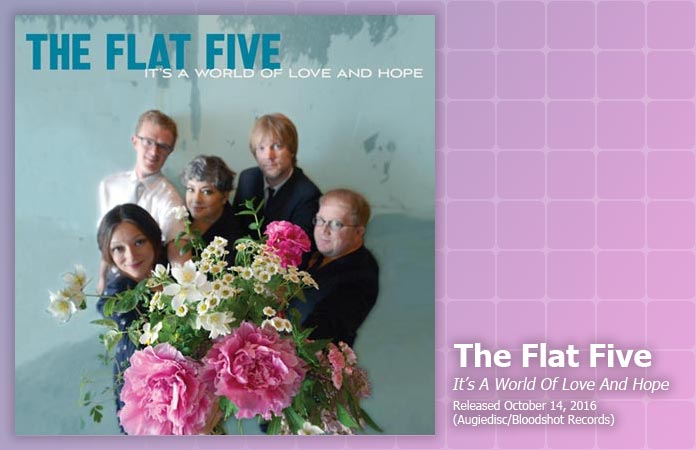 The Flat Five's debut album, It's A World Of Love And Hope, is perfect antidote to the weird awfulness of 2016. Full of exquisite, goosebump-inducing harmonies and ear-worm melodies, it's a vacation on vinyl (or digitally, as you do). The songs lull you with prettiness and then… you listen to the dryly hilarious lyrics. It's the perfect marriage of those two factors and endlessly relistenable.

The Flat Five are a Chicago-based group of harmony junkies with stellar pedigrees: Kelly Hogan (Neko Case, the Decemberists, a laundry list of everyone from Mavis Staples to the Drive-By Truckers), Nora O'Connor (also the Decemberists, New Pornographers, Robbie Fulks), Scott Ligon and Casey McDonough (NRBQ), and Alex Hall (JD McPherson, Pokey LaFarge). After having previously existed as a once-a-year, sold-out shows sort of band, they have given us non-Chicagoans a great gift: It's A World Of Love And Hope.
The Flat Five are people who are doing what they love: singing together. And you can hear it in every note of It's A World Of Love And Hope. They're making music together because they love it. Because they sound AMAZING together. Because it's fun. And that is reflected throughout the album. It's an instant record collection of the coolest stuff.
It's A World Of Love And Hope samples many genres, but all of them go down smoothly. There's the Beach Boys on happy pills, of the impossibly sunny "Florida." There's the perfectly warm 1960s folkie, banjo-led sweetness of "Bottom Buck." There's the bossa nova exotica of "This Is Your Night," and it is glorious (the lyrics are exquisite). "Birmingham" feels like a country song, but has quietly witty lyrics and a lovely melody.
Sweet is the word that I keep coming back to. It's a terribly sweet album, though not twee. Not super twee. It's like a John Waters movie soundtrack, with hidden gems that make your ears perk up with joy. "Buglight" feels like a Mills Brothers song, a getting frisky track with onomatopoeia and giddy amiability. "Bluebirds In Michigan" is a perfect, off-kilter, retro-indie-pop song, full of aching wistfulness and gorgeous vocals. "You're Still Joe" is mesmerizing, percolating, a loose, space-age jazz song, with a memorable, economical melody.
It's A World Of Love And Hope is like a time machine, but the kind of time machine where you come back just a little bit off. Like maybe your nose is on your back. "Almond Grove" has gorgeous, pure harmonies and a melody that makes tears spring to the eyes but lyrics that are just a bit deranged. Hearing all of the Flat Five take a breath at the same time in "It's Been A Delight" makes me weirdly happy. I've never wanted to be in a band as much as I want to be in the Flat Five. They make singing together seem like the most magical thing in the world.
It's A World Of Love And Hope is a joyful record. It made me smile constantly and start it again as soon as it ended. I want to live in a Flat Five world.
It's A World Of Love And Hope was released on October 14 from Augiedisc and Bloodshot Records.