Published on October 6th, 2016 in: Americana, Current Faves, Music, Music Reviews, Reviews |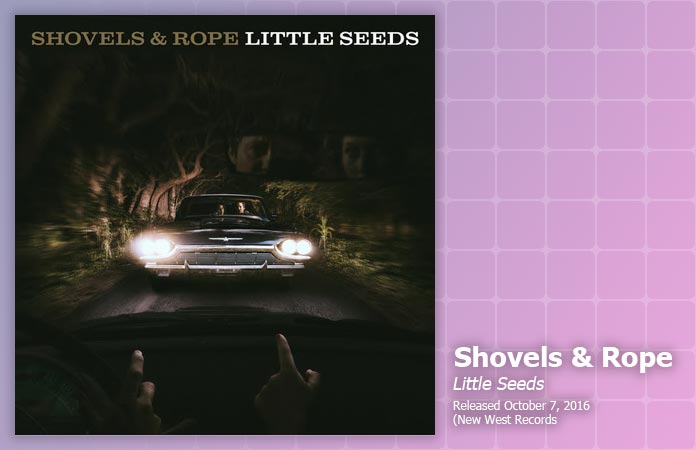 The last time we checked in with Shovels & Rope, they had released Busted Jukebox Vol. 1, a collection of covers and collaborations. That was in 2015. Now, they have followed up with Little Seeds, an intimate, confessional return to form. It's breathtaking in its honesty, chronicling some life-altering events in Cary Ann Hearst and Michael Trent's lives.

"There were two major changes that happened at the same time," Hearst says. "We found out we were pregnant, and at the same time Michael's parents had been living with us, because his father is in the early stages of Alzheimer's. Those two things, having the baby and facing the reality that our parents were aging, made this weird, awesome circle of humanity that really just took us out. I guess we were in the crosshairs of human existence." Trent continues, "We started putting this record together right after the baby was born. Every spare moment I had I was in the studio doing my best to work around the cries, and Cary would have to sneak up and do her parts when the baby was asleep. It's a funny thing trying to make a rock & roll record with a sleeping baby in the house."
And Little Seeds, at times, rocks exceedingly hard. Shovels & Rope make quite a lot of noise for two people. The delightfully bitchy "I Know" covers band-to-band conflict—calling out the ordained "next big thing"—stomping and heavy and a little warped-feeling. It's angry but also relatable ("I know exactly where you got that sound / See, I was at the same shows you used to hang around" and "I know exactly who you think you are / You left your little notebook layin' on the bar / Everybody's sayin' that you're gonna go far / But I know exactly who you think you are"). The gut churning "Buffalo Nickel" has a killer drum sound. It's got a darkness and weight to it.
What Shovels and Rope completely slay at is telling stories. Their instinctive unison vocals on "Botched Execution" highlight the brilliant, southern gothic lyrics. It's urgent and foreboding, telling a compelling story. Simply reading the lyric sheet is enough, but their performance is all punky rawness. They tell the tale of a pivotal 1863 Civil War battle on "Missionary Ridge," with goosebumps provoking harmonies, plainspoken mandolin and strummed guitar. It's appropriately ancient sounding.
A pair of songs about Michael Trent's father's Alzheimer's diagnosis make a contrasting centerpiece to Little Seeds. "Mourning Song" sets the stage with stately majesty and soaring vocals. It's keenly observed moments and heart-wrenching honesty. "Invisible Man" is probably the most rocking song about losing one's memory and time and self-ness. It's lyrically shattering, but also upbeat and bluesy.
Little Seeds is so open-hearted. It is haunting, like on "BWYR," a spare, hushed meditation on the Charleston church shootings. It's appealingly intimate, with Hearst's lovely grittiness matching Trent's husky tenor on "St. Anne's Parade," which features this line: "And it never feels like we're getting any older / but the memories build up around the eyes," and may just be a perfect line. Their musicianship, as always, is wonderful, like the delicate piano of the wistful "San Andreas Fault Line Blues," a yearning track that quietly alludes to Buck Owens and Gram Parsons.
Cary Ann Hearst and Michael Trent have taken these painful, personal things and made one hell of an album out of them. Little Seeds is so honest and raw, and never loses sight of the things that make Shovels & Rope so unique: their keen musicianship, fine vocals, and excellent storytelling.
Little Seeds will be released on October 7 from New West Records.