Published on October 6th, 2016 in: Current Faves, Music, Music Reviews, Reviews |
By Tim Murr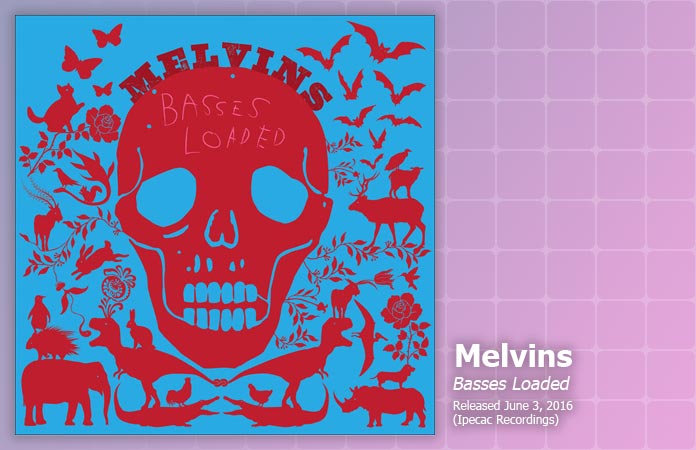 Aberdeen's Melvins have been around since 1983 and remain one of America's greatest rock 'n' roll bands. That's not hyperbole; that's just a fact. They have released a slew of albums exploring the boundaries of stoner, doom, sludge, and grunge music. King Buzzo and Dale Crover have been the only constant members with several different bass players coming and going. Which brings us to the new album, Basses Loaded.

Basses Loaded features six different bass players, featuring past and current members Steve McDonald from Redd Kross, Jeff Pinkus from Butthole Surfers, Trevor Dunn from Mr. Bungle, Jared Warren from Big Business and joining the band for the first time, Krist Noveselic from Nirvana.
It's a hell of a lineup! But the novelty of having all of these different bass players takes a backseat to the amazing songs. It's no surprise that the Melvins would release a great album, but this one really stands tall. With the diversity in material, the group's virtuosity, and that great King Buzzo voice, Basses Loaded delivers the goods.
The album opens on a real downbeat Sabbath vibe with "The Decay Of Lying" before giving way to the chugging, near-anthemic "Choco Plumbing." The bizarre "Shaving Cream" is a good mid-point break with the fun-to-sing refrain "I'm all fucked up!"
"Planet Destructo" has a loud-quiet-loud approach before dissolving into a stoner jazz jam while "War Pussy" and "Maybe I'm Amused" are two of my favorite tracks on the album.
There's no filler here, just twelve solid songs (including a few choice covers). Fans won't be disappointed and newcomers will become fans (or they'll be wrong!). Let Melvins with their six bass players rock your ass off!
Head over to the band's Bandcamp page, where you can buy the album digitally or order it on CD or vinyl. The album cover, by the way, is pretty cool. Buying the album physically will also get you an unlimited download code.