Published on October 6th, 2016 in: Americana, Current Faves, Feminism, Music, Music Reviews, Reviews |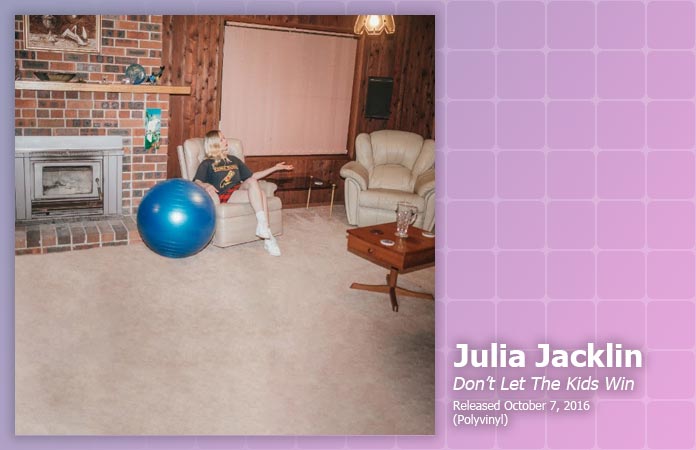 I'm going to admit this right off the bat: there were a few times in listening to Julia Jacklin's fascinating debut, Don't Let The Kids Win, that I couldn't quite make out what she was saying. On the opening track, "Pool Party," I was drawn to the languid retro feel, a slow dreamy sway of a song, and the unusual timbre to Jacklin's voice. I just had no idea what the lyrics were (and to me, as a reviewer, lyrics are important). But it didn't actually matter, because the feelings are evident; there is a heaviness, a sadness that runs through the Americana-esque song.

And, on the upshot, the lyrics to the following tracks were far easier to discern. Which is delightful, because Don't Let The Kids Win has an emotional resonance and heartfelt feeling that doesn't often happen on a debut album. Julia Jacklin might be young, but she has a clear-eyed honesty that belies her age.
Her impressive, nimble voice doesn't hurt, either. There's a gorgeous lushness to her voice, yet there's never a moment that makes one think that she's over-performing. The 1960s-girl-group-sans-the-other-girls aura of "Leadlight" has an aching melancholy wrapped in a sweet, airy melody, and Jacklin's voice has such a convincing sadness it's hard not to be affected. There's stunning intimacy to her voice on the delicate "Elizabeth." It's beautifully reminiscent of a Nick Drake tune. The slow burning "Motherland" has a gloriously lilting chorus and Jacklin's heartrending swoop of a yodel is exquisite. "L.A. Dream" is a stunning, nuanced performance that stayed with me for days. The large, loose sounding guitar is just percussive enough to complement the mostly a capella song.
The languid swayer, "Small Talk" brings us this line, "Zach Braff, you look just like my dad / back when I thought I had the best one," and then proceeds to drown in elegant melancholy. "Same Airport, Different Man," a quietly building, spare track has a haunting emptiness, but also a meditative quality. It's not the showiest song on Don't Let The Kids Win, but it lingers far after the song is over. So, too, does the title track. It's a low-key rendering of advice that is utterly shattering ("Don't let your grandmother die / while you're away / a cheap trip to Thailand / is not going to make up for never getting to say goodbye") but ultimately hopeful. It's also frankly lovely.
Don't Let The Kids Win is a stunning debut. Julia Jacklin arrives on the scene with an unusual, understated voice and a lyrical voice that is admirable. She doesn't easily slot into any specific musical style, and it seems like that's just fine with her.
Don't Let The Kids Win will be released by Polyvinyl on October 7.
Tour Dates:
Oct. 7 – Vancouver, BC, Canada @ Biltmore Cabaret $
Oct. 8 – Seattle, WA, USA @ Neptune Theatre
Oct. 24 – Berlin, Germany @ Maze
Oct. 25 – Cologne, Germany @ Blue Shell #
Oct. 26 – Munich, Germany @ Unter Deck #
Oct. 27 – St Gallen, Switzerland @ Palace #
Oct. 29 – Zwolle, Netherlands @ Let's Get Lost Festival
Oct. 30 – Brussels, Belgium @ AB Club #
Oct. 31 – Rotterdam, Netherlands @ Rotown
Nov. 2 – Paris, France @ Le Pop-Up du Label
Nov. 3 – Brighton, England @ The Haunt #
Nov. 4 – Nottingham, England @ Bodega #
Nov. 5 – Glasgow, Scotland @ CCA #
Nov. 6 – Newcastle, England @ The Cluny #
Nov. 8 – Manchester, England @ Manchester Gorilla #
Nov. 9 – Bristol, England @ Thekla #
Nov. 10 – London, England @ Koko #
Nov. 11 – Dublin @ Grand Social
Nov. 18-19 – Mullumbimby Music Festival, NSW, Australia
Nov. 25 – Paradise Music Festival, VIC, Australia
Nov. 26-27 – Queenscliff Music Festival, VIC, Australia
Dec. 2-3 – Fairgrounds Festival, NSW, Australia