Published on September 30th, 2016 in: Horror, Movie Reviews, Movies, Reviews, Tyler Talks Horror |
By Tyler Hodg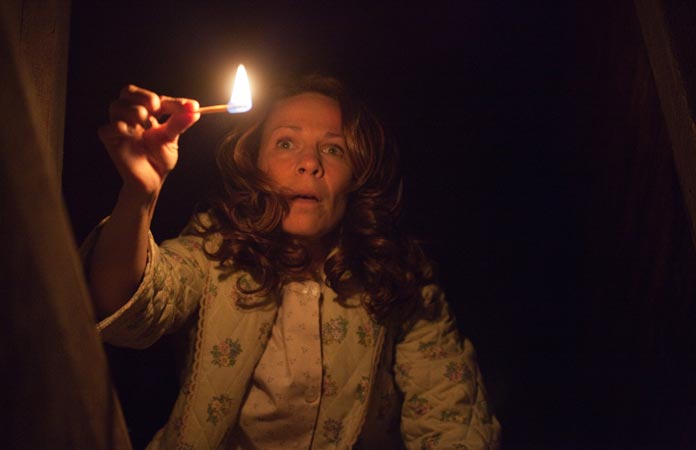 Hi, my name is Tyler Hodgkinson and I am a total horror n00b.
In this series, I'll be taking a look at classic, cult classic, and modern horror films with ignorant eyes. The concept is scary simple.
Note to self: stay away from secluded mansions and creepy-ass dolls.

Released in 2013, The Conjuring has already garnered somewhat of a cult following, although it's too soon to call it a "cult classic." The film has been recommended to me by a number of people, both during its theatrical run and when researching for this series, so it was a no-brainer that this was something to check out.
It may be superficial, but the first thing that I noticed was how bad the wigs are. Seriously, who the hell ran the hair and makeup department? This is an issue that begins in the opening sequence—it features a female with a awkward-looking 1960s hairdo—and becomes a theme throughout the film.
Aside from the whole wig thing, there are quite a few other memorable moments in The Conjuring. These include when the crazy demon lady possesses Mrs. Perron with some icky blood, and that insane exorcism in the climax. These segments feature some of the best visual effects in the movie, and feature terrifying images that are sure to stay with me for a long time.
The Annabelle doll is easily the most unnerving aspect of the movie. Although it rarely surfaces, the cracked face plaything lingers in your mind from the opening sequence to the end credits. The fact that it has already spawned a spinoff movie proves the power of its character design.
Annabelle is one of the best examples of the ol' bait-and-switch routine; a door moves, camera zooms, and nothing is there. I'm beginning to understand that this is a common practice in the horror genre. When that technique is combined with effective moments of silence, The Conjuring becomes a masterclass of suspense, and makes viewers tremble with anticipation.
With all it does right, The Conjuring still doesn't feel like an important film. While the pacing is great in the first and third act, the slow nature of the second act makes a good chunk of the movie feel dull and monotonous. Additionally, the familiar tropes and beats it follows, such as the wholesome family moving to a rundown mansion and the "based on a true story" shtick, suck any sort of originality out of the story. For these reasons, The Conjuring is a decent watch, but not worth the hype.