Published on September 23rd, 2016 in: Americana, Current Faves, Music, Music Reviews, Reviews |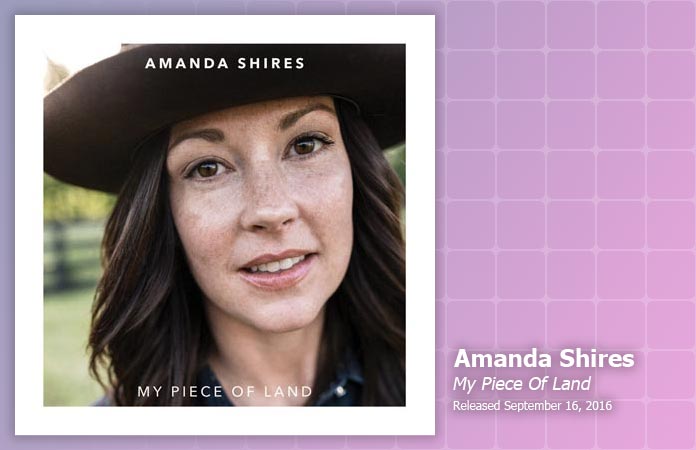 Some pregnant women nest by painting walls, decluttering, pasting photos in albums. Amanda Shires wrote an album. My Piece Of Land was written and recorded as a way of dealing with her pre-motherhood anxiety when she was pregnant and unable to travel. The result is introspective, incredibly honest, and furiously lovely.

My Piece Of Land is also impressively understated. It's subtle, relying on keen song craft and authenticity. Amanda Shires has a great gift for melody and employing rhythm in those melodies in a clever way. Her choruses are imminently hummable and her voice is so very appealing.
The charming opener, "The Way It Dimmed," is immediately engaging, with lively percussion and handclaps. It's spare with her lovely, plainspoken voice being the focus and a 1960s girl group feel. Dave Cobb's production (also known for Shires's husband Jason Isbell's albums) is stellar, bringing gorgeously bright guitars and Shires's fine fiddle together in a sophisticated way, as showcased on "Pale Fire." The fiddle plus delicate guitar is enough, but then she adds bits of detail to the lyrics that bring the song to vivid life (the opening lines give you "She took her lover on a road trip/turned out to be a bad idea," and then it unfurls into a richly realized, edgy, amazing song with subsequent lyrics it takes all of my self-control not to just repeat all over this review).
I didn't expect to cry as much as I did listening to My Piece Of Land (the last third of it destroyed me). The self-examining "I Know What It's Like" is open and raw, and her easy vocals up the honesty. She holds out a hand in commiseration, in an offer to help, and you can't help but believe her words. The introspective reminiscences of "Mineral Wells" were strangely affecting and intimate. It's delicate and effective, especially in the way that she lets words trail off conversationally. Rounding out the trilogy of tears, "You Are My Home" boasts Shires's emotive fiddle work. It's a moving, moody, evocative stunner of a love song.
My Piece Of Land is relatable as hell. "Nursery Rhyme" is a delightful ode to waiting for a baby to come. It's light and breezy with sweet humor. When Shires sings of lucid dreaming, it hits a particular truth for a mother-to-be (I still vividly remember the lucid dreams I had and my son is almost 17. So many knives in those dreams. I still don't know that that means). I didn't love the echo effect of "When You're Gone," but it does emphasize the loneliness and emptiness of a house when her love is gone. Her voice soars on the percolating, lively track.
I utterly love My Piece Of Land. Amanda Shires is a gifted songwriter, singer, and musician who has captured a tumultuous, terrifying, exciting, hopeful, wonderful time in her life and made a definitive, enchanting album out of it. It's a love letter to her life, and it's lovely.
My Piece Of Land was released on September 16.