Published on September 7th, 2016 in: Comic Reviews, Comics, Current Faves, Reviews, TV |
By E.A. Henson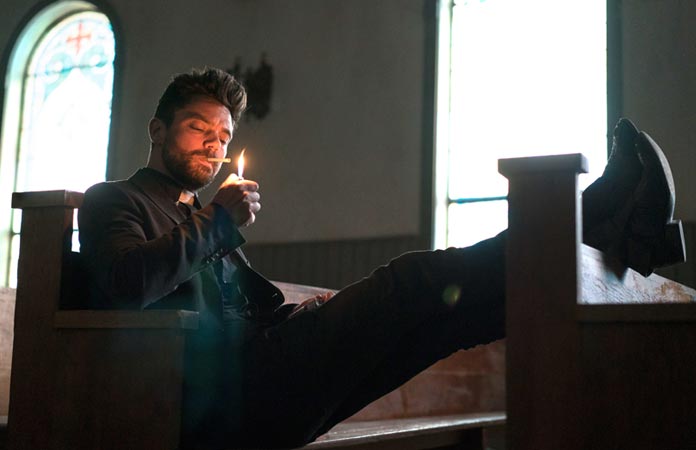 The first season of the darkly funny and hyper-violent Preacher TV series recently wrapped up and DC/Vertigo Comics has, coincidentally, just published the first volume of Absolute Preacher. If you're a new fan of the show or an old fan of the comic this hefty tome is definitely something worthy of your attention.

Exactly what is an "Absolute" edition? For well over a decade now, DC Comics has been publishing essential collected editions of their best comics in an oversized prestige format. All the stops are pulled out and the Absolute editions feature remastered artwork, high quality paper stock, slipcases, and bits of apocrypha, all in a single edition designed to empty your wallet (it retails for $150 USD) and keep the bookcase industry in business.
Absolute Preacher collects the first 26 issues of the comic book, which amounts to about four complete story arcs. Also included are reprints of old letter columns, miscellaneous art pieces, and the script for issue #11.
The real gem of the collection has to be the letter columns. These reprints provide a fascinating insight to how comic book creators and fans interacted in a pre-online world. The collection also includes an introduction by producers Seth Rogen and Evan Goldberg that is definitely worth reading. Rogen and Goldberg are two longtime fans of the Preacher comic and completely hit the jackpot by getting to create and produce the television adaptation.
Starting in April of 1995 and running until October of 2000, Preacher was published under the DC Comics mature readers Vertigo imprint and my decades-long fascination with the book began around the same time. I had picked up a small flyer from my local comic shop that was designed to look like an old Wanted poster. With a typeface that looked like it was reserved for stagecoach schedules it proclaimed "THE COMING OF THE PREACHER." I was immediately hooked and it hung in my locker for most of my sophomore year until it was swiped when I wasn't looking.
Preacher was the brainchild of Irish writer Garth Ennis and English artist Steve Dillon with covers by Glen Fabry and colors by Matt Hollingsworth and Pamela Rambo. Ennis and Dillon had previously worked together on Vertigo's long-running Hellblazer series and when it came time for them to create their own book they crafted a modern love letter to America as it appeared in John Wayne/John Ford movies with a dash of Pulp Fiction for good measure.
Over the course of 66 issues the book tells the story of a Texas preacher, his assassin ex-girlfriend, and his Irish vampire friend as they crisscross the country looking for God. That's not a metaphor; they are literally on a quest to find God since part of the book's plot involves them discovering God has left the kingdom of Heaven for greener pastures.
That's basically it in a nutshell and I'm purposefully underselling just how funny and weird the book can be. It's something you just have to experience for yourself.
If you happen to be a fan of the TV show or the "go big or go home" ethos and are looking to get into the comic, this is absolutely (pun!) a great way to do it. As with any comics-to-film adaptation, there are going to be changes.
Preacher the TV show remixes the comic slightly and takes an almost prequel-like approach to the source material. As a viewer of the show you get to learn more about the characters and their motivations before the ultimate journey begins. Absolute Preacher will give new readers a chance to see how it all started as well as a peek at what may be coming next in future seasons.
A few months ago, while watching the premiere episode of the TV show with my friend, he turned to me and said, "This is the show we've been waiting 20 years for!" That statement also rings true when applied to this collection. If you're a Preacher fan, it's the collection you've been waiting for.
Absolute Preacher can be purchased from Vertigo's website.