Published on August 26th, 2016 in: Current Faves, Music, Music Reviews, Reviews, Singer/Songwriters |
By Tyler Hodg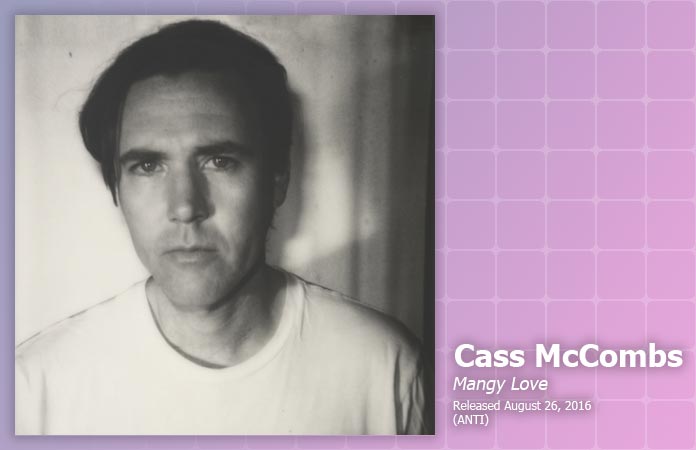 Cass McCombs is the type of songwriter that most of his peers probably wished they were; his latest work, Mangy Love, is a dulcet-toned, yet impactful album worthy of envy. The California musician is able to accomplish the near-impossible feat of composing tracks that are smooth, subdued, and buoyant at the same time. The line between compelling and uninspired is often thin and full of soft jams, but McCombs makes the distance seem like an eternity—and he's undoubtedly on the more entertaining side.

Mangy Love has an aura that needs to be heard to be understood. Certain tracks have musical cues that catch and hook you, and encourage further exploration for subtle details. McCombs's multilayered vocals are engulfing, and combined with the generally clean instrumentation, a trance-like experience develops.
As a listener, you are transported to a new space and time, but still feel grounded thanks to the non-cosmic sounds. With that said, there is a classic psychedelic undertone that runs throughout the album—particularly in "Bum Bum Bum," "Medusa's Outhouse," and "I'm a Shoe"—but the 12-song collection never relies on reconstructing the past, or adding peripheral noises for the sake of being odd.
Instead, McComb is able to combine familiar styles and new vibes to create multidimensional tracks. You only need one listen to the unique progression of "Switch," or the modern reggae stylings in "Run Sister Run" to see how both fully exemplify the rounded nature of the album. Mangy Love is the result of a clear-headed songwriter who can accurately draw influence, without blatantly ripping anything off.
While it's not always easy to understand the intent of an artist's lyrics, McCombs's unapologetic approach to heavy subject matter presents unmistakable messages. Perhaps the most obvious case—and arguably the most relevant—is the opening number "Bum Bum Bum." His intelligent and passionate examination of the military mindset is perfectly summed up with the line "You think you've heard it all before/Well, here's once more/We're all at war."
Whether it's his willingness to discuss politically-charged themes, or ability to craft catchy, yet introspective songs, there's much weight to McCombs's music. He is clearly in his prime as a composer and poet, and his latest work is all the proof you need. Mangy Love is multidimensional, and because of that, it delivers a fresh listening experience.
Mangy Love was released on August 26 via ANTI.
Tour Dates:
Tue. Sep. 13 – Big Sur, CA @ Henry Miller Library
Wed. Sep. 14 – San Francisco, CA @ Great American Music Hall
Thu. Sep. 15 – Los Angeles, CA @ Teragram Ballroom
Fri. Sep. 16 – San Diego, CA @ The Casbah
Sat. Sep. 17 – Phoenix, AZ @ Valley Bar
Mon. Sep. 19 – Austin, TX @ The Parish
Tue. Sep. 20 – Houston, TX @ White Oak Music Hall Upstairs
Wed. Sep. 21 – Dallas, TX @ Three Links
Fri. Sep. 23 – Denver, CO @ Larimer Lounge
Sat. Sep. 24 – Salt Lake City, UT @ Urban Lounge
Mon. Sep. 26 – Seattle, WA @ Tractor Tavern
Tue. Sep. 27 – Portland, OR @ Mississippi Studios
Fri. Oct. 14 – Philadelphia, PA @ Underground Arts
Sat. Oct. 15 – Baltimore, MD @ Ottobar
Sun. Oct. 16 – Asheville, NC @ The Mothlight
Tue. Oct. 18 – Atlanta, GA @ The Earl
Wed. Oct. 19 – Nashville, TN @ The High Watt
Fri. Oct. 21 – Chicago, IL @ Empty Bottle
Sat. Oct. 22 – St. Paul, MN @ Turf Club
Sun. Oct. 23 – Madison, WI @ The Frequency
Mon. Oct. 24 – Indianapolis, IN @The Hi-Fi
Wed. Oct. 26 – Toronto, ON @ Horseshoe Tavern
Thu. Oct. 27 – Montreal, QC @ Petit Campus
Fri. Oct. 28 – Brooklyn, NY @ Music Hall of Williamsburg
Sat. Oct. 29 – Boston, MA @ Cafe 939 at Berklee
Tue. Nov. 1 – Paris, FR @ Point Ephemere
Wed. Nov. 2 – Luxembourg City, Luxembourg @ Rotonde
Wed. Nov. 3 – Lisbon, PT @ Cinema S. Jorge
Thu. Nov. 4 – Berlin, DE @ Kantine am Berghain
Fri. Nov. 5 – The Hague, NL @ Crossing Border Festival
Sun. Nov. 7 – London, UK @ Scala
Fri. Dec. 9 — Meredith, AU @ Meredith Music Festival