Published on August 19th, 2016 in: Current Faves, Music, Music Reviews, Singer/Songwriters |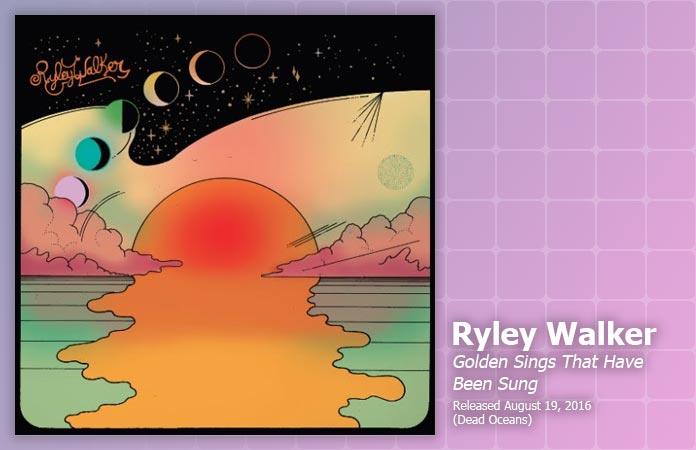 The Ryley Walker that brought to mind frolicking in sun-dappled fields on his last album, Primrose Green, has vacated those fields. His latest, Golden Sings That Have Been Sung, moves past his love to 1960s and '70s British folkies (though the occasional field is still dappled in sun) and embraces a more "whole band" approach, throwing in unexpected instrumentation and taking his experimental playing even further. His unbelievable finger-picking is still there, but it's come with friends this time.
Golden Sings That Have Been Sung is often hypnotic. The opener, "The Halfwit In Me" still bears that pastoral quality that has marked Ryley Walker's previous work, with stunningly lovely playing and a jazzy syncopation in the guitar. Timelessness is again his forte. The track becomes mesmerizing and jammy (in a good way), feeling new and as if it has always existed and that maybe you should listen to it in the dark forever. The spacey, jazzy folk of "Funny Thing She Said" has a darkness haunting the edges of the song. A grind of voila slices through—it all seems so improvised and secret, this tale of a relationship that doesn't quite work ("Saturday night meant nothin'/but I know Sunday was true").
Ryley Walker's voice is pushed more to the forefront of Golden Sings That Have Been Sung, and his voice has become stronger and warmer. His lyrics, too, have changed, becoming more idiosyncratic and stream-of-consciousness. They're witty and self-deprecating, taking what might be interpreted as a sweet love song ("I Will Ask You Twice") and imbuing it with subtle barbs. The cleverness of the quietly hallucinatory "The Roundabout" paints a picture, "Lean into my shoulder/wearing an old man's coat" and this: "Can I buy you a drink/but my credit is quite shit/we can all laugh and have tap water" which is just universal, no?
The intensity of "Sullen Mind," a song that builds into a bramble of guitar shapes and colors, bears relistening and attention. Its counterpoint, the album closer "Age Old Tale," is dotted with harp glissandos and a sludgy beat. It's heavy and unshaped, but still focused.
Golden Sings That Have Been Sung is a worthy follow-up to Primrose Green, marking Ryley Walker's constant evolution as an artist.
Golden Sings That Have Been Sung was released on August 19 by Dead Oceans.