Published on August 5th, 2016 in: Current Faves, Music, Music Reviews, Reviews |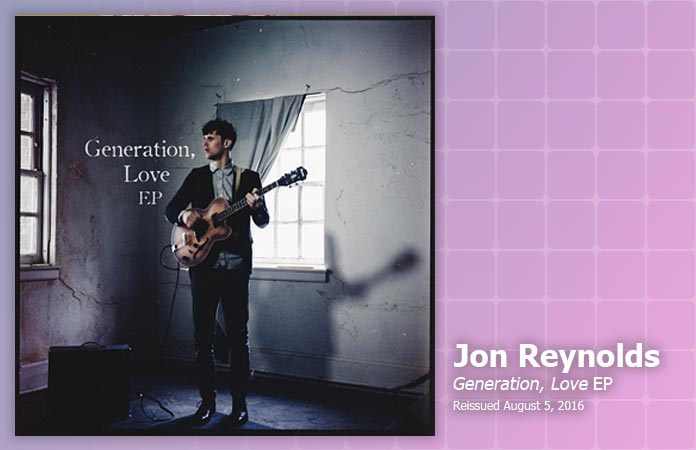 On the nature vs. nurture question, music so often comes down to nurture. It's a time and place thing, colored by experiences and environments. On Jon Reynolds's new EP, Generation, Love, Reynolds explores racism, sexism, and gender roles, specifically in the American South. Having recently moved to Tennessee, Reynolds found himself wrestling with the intrinsic, embedded prejudices (including his own) and has taken these things and molded them into a quartet of 1950s-flavored, hooky pop treats.
The title track sets in with a gentle doo-wop beat, with Reynolds's languid vocals sweeping to an easy falsetto. The lyrics are deceptively simple, perhaps, but the feeling is there. It's got a pleasant ease to it.
Generation, Love is all about ease. Jon Reynolds is in no hurry to crank up the beat. "Situational Demise" has a "late night at the sock hop" feeling to it. There's a heaviness to the message (does the woman love the main character? Will she leave him? Are they just following pre-destined patterns? Is there free will? Is it strictly about gender roles?) This, again, is wrapped up in Reynolds's easy vocals and fine falsetto.
There's a nice lilt to Reynolds's voice on "'63" that matches the lilt of the music. It's all tender staccato guitar strum with occasional organ flourishes that bursts into a more muscular, point-making sound. The point? The point is that we need to move past the past, and the track shines a light on racial prejudices and sexism.
"Find Someone" is another spare, retro-flavored track, with bluesy guitar. The plaintiveness in his voice is nice; wistful and achey with a soulful turn. It's a sort of a love song, but it leans more to being an end-of-love song.
Generation, Love is pleasant. Jon Reynolds has things he wants to say, and he doesn't want to alienate his listeners. He's never too heavy-handed with his points, however. Enveloped in the gentle melodies and Reynolds's rather nice voice, Generation, Love isn't the most challenging EP you'll hear this year, but it is deeply felt.
Generation, Love was released on August 5.