Published on July 12th, 2016 in: Books, Current Faves, Reviews, TV, TV Reviews |
Perhaps it was just the fact of real-life obligations getting to me, but it seemed to me that this episode dragged. I'm not even kidding; it took several hours to work through it from start to finish. But I got through it, and it's worth the watch. Much of what takes place is plot-building rather than action or character growth.
The primary goal at this point for the characters is to stop the Jacobite rebellion. They've settled into a routine, which largely entails Jamie hobnobbing with Duverne and Prince Charles while Claire has tea and attends social gatherings, and somehow the two of them still find time to run the wine business.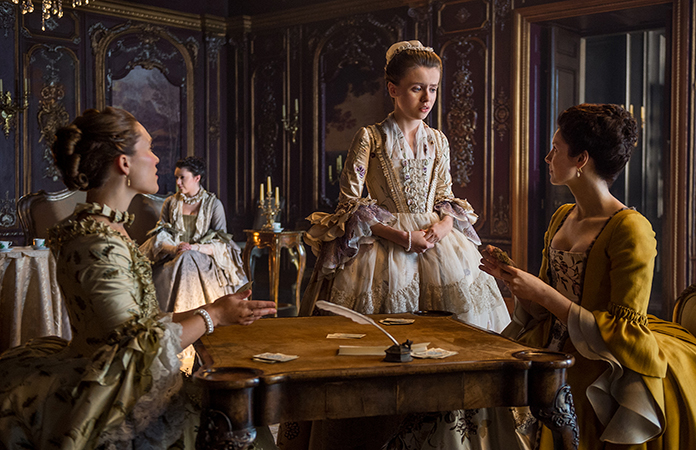 While at tea, Claire learns that the very young, naive Mary Hawkins, who fears getting married because of what she's heard about sex, is the very same Mary Hawkins that married Black Jack Randall according to Frank's family bible. Claire is rattled when she returns home, and after coming down on Murtagh, she confides in him about Randall. The two agree to keep quiet about the subject, for Jamie's sake.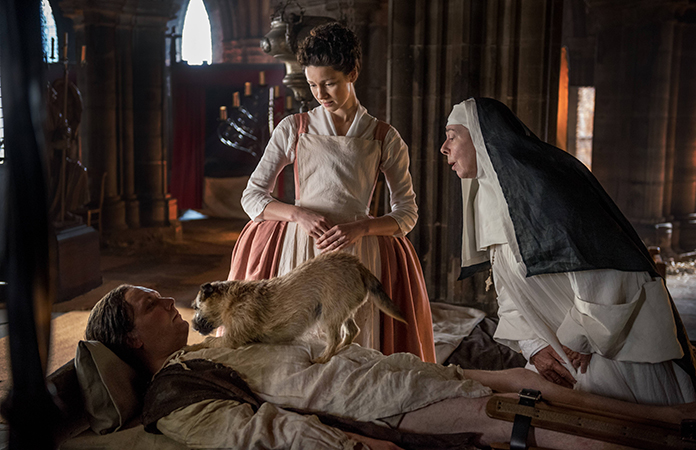 Later on, Claire returns to the apothecary, where Master Raymond makes the suggestion to her about volunteering at the charity hospital, and she takes his advice. The role of Mother Hildegarde is excellently cast, being portrayed by Frances de la Tour (Harry Potter and the Goblet of Fire, where she portrayed Madame Maxine of Beauxbatons Academy of Magic and the love interest of Hagrid). Claire makes an impression on the elderly nun by exhibiting her medical knowledge on several occasions.
Jamie convinces Duverne to meet with Charles, who claims to be secretly securing the support of several British aristocrats. The information vexes Jamie, and he returns home to find Claire has not arrived yet. It's late into the night before she does, and rather than being supportive when he finds out that she's found purpose in working at the hospital, he berates her for putting the baby at risk and not being there for him when he got home. He leaves and spends the evening drinking at the brothel.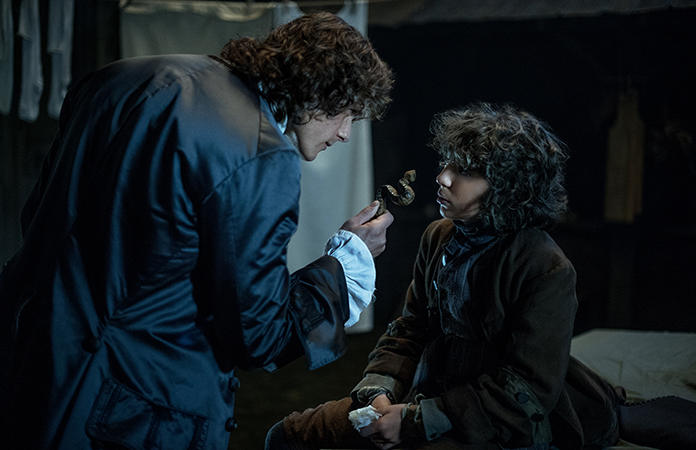 Jamie's time at the brothel is not wasted however, when he spots a young boy, who we come to know as Fergus, pickpocketing the clientele. Taking the boy home and offering him a job pays off, when the boy manages to snag some coded messages sent between Prince Charles and his associates, one of which is coded to look like sheet music. Murtagh puts forth the suggestion to take it to Mother Hildegarde.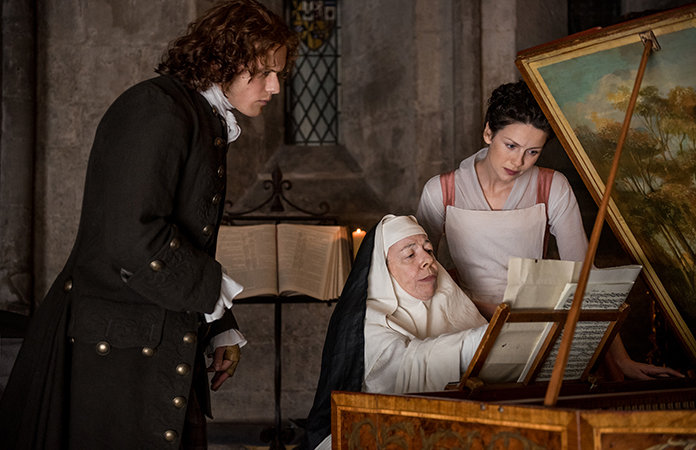 Jamie arrives at the hospital as Claire is finishing with a patient, and asks for Mother Hildegarde's help. She plays the music, and then mentions that it reminds her of a piece written by a friend of hers—who just so happens to be Johann Sebastian Bach—but some of the keys have been changed. It doesn't take long for Jamie to work out the message once he has that information: Someone signing the message with an "S" has pledged 40,000 pounds to the cause. What does that mean? The conspirators within the British aristocracy are a real thing, but the amounts that Charles claimed to have procured are exaggerated.
Claire and Jamie come to the conclusion, at the same time, that Sandringham is the one responsible for the message, and that he's playing both sides. While Jamie's getting whisky and glasses for them to celebrate, Murtagh instructs Claire to go ahead and warn Jamie about Randall, before he comes in contact with Alexander. Unfortunately, Claire keeps silent, not being able to find the words.
So, as you can see, the tangled web becomes even more tangled, with various threats looming at the horizon like a storm threatening to break. I had quite a bit of trouble stomaching the scene when Claire returned to the hospital, because Jamie really doesn't come across as selfish. That scene though? Portrayed him as a selfish whiny bitch who just wanted it to be all about him, and didn't give a damn whether his wife was happy playing socialite. It's like he completely forgot who he married entirely. Hopefully this will be the only time Sam Heughan is forced to do a scene like that.