Published on June 23rd, 2016 in: Music, Top Five Lists |
By Tyler Hodg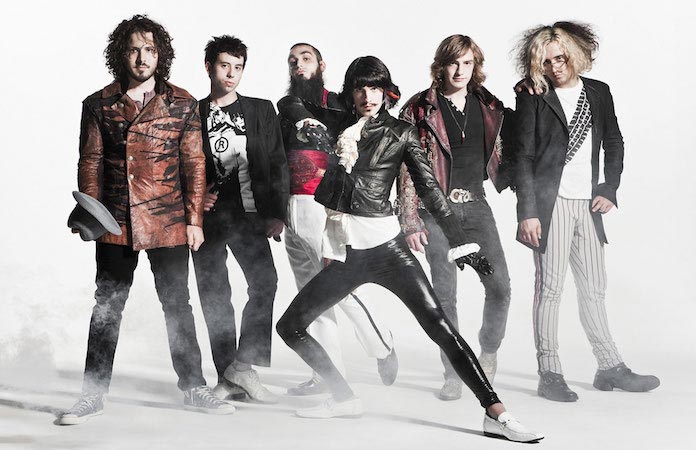 Foxy Shazam came to a premature end in 2014, and the musical loss is still an open wound for a lot of fans. The Cinncinatti-based group presented a unique product, consisting of eccentric band members, catchy tracks, and a larger-than-life stage show that was needed to be seen to be believed, but it was their ability to consistently deliver on all of those aspects that made them an anomaly.
Sure, it's only been just over a year and a half since the band announced their hiatus, but there are valid reasons why Foxy Shazam deserves a triumphant comeback.

5. Foxy Shazam had the ability to reinvent themselves.
Like many great groups and artists, Foxy Shazam would be reborn each time they released an album. Between being ministers of The Church of Rock and Roll and going Gonzo, it's evident that their return would bring a new, fresh theme.
4. Eric Nally appears to be at the peak of his artistic for.m
Since exiting the band, singer Eric Nally hasn't exactly sat still. Without a doubt, his most recognizable post-Foxy appearance is his feature on Macklemore and Ryan Lewis's hit track "Downtown," but it's the abstract Instagram art posts that truly show off how much creative expression means to him. For that type of experimental concentration to be thrown back into the band again would mean a richer life for all.
3. The band genuinely cared about their fans.
While kindness isn't exactly exclusive to the band, that doesn't take away the generosity they showed towards their supporters. Low-cost meet and greets were offered on their last tour, and the members were always available for a chat after the show. Although they seemed like giants on stage, the fans were made to feel like the important ones with gracious words in face-to-face conversations.
2. The band created a wide range of sounds that contrast in a beautiful way.
While this is due in part to their ability to reinvent themselves, Foxy Shazam has a catalogue filled with different-sounding tracks that represent distinct eras of the band. Their first record, The Flamingo Trigger, is more of a hardcore album than anything, with their second release, Introducing…, taking the genre and refining it to a more melodic state. The band moved in an operatic direction with their self-titled album and The Church of Rock and Roll, before stripping it all away to record the raw Gonzo with legendary producer Steve Albini. No two albums are alike, yet all feel authentic.
1. Their live shows remain unmatched.
Eric Nally would hang from rafters, eat cigarettes, and tell outright ridiculous stories. Sky White would physically jump on his keyboard like a lunatic. Loren Turner didn't shy away from wearing absurd outfits and moving around on stage. Daisy Caplan would balance his bass on his head. Aaron McVeigh pounded the drums so hard the audience's bones shook. Alex Nauth screamed and played his heart out on the trumpet. Foxy Shazam delivered this type of show every single night, and for better or for worse, left those in attendance with images of what they just witnessed tattooed on their brain forever.
Foxy Shazam never broke out of the underground scene, but anyone who had the pleasure of experiencing the band live—or through other formats—will surely hold onto their memories tight. They aren't a band that can be forgotten, and more people deserve to witness one of the craziest acts ever to have existed.
So Foxy Shazam, please come back.