Published on June 10th, 2016 in: Current Faves, Feminism, Reviews, Teh Sex, TV, TV Reviews |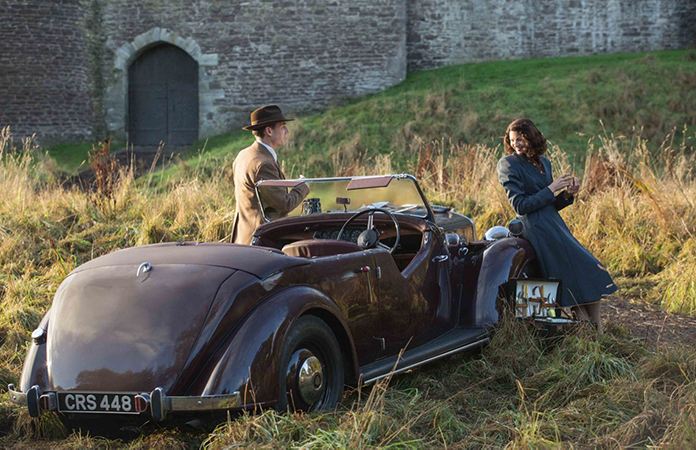 Let me begin by saying I came upon the Outlander series during a Starz "free" weekend, which resulted in a miniature binge session of the first half of the season. I couldn't wait for the second half to air, so I got the entire series in e-book format just because I couldn't wait to know what happened to Claire and Jamie next. I'm now four books into the series, and I've not yet been disappointed in either the tv show or the books.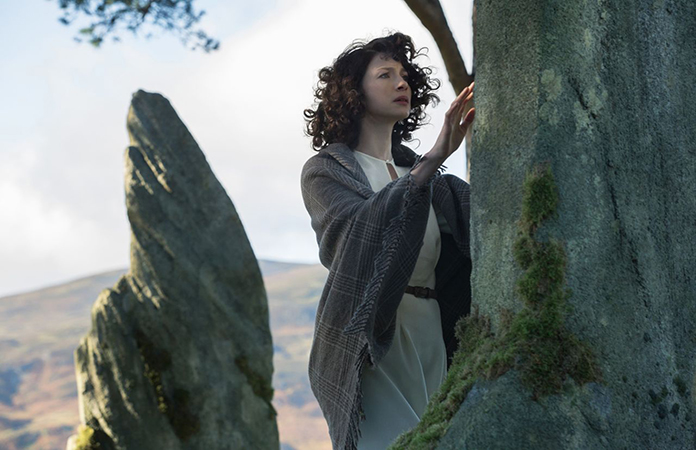 There are only minor discrepancies between the two versions, so fans of the books won't find themselves drawn into nerd-rage level arguments with fans of the show. Claire Randall (Catriona Balfe), a former combat nurse, and her husband, Frank (Tobias Menzies), are reunited after the ending of WWII, and decide to take a trip to Inverness, Scotland. Frank is taking a job at Oxford, but the trip is to serve the dual purpose of helping to rekindle their relationship as well as seek out some family ties. Before they get the chance, Claire is sucked into pre-Jacobite Rebellion Scotland, in 1743.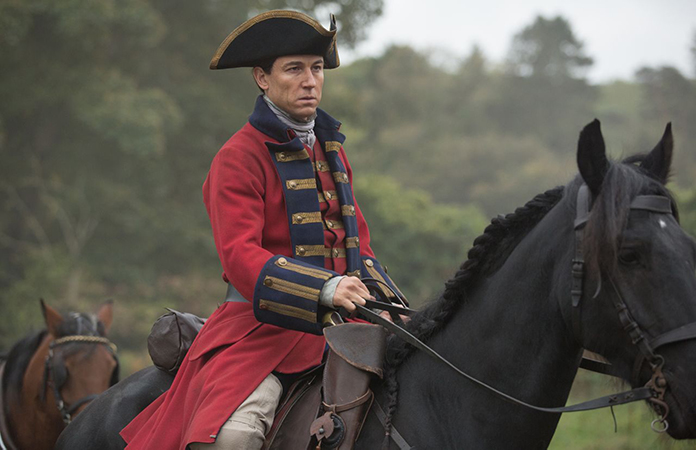 It seems very much that her fate is tied to Frank, his ancestor Captain Black Jack Randall (also portrayed by Tobias Menzies), Jamie Fraser (Sam Heughan), and another time-traveler, Geillis Duncan (Lotte Verbeek). Faced with being seen as a British spy, Claire must lie and protect the truth of her presence in Scotland, and accepts the role of healer of the Mackenzie clan in hopes of earning trust and eventually her freedom. Unfortunately, her experiences with Randall force her to accept another reality: she must wed a Scotsman if she intends to remain safe with the Mackenzies. So again, Jamie comes to the rescue. This is a repetitive theme between the two, constantly doing things to save one another.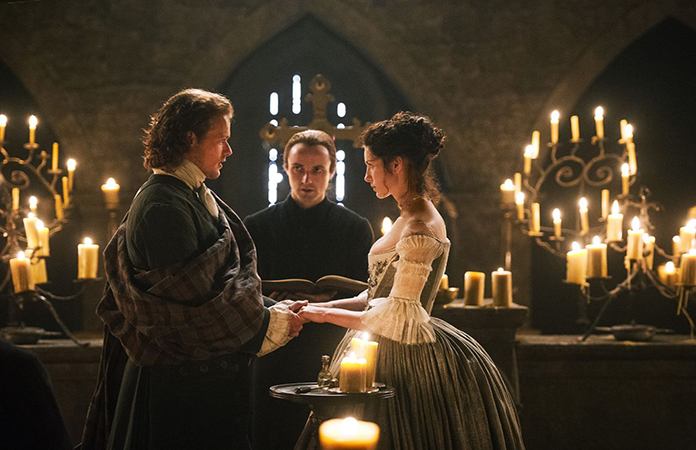 For however much they grow to love one another, they fight just as hard. The question of social mores and Claire's modern thinking are called into question when her actions and subsequent capture by Randall's men force Jamie and the clansmen to mount a rescue. The result is the cold shoulder by the other clansmen until Jamie "sets the little lady straight". Had she stayed put, she might not have gotten captured, which in turn risked the lives of those who came to rescue her. It's obvious Jamie doesn't want to reprimand his wife, but he does, and Claire gets in a few good shots of her own.
Eventually, after being forced to endure a trial for witchcraft, Claire admits her truth to Jamie, who somehow finds a way to accept it. Despite, or perhaps because of, his love for her, he returns her to the standing stones at Craigh na Dun so she can return home. She changes her mind, whether out of love for Jamie or knowing the fate that awaits the Mackenzies at the Battle of Culloden, or both, and returns to him. Being exiled from Castle Leoch, Jamie decides it's time to reclaim the lairdship of his home, Lallybroch.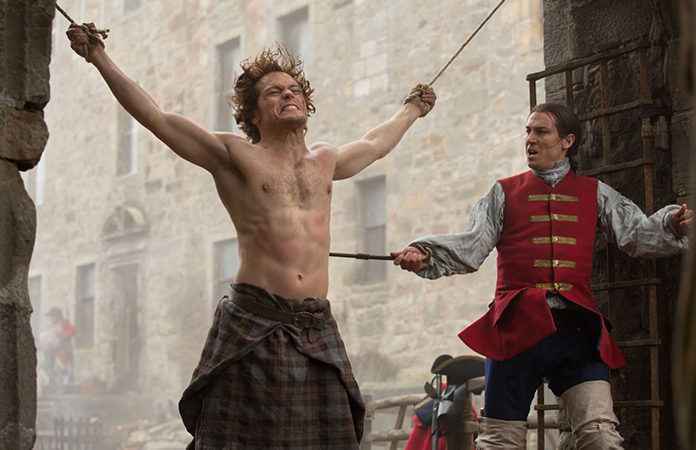 After a failed raid, Jamie is captured but slips away. Claire and Murtagh (Duncan Lacroix) go in search of him, only to draw the attention of Dougal (Graham McTavish), who informs them that Jamie has been recaptured and is being held awaiting execution at Wentworth prison. Randall arrives to stay the execution, but he has an ulterior motive: After his first experience with Jamie and subsequent enjoyment of flogging the red-haired Scot, he wants Jamie's submission. It seems, in some twisted way, that Randall is actually in love with Jamie, but at odds with the "degenerate feelings" he's experiencing. Before Claire can rescue Jamie, she's caught in the act, and the only way to save Claire is for Jamie to submit to Randall. Before Claire leaves Jamie to that fate, she curses Randall with the knowledge of the date of his death.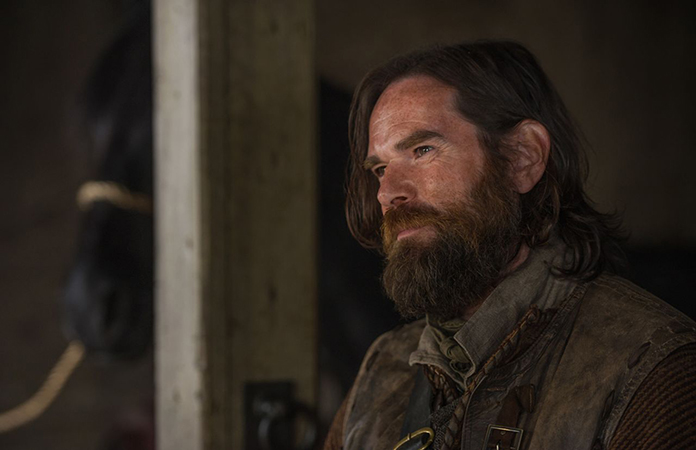 Murtagh plans and executes a rescue mission for Jamie, and they take refuge at a monastery. Although Claire tends to Jamie's physical wounds, the psychological effects of his treatment at the hands of Randall leave him suicidal. Although Claire takes some drastic steps to pull Jamie back from the brink, he's still not 100% back to normal, but who would be? The couple, along with the ever-loyal Murtagh, secure passage to France, where they hope to garner support from Charles Stuart and take actions to prevent the Battle of Culloden. Claire also reveals to Jamie that she's pregnant.
In terms of character development, there isn't a great deal of it in the first season. It's more about presenting the characters and getting them through various difficult situations, as well as defining the storyline. Claire is forced to accept a role and live within a society that she's unfamiliar with; the extent of her knowledge is Frank's incessant prattling about the time period and what she knows from history books. Jamie's experiences at the hands of Randall define and shape the person he has become since the flogging, and certainly has an effect on him post-Wentworth. The portrayal of those events at the prison, as well as the scene described in the book completely appalled me, but at the same time were necessary to show the level of depravity that Randall is capable of.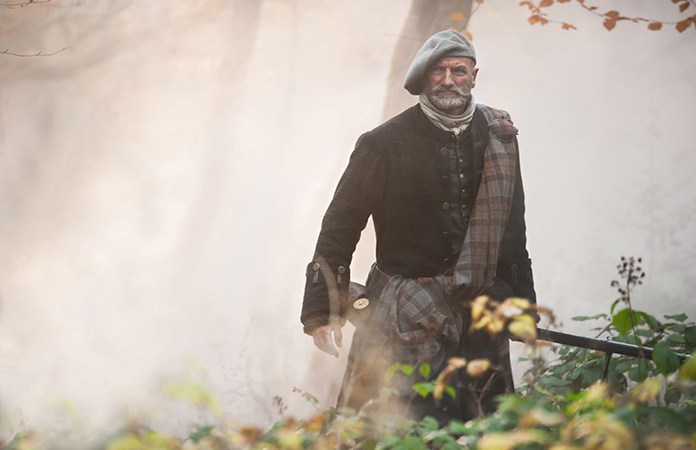 I'll be honest, I didn't like Catriona Balfe at first, but as time has passed, I realize there's no one better suited for the role. She's sassy but brave in ways that surprise the men in her life. She doesn't conform to the standards placed on women of her own time, let alone the one she's become trapped in. I'm no fan of Frank, let alone Rapey Randall, in the books or on the show. Frank is a distant, cold sort of person, and Randall can't seem to manage to get near anything without trying to rape it (thus the nickname). I have to give credit where it's due however, and Tobias Menzies has been handed a challenge and a half in trying to portray the two characters. He brings them off the pages and onto the screen perfectly. Honorable mentions in terms of casting go to Graham McTavish, who I firmly believe was born to wear a kilt and should never cut his beard. Lotte Verbeek is a beautiful choice to portray Geillis, and without giving away spoilers, I believe fans will be quite pleased with where her character is going.
In closing, I must say that the creators of the show have done an amazing job of bringing this story to life. It's nice, if just for an hour, to shut off the outside world and immerse yourself in another time and place. The costuming department's attention to detail, down to the types of fabric used in the wardrobe, gives just the right amount of authenticity to the atmosphere. I think there's something in this show for just about everyone, whether your interest is romance, action, political intrigue, or you just like men in kilts and swordfighting.