Published on June 9th, 2016 in: Comic Reviews, Comics, Current Faves, Horror, Reviews |
By Tim Murr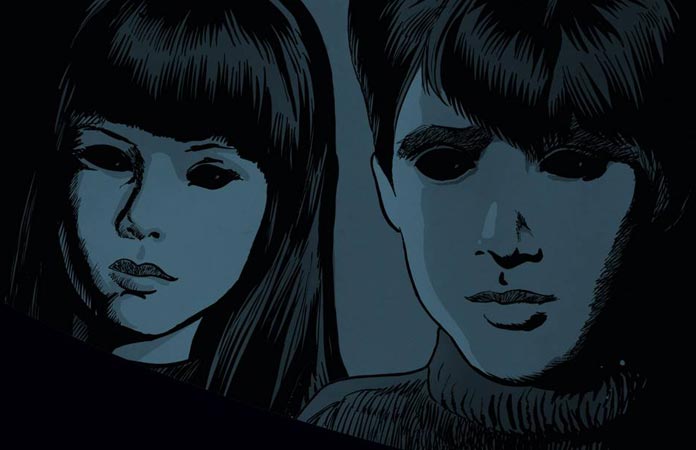 What's creepier than creepy kids? Children Of The Damned, Children Of The Corn, The Brood, Pet Semetary—these are unsettling movies, because the epitome of innocence becomes the epitome of terror. Those cute little creatures that say silly things, making funny observations about a world that's all new…to have them murderously turn against you is still one of the most fertile concepts in horror. It is not only the idea of killer kids, but also the idea of fighting them, or God forbid, killing them. It's such dark and taboo territory.
That's where Joe Pruett and Szymon Kudranski's Black Eyed Kids comes in. Based on an urban legend, the first issue opens with some seemingly random events of violence and foretelling of someone coming before it slowly begins to gel. Pruett and Kudranski do a good job of building dread in a slow burn and truly creepy story.
I've always found, as much as I love horror comics, that there's usually not as much horror as I'd like. What I mean is, that out of the hundreds of horror comics I've read, there have only been a handful that are scary. It's easy to do shock and gore, but to be scary the way you can be in film is much harder. B.E.K. is off to a good start for becoming a really scary comic, though.
The doom-laden building of suspense and the sense of loneliness and isolation conveyed in the artwork calls to mind the quieter moments in Fulci's City Of The Living Dead, like when the camera pans through the dark and desolate streets of Dunwich and we only see a handful of people. The heavy use of blue also adds to that sense of isolation and the colors in general complete the package.
Even though I'm not familiar with this creative team, after reading this issue I feel really confident in picking up issue 2. No doubt this vague and mysterious story is going to get more fucked up and I'm looking forward to being there when it does.
Pick up a copy of Black Eyed Kids at AfterShock Comics or your local retailer.