Published on June 7th, 2016 in: Current Faves, Music, Music Reviews, Reviews |
By Tyler Hodg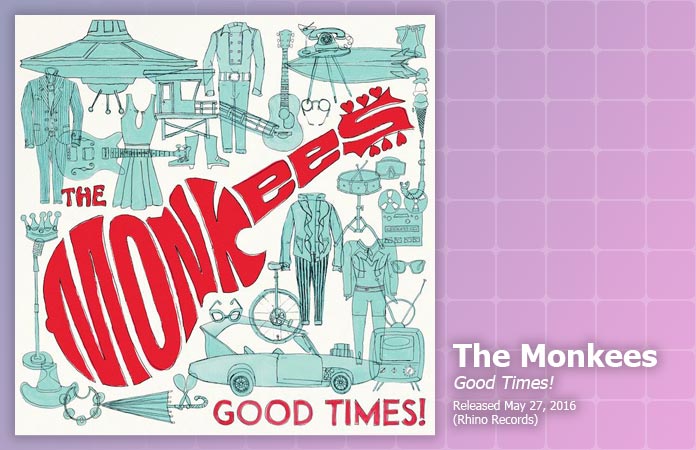 Nearly everyone has a personal anecdote about The Monkees, but in their 50th year, a commemorative album destined to be a throw-away discount bin item is sure to create an entirely different set of memories. Good Times!, the first record from the band in 20 years, is a collection of new and unreleased (but recently finished) songs that few people asked for, but many will enjoy.
From conception (by Rhino Records' enthusiasm for a reunion album) to finished product, all of the right choices were made in the development process of Good Times!. The company's foresight gave birth to a project that not only delivers a healthy dose of good ol' fashioned 1960s cheese-filled rock, but also a fresh and unapologetically current sound.
Like the majority of what is considered to be the classic era of the band's career, the songs featured on Good Times! are only occasionally written by the members themselves: "Little Girl," "I Know What I Know," and "I Was There (and I'm Told I Had a Good Time)" have Micky Dolenz, Peter Tork, and Michael Nesmith picking up credits, but the rest of the tracks are external compositions.
The lack of original content from the members actually contributes to what can be considered a unique album. Pieces written nearly 50 years ago by the likes of Neil Diamond, Carole King, and Gerry Goffin are placed side by side with Rivers Cuomo, Noel Gallagher, and Andy Partridge tunes to create a blended, feel-good compilation. In an odd, yet comforting way, everything melds together into something familiar and warm.
It's no secret that Good Times! relies heavily on nostalgia (both in songwriting and the '60s-inspired artwork). In most cases, a blatant callback is nothing but pitiful, but an anniversary album celebrating such a milestone gets a roaring pass. And to my surprise, the record feels more youthful than it has any right to be.
The worst part about Good Times! is its bittersweet nature; although the album is as wonderful as a hot summer day, it may truly be the swan song of the band. The Monkees have had an illustrious career, and if the three remaining members were to walk away on this note, they would be leaving tall and prosperous.
Good Times! was released by Rhino Records on May 27.