Published on May 3rd, 2016 in: Americana, Current Faves, Music, Music Reviews, Reviews |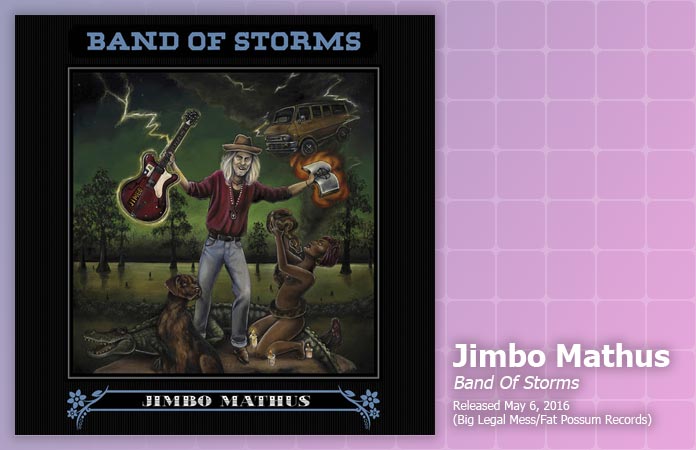 New music from Jimbo Mathus is always cause for celebration. The former (and soon to be current again) Squirrel Nut Zipper makes music that is deeply steeped in the South. It's a melange of influences—gritty swamp rock with a hot hit of blues, a dash of gospel, bluegrass, and more than a little honky tonk—and it comes out sounding exactly right. His latest, a nine-song EP called Band Of Storms, is more of what makes Mathus great. He may wear his influences on his sleeve, but the sound that he has is pure Jimbo Mathus.
Mathus calls Band Of Storms "just some odds and ends… you know, folk music." If it's folk music, it's got a hell of a lot of swagger. Jimbo Mathus could teach those youths a thing or two about swag; he's got it in spades. The opener, "Gringo Man" kicks off with ballsy audacity and Stax horns. It's got an Exile On Main Street feeling and catches the listener by the throat and doesn't let go.
The piano riff of "Can't Get Much Higher" is a descendent of the NOLA greats (Professor Longhair, James Booker, Dr. John) thrust into a bluesy stomper. Mathus sounds like he is having so much fun on this rave up (it made me grin like a lunatic the whole way through). On "Let's Play With Fire," Mathus channels the devil, if the devil was a Southern preacher who loved Johnny Cash. Mathus inhabits the character and embraces the boozy feeling and the throat-shredding chorus.
Every track on Band Of Storms is wonderful. Mathus is prolific with his output and could be excused for a clunker now and then. But now isn't that time. "Massive Confusion" is a raving and driving marriage of punk and Springsteen, in which Mathus rhymes FBI and Yemayá. On "Wayward Wind," he sings like a pirate captain deep into his rum (the song was written when playing UK beer halls, so there's a definite English folk/drinking song DNA here) very believably. "Keep It Together" is unlike Jimbo Mathus's usual work, melty gorgeousness with layers of delicate guitar and a bit of psychedelia.
Is there anything Jimbo Mathus can't do? In listening to Band Of Storms, the conclusion is no. He can do it all. From the stripped down, yet expansive blues of "Slow Down Sun" to the delightfully ancient sounding "Catahoula" to the passionate "Stop Your Crying" (where Mathus gives a stunning vocal—relaxed yet forceful, totally selling the song), it's all wonderfully realized and brilliant sounding.
Thank heavens for Jimbo Mathus. His voice is original and honest, and his music, as always, reaches that primal part of the brain that needs a good scratching.
Band Of Storms will be released May 6 from Big Legal Mess/Fat Possum Records.