Published on April 19th, 2016 in: Blu-Ray, Comedy, Current Faves, DVD/Blu-Ray Reviews, Horror, Movie Reviews, Movies, Reissues, Retrovirus, Reviews |
By Tim Murr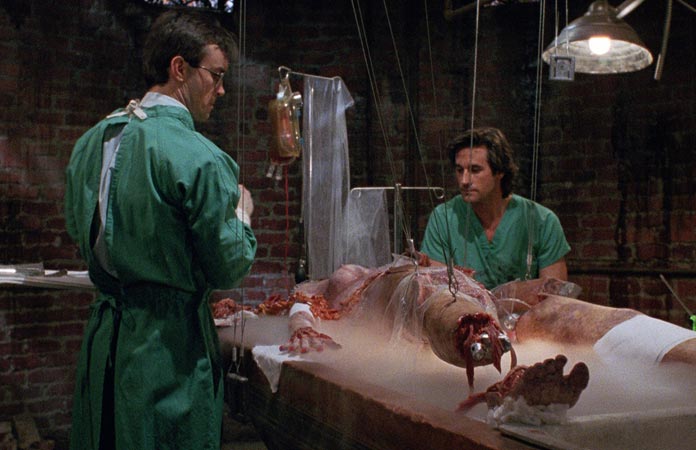 The follow up to 1985's cult classic comedy gorefest Re-Animator, 1989's Bride of Re-Animator, was a wild and rollicking film, amping up the craziness and gore with comic book flair. Directed by Brian Yuzna (who also directed the next sequel, Beyond Re-Animator) on a very short time frame, Bride picks up several months after the "Miskatonic Massacre" that ended Re-Animator.
We find the brilliant Dr. Herbert West (returning legend Jeffrey Combs) and his partner Dr. Dan Cain (Bruce Abbott, who also returns, but who's sadly absent from Beyond) working as medics in Peru during a Civil War, where they take advantage of the chaos to continue their work. West makes a discovery that will revolutionize their research and experiments and the two men return to Arkham, Massachusetts. Meanwhile, the severed head of Dr. Carl Hill (David Gale) has been found at a sideshow and returned to Miskatonic by detective Lt. Leslie Chapham (Claude Earl Jones), who has a personal stake in the Massacre's ongoing investigation. Chapham places Hill's head in the hands of Dr. Graves (Mel Stewart) who has become the caretaker of the Massacre's "leftovers."
While the original is still the superior film, Bride boasts a lot of great effects, a solid story, big laughs, and some decent scares. Yuzna—who you may know from Society (1989), Return Of The Living Dead 3 (1993), or Faust (2000)—shot this film quickly from a fresh script by Rick Fry and Woody Keith after the financial demands on the sequel didn't provide enough time for the original's director, Stuart Gordon, to prepare for his own sequel House Of Re-Animator (fingers crossed that this will still get made someday!). Occasionally the fast turnaround is evident in the final production, but overall Bride is quite satisfying, with even more insane effects.
Overall, Bride Of Re-Animator honors the original and even stays true to the original story by H.P. Lovecraft. That short story was considered one of Lovecraft's lesser works, but so far the Re-Animator franchise stands as the adaptations to beat when it comes to the father of weird fiction.
Arrow Video has once again delivered a superior set in this three-disc collection. There are lots of great extras here, which I've listed at the end of this review. The picture is beautiful, even though there are some scenes that are bit grainy, and the sound is fantastic. If you already own the bare bones DVD and wonder if it's really worth this upgrade, I have to say yes. My own old DVD is dead to me now. Arrow has released the definitive edition of the horror classic.
Bride of Re-Animator was released by Arrow Video on April 8.
Special Features:
Director-approved three-disc Limited Edition contents
– Brand new 2K restorations of the Unrated and R-Rated versions of the film, approved by director Brian Yuzna
– High Definition Blu-ray (1080p) and Standard Definition DVD presentations
– Original Stereo 2.0 audio (uncompressed PCM on the Blu-rays)
– Optional English subtitles for the deaf and hard of hearing
– Digipak packaging featuring newly commissioned artwork by Gary Pullin
– Collector's booklet featuring new writing on the film by festival programmer Michael Blyth
– Re-Animator: Dawn of the Re-Animator—the official comic book prequel to the original Re-Animator
Discs 1 (Blu-ray) and Disc 2 (DVD)—Unrated Version
– Brand new 2K restoration of the Unrated version
– Brand new audio commentary with Brian Yuzna
– Audio Commentary with Brian Yuzna, star Jeffrey Combs, visual effects supervisor Tom
Rainone, and the effects team including John Buechler, Mike Deak, Bob Kurtzman, Howard Berger, and Screaming Mad George
– Audio Commentary with stars Jeffrey Combs and Bruce Abbott
– "Brian Yuzna Remembers Bride of Re-animator"—brand new featurette in which the director looks back at the making of the first Re-animator sequel
– "Splatter Masters: The Special Effects Artists of Bride of Re-animator"—brand new FX featurette with a wealth of behind-the-scenes footage and interviews with Robert Kurtzman of KNB, Screaming Mad George, Tony Doublin, and John Buechler
– "Getting Ahead in Horror"—archive making-of featurette
– "Meg is Re-Animated"—deleted scene with behind-the-scenes footage
– Carnival Sequence: the cast and crew discuss this excised sequence
Disc 3 (Blu-ray) R-rated version—Limited Edition exclusive
– Brand new 2K restoration of the R-Rated version
– Behind-the-Scenes Reel