Published on March 17th, 2016 in: Kiss Me I'm Irish, Music, Today In Pop Culture |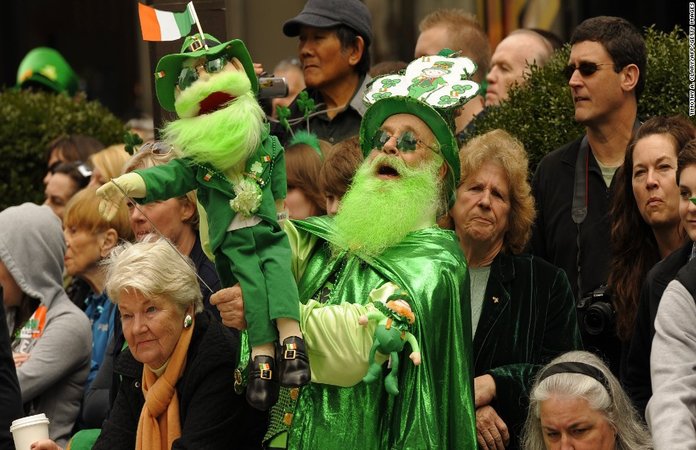 'Tis the day of Saint Patrick, that old bastard, and as much as I would love to talk about how he single-handedly attempted to destroy Druidism and the rich heritage of Ireland's pagan folk like the Great White Missionary he was, this is probably not the place for that.
Let us instead talk about some of the great music to come from the Emerald Isle. Lots of fantastic bands have come from that tiny place and, even if they haven't all made a big splash on American shores, they've all contributed to popular culture in some way.
The Chieftains have been around since 1962. Their traditional style has led them to work with Van Morrison, Roger Daltrey, and the Rolling Stones. In 1989, the Irish government gave them the honorary title of "Ireland's Musical Ambassadors." Eat that, Bono.
Everyone knows that Thin Lizzy rocked like savages, but they don't tell you on your local classic rock station that the band hailed from Dublin. Their version of the old ballad, "Whiskey in the Jar," may have been overshadowed by Metallica's rework, but not even James Hetfield's Pentecostal delivery could supplant Thin Lizzy vocalist Phil Lynott's raspy and soulful voice.
Bob Geldof may be best known for his charity work, like Band-Aid and the Live 8 concerts. Wait, no. He might be best known as portraying Pink in the film version of Pink Floyd's The Wall. But before any of that, he was the leader of the Dublin band, The Boomtown Rats. The Rats were a quirky little outfit, combining tribal beats with a sound reminiscent of ska. That music still holds up today.
The pioneers of shoegaze, My Bloody Valentine, are a Dublin band. Blasting onto the scene with a love for feedback, a hunger for dissonance, and an uncanny talent for wringing beauty from chaos, MBV was a huge influence on Smashing Pumpkins and Radiohead.
Cruachan is like The Chieftains, if you put them all in Celtic battle gear and replaced their pipes with electric guitars. They are the pioneers of folk metal, often singing about Irish mythology and recanting tales of the land before St. Patrick came along with his Christianity and his solid refusal to hang out with the Druids.
While you're drinking your green beer or threatening to pinch someone because they're Irish, listen to something besides "Danny Boy." I mean, you can listen to "Danny Boy," just maybe change it up a little. But what do I know? I'm part Scottish.