Published on March 16th, 2016 in: Music, Today In Pop Culture |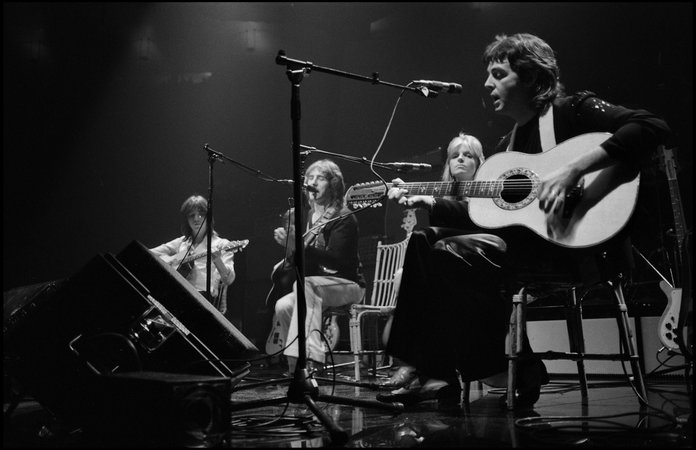 You can't do a daily column about pop culture history without running into the Beatles. They are a constant. On this day, George Harrison blew his nose on Paris. On this day, Ringo Starr learned a new time signature. The entertainment calendar is dotted with such Beatles minutiae and who cares? Folks, it's time for a stark confession.
I have always been a Paul McCartney fan, and I would rather listen to Wings than the Beatles.
This is not a statement made just to be contrarian or to be shocking. It's the truth. McCartney has this way of crafting songs so that they all seem like frozen slices of time. Call it "chamber pop," if you must, but listening to a Wings album is like pulling out all the Christmas tree ornaments. Here's the one Timmy made when he was six. This is the one we used to hang on Grandma's tree. Oh, look, here's "Maybe I'm Amazed."
On this date in 1979, CBS broadcast a documentary called Wings Over the World, detailing the band's gigantic 1975-76 world tour. The band was at its highest point of popularity then, and for good reason.
The Beatles were, and still are, universally loved. When they disbanded, it left the rock and roll world out of balance. Wings helped to fill the gap that the absence of the Beatles caused, much like Foo Fighters helped heal the void that the sudden cessation of Nirvana left. You might not like them, but you can't deny they were needed. With the other three ex-Beatles trying to distance themselves from their past as much as possible, McCartney managed to celebrate his own musical history while still reaching forward.
Wings played all their hits, they played old Beatles tunes, and McCartney gave other members of the band their own spotlight. For a while, Denny Laine was a member of the band. He was the vocalist for the Moody Blues when they had their first hit, "Go Now," which he got to sing with Wings. That seems so democratic. Everybody got their Big Moment.
And one can't forget the songs. The screechingly weird tonal shifts in "Band on the Run," three separate movements in five minutes, feel like the world's shortest opera. Their James Bond theme from 1974, "Live and Let Die," goes from sweet piano interlude to angry, violent strings and a frenetic swirl that makes you want to hit things with a hammer. And in the middle of that song, it suddenly turns into a slow skiffle beat! Really, what the hell is going on here? It's like McCartney decided to take as many different styles of music as possible and shove them all into one song. Wings was the stuffed crust pizza of the music world.
John Lennon may be considered the most psychedelically influenced of the Beatles, but he spent the majority of his post-Fab Four career making straight-forward, 1950s inspired rock and roll. McCartney stayed weird. He was the guy who kept thinking, "We can do this, and why not?"
They may now be relegated to soft rock FM stations, comfortable music you can listen to all day at work, but Wings deserves a reevaluation. Listen for the smooth combination of styles that should clash. Check out some album cuts for a dose of strange '70s mysticism. But mostly, listen for hints of where the Beatles would have gone had they been able to keep it together. There's no need to wonder what might have been. Paul McCartney was the real keeper of the flame, and it's not a difficult jump from "Penny Lane" to "Let 'Em In."
It's all about building bridges. John, George, and Ringo all did respectable work after the Beatles broke up but, for me, it was Paul McCartney and Wings that successfully continued the Beatles magic into the 1970s and beyond. That's not a bad thing.
RELATED LINKS: