Published on March 9th, 2016 in: Current Faves, Metal, Music, Music Reviews, Reviews |
By Tim Murr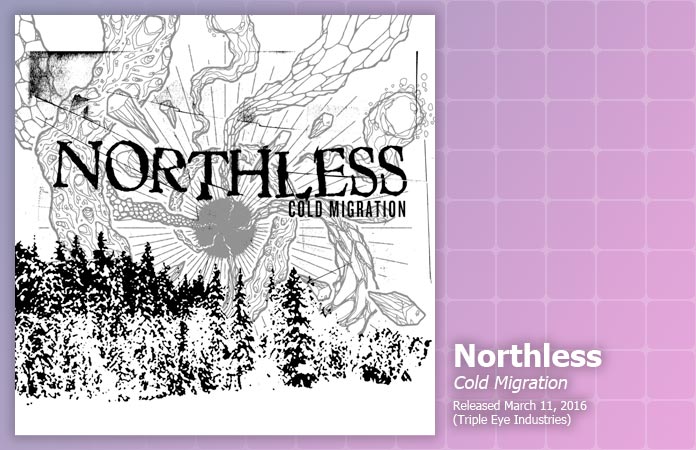 What better album to crank up and get lost in on a cold, snowy day than the new three-song EP, Cold Migration, from the Milwaukee, Wisconsin band, Northless? It clocks in at less than 25 minutes, but feels as meaty, strong, and satisfying as a full-length LP. Northless evokes the desolation and loneliness of an endless winter's journey.
Forming in 2007 as a two piece, Northless evolved their brand of sludge/doom metal, eventually becoming a four piece that layers on pain, brutality, and rage with every note. They create an intense cathartic experience.
The album kicks off with "The Curse of Being," the fastest track on the album. It sounds like a brutal street fight on a winter night. The other two tracks, "Cold Migration" and "Conduit," are downright dignified in comparison. Northless slows things down and stretches out these compositions to nearly eight minutes and eleven and a half minutes, respectively. Northless fully embrace their sludge roots and make the songs almost symphonic in their shifting tempos and loud/quiet moments. An added nice touch is the way they employ gang vocals that are buried beneath the wash of distortion.
The album won't be available until March 11, but you should pre-order soon, because the 12" splatter vinyl has already sold out and the white vinyl will probably follow suit soon. Check out the awesome cover art from Shawn Knight of Child Bite, which will also be available for purchase on a T-shirt during the pre-order.
You can check out a heavy live Northless video here.
Get in touch with Northless and Triple Eye Industries and place your order.
Tour Dates:
Thursday Mar 10 9:00 PM / Milwaukee, WI – Cactus Club w/ Bell Witch
Friday Mar 11 9:00 PM / Milwaukee, WI – Frank's Power Plant w/ Conqueror Worm, Sabbath Assembly
Saturday Mar 12 5:00 PM / Eau Claire, WI – The Plus w/ Caveat
Saturday Mar 12 9:00 PM / Minneapolis, MN – Hexagon Bar w/ Cantharone, Flintlock, Sunless
Saturday Apr 30 8:00 PM / Milwaukee, WI – Borg Ward w/ Disrotted, Lifes, Milorganaut