Published on March 7th, 2016 in: Comedy, Netflix Reviews, TV, TV Reviews, We Miss The Nineties |
By Tyler Hodg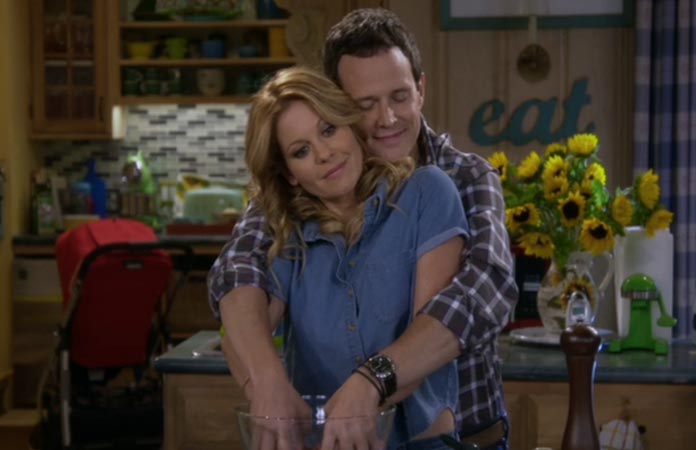 Most of the questions leading up to the second last episode, titled "Save the Dates," have run concurrently through the season. Thankfully, a few of them are answered and wrapped up in an interesting way.
D.J. has not chosen which guy to pursue, but her date with Steve goes extremely well after he treats her to a Nineties throwback night. Included in the get-together is a genuinely hilarious scene of the two recreating the famous pottery scene from the movie Ghost, but only with hamburger meat. What's not to love about that?
While her sister is occupied, Stephanie plays parent and teaches Max how to survive as a middle child. Up until this point, her role has been flaccid, but in "Save the Dates," her character shows real heart towards her nephews. Stephanie's reproduction issue has yet to be addressed again, but there is still one episode left to reference it.
Kimmy and Ramona's arcs also get closure, as the family becomes whole once more. Fernando sets up a romantic scavenger hunt for his secret lover, and the two–after a few misunderstandings–become reengaged. This storyline specifically was probably the most entertaining out of the many.
However, one major question still remains: does D.J. love her children? Yet again, "Save the Dates" is an episode where the mother of three finds someone to babysit her kids. There is little to no interaction between them, which is a major oversight. To not have a mother be around her children kills any sort of emotional connection a viewer may have towards the family.
With one episode to go, the only major storyline to finish up is the love triangle between D.J., Matt, and Steve. The show doesn't yet have a history of anticlimactic conclusions, so there isn't any reason to believe that it won't be executed correctly. Judging by the way the Gibblers' situation was handled, the final episode should wrap everything up with a nice little bow on top.
Hey, one can dream.
RELATED ARTICLES: