Published on March 7th, 2016 in: Music, Retrovirus, Today In Pop Culture |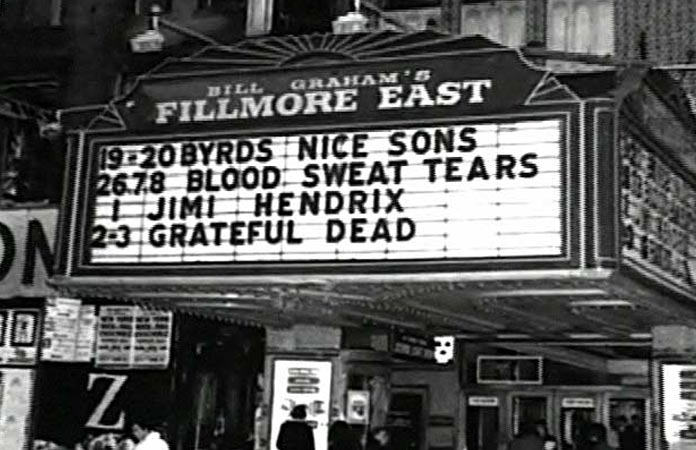 Bill Graham was a rock and roll man, a promoter with a feel for the underground. He knew which bands were going to be hot and how to get their music out to their fans. He opened the famous nightclub, the Fillmore, in San Francisco. That venue, along with Graham's promotion skills, were instrumental in the success of the Grateful Dead.
It only made sense for Graham to open a second Fillmore on the other side of the country. The Fillmore East opened on this date in 1968 in New York City. The first gig at the Fillmore East was pretty hot. Blues guitarist Albert King was the headliner. Also on the bill were singer Tim Buckley (Jeff Buckley's father) and a little band known as Big Brother and the Holding Company. They were a pretty standard blues band, except for their vocalist: an unknown girl from Texas named Janis Joplin.
It wasn't long until the Fillmore East became known as The Church of Rock and Roll. Graham would book two shows a night, both with three acts. When the performers had played at the Fillmore East, Graham would often book them at the Fillmore West soon afterwards. It was a good way to keep both clubs full with quality acts.
And those were some real quality acts. When you think of music from The Sixties, those were the folks playing Graham's clubs. Jimi Hendrix played there. Crosby, Stills, Nash and Young played there. The Grateful Dead played the club 43 times. The Allman Brothers played the Fillmore East so many times, they were thought of as "Bill Graham's House Band." Hell, Led Zeppelin played there as an opening act for Iron Butterfly.
The Fillmore East was so beloved by bands, many of them recorded live albums there. Jefferson Airplane, Frank Zappa & the Mothers of Invention, King Crimson, Sly and the Family Stone, and, of course, the Allman Brothers Band all released concerts from gigs at the club.
The Fillmore was, in many ways, the ideal rock club. The business that fueled it, though, was changing in many ways. Graham realized there was more packaging and less talent being presented by record companies. This fed into the fact that Graham was being attacked for his practices, even being called the "anti-christ of rock and roll." Graham was also running on fumes; running two successful clubs on both coasts was taking over his life.
Graham closed the Fillmore East in 1971. Albert King closed the place down, just as he had opened it. The Allman Brothers were also there for the final gig, as was the J. Geils Band.
Different investors and promoters tried to restore the Fillmore East to its former glory, but that time had passed. It is now called Irving Plaza. The Fillmore East is now a bank.
RELATED ARTICLES:
Canadian Music Week Film Fest Review: Jimi: All Is By My Side