Published on March 7th, 2016 in: Current Faves, Music, Music Reviews, Reviews |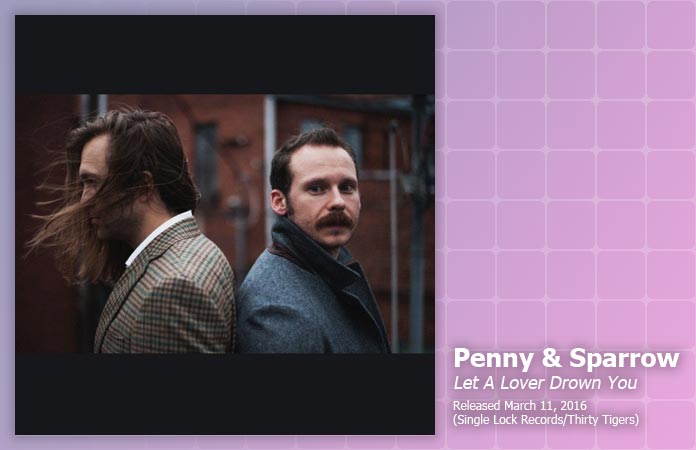 Penny & Sparrow's Let A Lover Drown You is the kind of album that feels like you shouldn't be hearing it. It's remarkably intimate and naked. It's emotionally raw, but produced so beautifully that raw isn't quite the right word. Bare. Honest. Personal. It made me feel like a voyeur listening to it, in the way that sometimes Iron and Wine's Sam Beam's songs do. These are quietly organic moments, snapshots of lives, that happen to be gorgeous songs.
Penny & Sparrow is vocalist Andy Baxter and composer Kyle Jahnke. Brought together by the University of Texas (they were roommates), they have taken wide-ranging influences (including Slim Whitman, which immediately made me warm to them) and distilled them into breathing, lovely tracks. Covering love, loss, and the things in between, Baxter and Jahnke have made an immersive, moving album.
Let A Lover Drown You begins in a nearly uncomfortably intimate way. "Finery" is subdued, unconscious music, breathed into your ear, so hushed. It blossoms to a melancholy flower of strings and chest-clenching harmony. Andy Baxter has a velvety baritone that glides through Let A Lover Drown You, a voice that is soothing and rich. His vulnerable performance of the shattering "Gold" (inspired by the book Red Rising) is engrossing. The small moments are captured, making the track incredibly poignant. A quiet, meditative throb of the guitar propels "Bed Down." Delicate and pained, there's palpable sadness that swells to a crushing yearning.
Every moment of Let A Lover Drown You feels completely deliberate, yet the songs move like a river, swelling and receding. The songs breathe. They're unhurried. "Makeshift" is quietly epic, subtly driving. It's moving and engrossing. Richly textured with percussive guitar, it showcases the deft harmonies of Baxter and Jahnke. Their harmonies are sleek on "Catalogue." Baxter's vocals are earthy here, as the song soars and rises just for a moment before pulling back with the natural ebb and flow of Penny & Sparrow's song craft. The visceral "Bon Temps" is based on an oral history Baxter was told by a family friend who survived Hurricane Katrina. Violent slashes of guitar and a quiet beat, like the lashing of rain on windows, make it devastating.
The tracks on Penny & Sparrow's Let A Lover Drown You are a wonder. Appealingly spare, yet lush. Honest and raw, yet delicate. It's a contradiction of the finest kind.
Let A Lover Drown You by Penny & Sparrow will be released March 11 via Single Lock Records/Thirty Tigers.
RELATED ARTICLES: