Published on February 12th, 2016 in: Current Faves, Reviews, TV, TV Reviews |
We live in a world where the volume of movies and TV shows based on books or graphic novels–or remakes of movies we loved the first time around–has reached almost epic proportions. So when a new show comes along that is completely original, we should latch on and ride that bull until it stops bucking.
Outsiders is being billed as "Mad Max meets Sons of Anarchy," which is intriguing as one of the main characters is played by Ryan Hurst, a.k.a. Harry "Opie" Winston of Sons of Anarchy. On this show, he plays Little Foster Farrell, son of Big Foster, who is played by veteran character actor and bad guy David Morse.
The Farrells live near Blackburg, Kentucky, in the Appalachian Mountains. They have their own way of life, rules, and code of ethics, and they live free. They may not have electricity, but they have family and their land, and that's all that matters to them. The leader of the Farrell clan is Lady Ray, whose official title is "bren'in". It's expected that when she hands over leadership, it will pass to Big Foster. Thanks to a coal company coming in and trying to run the Farrells out with an official eviction notice from the state, that passing of leadership is delayed. Big Foster plots to take over with everything he's got, and takes steps to ensure that he gets what he sees as rightfully his.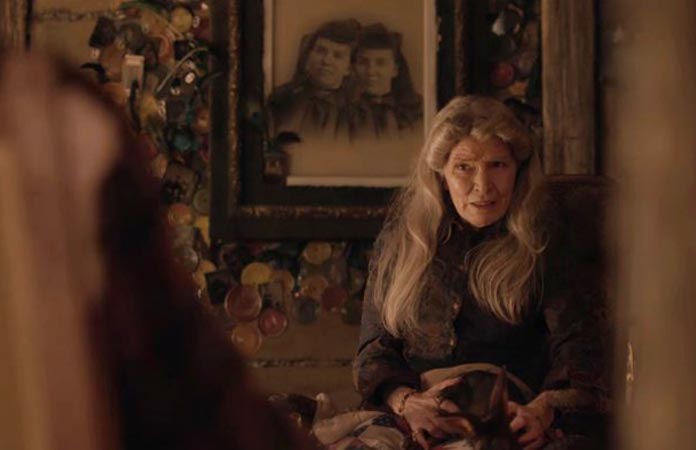 The catalyst for all the bad that happens is when Hasil Farrell steals a couple of jugs of moonshine, called "Farrell Wine", and takes it into town to sell to the town drug dealer. The moonshine is sold to a couple of college-aged kids, with the warning that they should cut it. They don't listen. One of the boys, Tyler, goes home and pukes up what looks like blood while his father berates him for his behavior. Tyler picks up a butcher knife and stabs his father to death. Later, we learn that the father is the owner of the coal company.
There is one other character that is important to the story, Deputy Wade Houghton. He is ordered to make sure the Farrells leave. It's unclear who he is or what his backstory might be. He lives alone, has a son, takes medication, and appears to not want anything to do with the Farrells. Whether he has some relation to them, or he just doesn't want to stir up the hornet's nest is not revealed, at least not in the first episode.
Throughout the first episode, wolves appear to be a prevalent theme that doesn't have a clear purpose, unless it's to signify pack mentality, but it's interesting enough to keep you guessing.
I think Outsiders has a lot going for it, and promises many different directions and subplots that could be explored. There have been far too many shows that have ended in the first season, so hopefully this won't be one of them.
Outsiders airs on WGN America.